Makers of Newcastle Brown Ale acknowledge they can't think of a better way to promote a summer seasonal golden ale with floral hop aroma and toasted-biscuit notes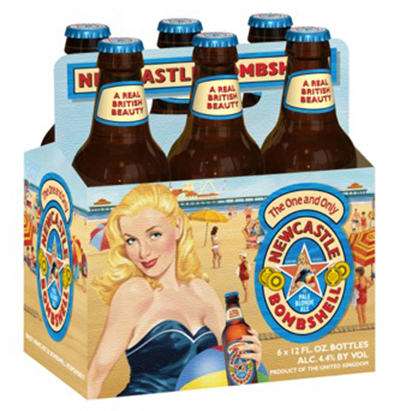 If you're trying to get people to buy a great-tasting summer seasonal beer, it helps to have an attractive woman on the packaging. Newcastle, the No Bollocks beer brand, understands this phenomenon. So it's with great excitement that the makers of the popular Newcastle Brown Ale are bringing back the also popular Newcastle Bombshell Blonde Ale this summer, featuring a lovely swimsuit-clad bombshell on its packaging.
"Newcastle Bombshell is a smooth, great-tasting summer beer. But we can't expect people to take us at our word on that," said Quinn Kilbury, brand director for Newcastle Brown Ale. "No matter how much we talk about how smooth and great-tasting Newcastle Bombshell is, we'll catch more people's attention with an attractive woman on the packaging than we would with talk about how smooth and great-tasting Newcastle Bombshell is. Did I mention that Newcastle Bombshell is smooth and great-tasting?"
Newcastle Bombshell is brewed with Cascade, Hallertau and Northdown hops. The combination helps balance the light-colored golden ale's light aroma and bitterness with toasted malt for a smooth, clean finish. Bombshell is a well-balanced brew with a floral hop aroma and a hint of fruitiness. At 4.4 percent alcohol by volume, the beer has 125 calories per 12-ounce serving and 28 IBUs.
Newcastle Bombshell will be available from April through July. The beer is being promoted with breakthrough packaging designs and point-of-sale displays, extensive social media promotion, and cutting-edge sampling activations. Find Newcastle Bombshell in 6- and 12-packs at your local liquor store and on tap in select markets across the United States.
About Newcastle Brown Ale
A No Bollocks beer brand, Newcastle Brown Ale was first brewed in 1927 to satisfy thirst of hardworking Englishmen. Colonel Jim Porter crafted the ale with its own distinct golden brown color, lightly hopped taste and character that quickly became a local favorite. Best served cold, Newcastle Brown Ale has since become a world favorite as a dark beer that's easy to drink. Newcastle Brown Ale is imported by the nation's premier beer importer, HEINEKEN USA, headquartered in White Plains, New York.
About HEINEKEN USA
HEINEKEN USA Inc., the nation's leading upscale beer importer, is a subsidiary of Heineken International BV, the world's most international brewer. European brands imported into the U.S. include Heineken Lager, the world's most international beer brand, Heineken Light, Amstel Light, Newcastle Brown Ale, and Strongbow cider. HEINEKEN USA also imports the Dos Equis portfolio, Tecate portfolio, Sol, Indio, Carta Blanca and Bohemia brands from Mexico. For more information please visit www.heinekenusa.com.