Fresh, fast-casual restaurant opens in Midtown Little Rock's Park Avenue on Monday, April 14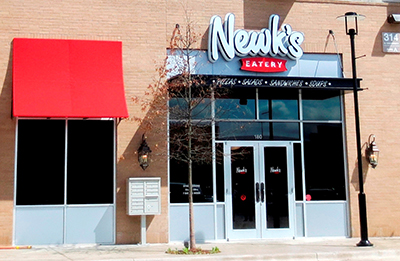 Newk's Eatery, a fresh-casual restaurant concept known among its loyal following for its culinary-inspired menu with an emphasis on freshness and flavor, will celebrate its 10th anniversary year by opening a new store in Midtown Little Rock, Ark. The Park Avenue location, opens Monday, April 14, and will be the 10th company-owned store in the 68-restaurant chain.
"Over the last 10 years, Newk's has solidified its position in the Southeast," said Chris Newcomb, president and CEO of the franchise restaurant concept. "Now, as we begin contiguous expansion into other regions, Little Rock plays a vital role as our anchor and gateway into the Lower Midwest."
In addition to celebrating the opening of its third restaurant in the Central Arkansas region, Newk's is marking the 10th anniversary of the franchise brand, which started as a locally-owned sandwich shop in Oxford, Miss. The original restaurant concept opened in February 2004 and its first franchise location opened the following year. To date, Newk's Eatery has opened 67 stores in 13 states and plans to continue this progression by opening a total of 200 restaurants by 2019.
Newk's Eatery will open across from Target in Park Avenue. With Newk's Eatery locations in Hot Springs, North Little Rock and Jonesboro, the Midtown restaurant is Newk's fourth Arkansas location. The company selected the Midtown Little Rock location because the mixed-use lifestyle center fits with the company's casual restaurant concept, where fresh, healthy meals are served in a family-friendly, upscale dining room. The Park Avenue location offers indoor and outdoor seating for up to 160 guests.
The casual, upscale Newk's Eatery offers a variety of quality, craveable menu options from the open-view kitchens, including fresh-tossed salads, oven-baked sandwiches, California-style pizzas, made-from-scratch soups and homemade cakes. The culinary-driven dining concept features exceptional ingredient combinations like salads with chicken, cranberries, pecans, artichoke hearts and gorgonzola cheese on a bed of spring greens, for mouth-wateringly distinct flavor profiles.
Newk's offers a separate catering menu and original programs that keep customers coming back. Newk's Roundtable Club members receive special offers and rewards. The club is named after the table featured in the center of every location that offers various complimentary spices, toppings and add-ons, allowing diners to customize their menu items. Another original Newk's concept is Grab-n-Go, which gives busy guests the option to quickly pick out a favorite menu item from the select offerings in the restaurant's open, stand-up refrigerator case for an on-the-go lunch or take-out dinner.
As part of the grand opening celebration, the Park Avenue restaurant will contribute all guests' donations to Arkansas Children's Hospital. On opening day, the first 10 guests will receive a $25 gift certificate in celebration of the company's 10th anniversary and 10th company-owned restaurant.
The Newk's Eatery Midtown location will be open seven days a week from 11 a.m. to 10 p.m.
To view the menu or learn more about Newk's Eatery, visit newks.com or the Midtown store's Facebook page.
About Newk's Eatery
As a refreshing casual dining experience in a stylish atmosphere with an emphasis on freshness, flavor and unparalleled customer service, Newk's Eatery boasts a comprehensive menu of freshly-prepared entrees with sizable portions and exceptional ingredient combinations. Rapidly expanding since the first restaurant opening in Oxford, Miss. in 2004, Newk's currently operates and franchises 67 units in 13 states. Headquartered in Jackson, Miss., the rights to more than 100 units of the culinary-driven dining concept have been sold across the South. From the restaurants' open-view kitchens, customers dining in can watch the preparation of fresh-tossed salads, oven-baked sandwiches, California-style pizzas, made-from-scratch soups and homemade cakes and then customize their meals at the signature Roundtable.
For more information visit newks.com, join the Roundtable Club for email updates or follow Newk's on Facebook and Twitter.