BorDEAUX IN 2017

Bordeaux Wines is excited for the second half of 2017! We look forward to further engaging with our North American market – with lots of programs and initiatives that demonstrate the accessibility, versatility, modernity and affordability of Bordeaux wines.
Key initiatives include the continuation of our nationwide retailer promotions and our sommelier "Somm' Like It Bordeaux" programs, a new series of pop-up trade tastings in different cities, the return of Bordeaux Under One Roof to NYC and the continuation of our popular 'Bordeaux Matchmaking' consumer tastings. Vibrant press & media outreach, exciting social media activations and our Bordeaux Wine School tutor development are all part of the exciting agenda for the rest of 2017.
For more information about any of these programs or to get involved, please contact Mary Gorman McAdams at mary.gorman@vins-bordeaux.fr. We look forward to working with you!
RECENT EVENTS
Somm' Like It Bordeaux
Bordeaux recently hit Washington, D.C. and NYC for the 2017 Somm' Like It Bordeaux series (now in its third year). Top sommeliers gathered to blind taste, discuss, and select their favorite wines. Winners were chosen for a 2018 trip to Bordeaux for a week of discovery throughout the region.
Upcoming Events
UPCOMING EVENTS
Somm' Like It Bordeaux San Francisco (September 25th), Chicago (October 16th) and Seattle (October 30th)
Trade Pop-Up tastings – San Francisco (November 2nd), Austin (November 9th)
Bordeaux Under One Roof in NYC, October 26th
Promotional Programs with Total Wine & More, K&L, Wegman's and Central market
Bordeaux Wines is also at present at SWE (Society of Wine Educators) in Portland, Oregon, TexSomm in Dallas (August) and SommCon in San Diego (November 15th – 17th).
BORDEAUX BUSINESS
Export Milestones
Bordeaux Exports hit major milestones in 2016. Exports account for 42% of wine sales. Most importantly the United States became our 3rd most important export market (by both value and volume) in 2016 (up from 4th and 5th place respectively) and today the US is our most important export market for dry white wines. In 2016 exports to the US reached their highest since 30 years. Thank you to all of you who sell and support Bordeaux!
WHITE BORDEAUX
Did you know: white wine production in the Bordeaux region is a 1000-year tradition? Today, the Bordeaux dry white category makes up a range of extremely varied and affordable wines from 10 distinct appellations. Typically produced from a blend of the three main varieties—Semillon, Sauvignon Blanc and Muscadelle—more than 64 million bottles of dry white Bordeaux wines are produced each year. The diversity of Bordeaux whites makes them suitable for serving on all kinds of occasions: before dinner, with starters, for a casual barbecue or even paired with an elegant, refined meal. In general, there are two main styles of Bordeaux dry wines:
Refreshing & Fruity (Bordeaux blanc, Entre-Deux-Mers, Côtes de Bordeaux) wines are generally vinified and aged in vats, with aromas of lemon, grapefruit and acacia blossom. They pair well with salads, poultry, and fish as well as appetizers.
Well-Structured & Delicate (Graves and Pessac-Léognan) wines are vinified and aged in barrels with aromas of boxwood, citrus and tropical fruit. Favorable food pairings include white meats, vegetables, creamy soups and cheese.
Dry white wines currently represent about 9% of the total production of wines from Bordeaux.
To learn more about dry white Bordeaux wines, contact Juliette Baloup or Mary Gorman McAdams, MW.
AMONG THE VINES
Bordeaux 2016: A Great & Generous Vintage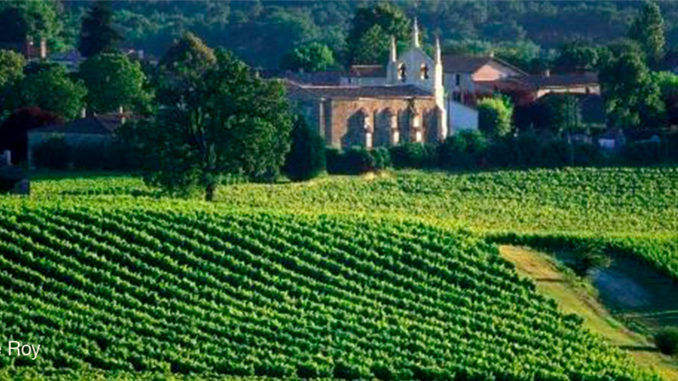 2016 was a year of contrasts, promising a superb vintage, characterized by uniform flowering at the origin of good pollination, substantial lack of rainfall during the summer combined with abundant sunshine and evenly-occurring veraison. Ripening took place in bright sunshine with wide ranges in temperature, and the extended summer led to optimal ripeness in each plot and grape variety. In addition, 2016 was the highest production of the past 10 years. Here are the highlights of each style:
Bordeaux Dry Whites: These very young wines are aromatic and lively with a tightly-knit structure and lovely freshness. Harvesting for dry whites began on September 5th with Sauvignon Blanc grapes and continued with the Muscadelle, followed by the Sémillon.
Bordeaux Reds: The red wines have an intense color, very high concentration of anthocyanins, a nose of small black berries (blackcurrants, mulberries, blueberries), powerful and structured length, round, delicate tannins. The start of harvesting begun with Merlot around September 24th for rosés and reds (on the earliest ripening terroirs). Harvesting continued around October 12th with Cabernet Franc and Cabernet Sauvignon, which ripen later. It is worth noting the outstanding quality of the grapes; they reached perfect ripeness at the time of harvesting: crispy, full of sugar, with intense aromas of small black berries, skins rich in sweet tannins and seeds with a nutty taste.
Bordeaux Semi-Sweet and Sweet Wines: These wines display a very pure taste with nice concentration and great aromatic freshness. The very first selective pickings began in late September. Harvesting for sweet wines lasted throughout October.