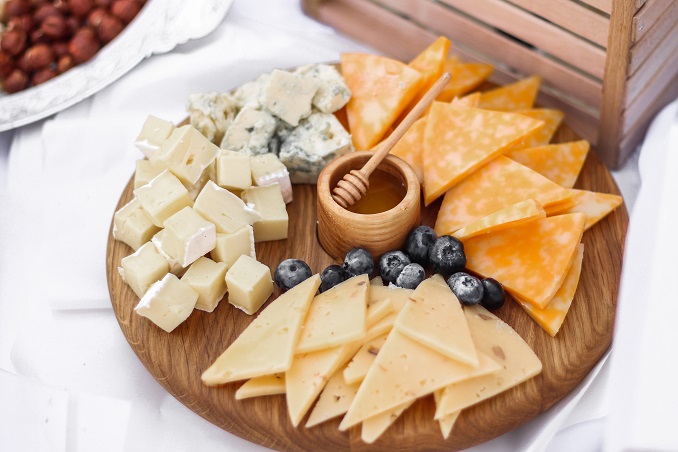 Did you know that Ohio ranks 1st in Swiss cheese production? Or that Swiss cheese was invented in Ohio, not Switzerland? Most people don't know the rich history of cheesemaking in Ohio or the variety of cheeses that are produced in the state. From Amish artisan cheeses to baby Swiss to cheese fudge, Ohio offers a variety of locally sourced cheeses. These cheeses can be purchased in stores or online and shipped.
Nationally, the state ranks first in the production of Swiss cheese. Ohio produces over 138 million pounds of Swiss cheese a year, more than one-third of the nation's total output (321 million pounds). Ohio is not only the leading producer of the dairy product, but is also credited for its creation. That's right, Swiss cheese is not from Switzerland, but from Ohio. The name "Swiss cheese", is the North American cheese which shares a resemblance to Emmental cheese which originated in the Emmental region of Switzerland. Swiss cheese production began in the mid 1800′s as numerous Swiss immigrants started producing on farms in Tuscarawas and Holmes counties (Ohio counties). Today, Brewster Dairy in Brewster, Ohio is considered to be the largest manufacturer of all-natural Swiss in the United States. The company alone produces 85 million pounds of Swiss cheese each year.
Details:
It's no surprise that the holidays are going to look a little bit different in 2020. Although your family may not have the opportunity to gather together, you can still send loved ones a little slice of home.
Give the gift of Ohio-made cheese this holiday season. From traditional favorites to artisan specialties, find gifts for the cheese lovers in your life, available online from several of Ohio's best cheesemakers.
Black Radish Creamery
An obsession with good food and great ingredients is at the heart of everything created by Black Radish Creamery. Located in Columbus, Ohio, this creamery offers a variety of artisan cheeses, as well as unique fruit preserves, created with cheese in mind. Peruse products and contact orders@blackradishcreamery.com to place an order.
Blue Jacket Dairy
Since 2008, Blue Jackey Dairy in Bellefontaine, Ohio has made fresh artisan cheese, including cheddar curds, quark, aged cheeses and its Gretna Grillin' halloumi. This great-tasting cheese made from local cow's milk will delight your taste buds and can be purchased from Blue Jacket's online shop.
BoBell Cheese Company
BoBell Cheese Company in West Salem, Ohio is proud to offer premium quality, farmstead cheese. Its handcrafted Tomme, gouda, fontina, Monterey Jack-style and appenzeller-style cheeses are made using an Old World style and have a natural rind. Its cheeses are available for online purchase. Try Bobell's cheese plate kits, too – a variety pack featuring three different cheeses of your choosing.
Broad Run Cheese House
Broad Run Cheese House has been selling Ohio-made cheese in Dover, Ohio since 1933. Its shop offers a diverse range of locally made hard and soft cheeses, as well as a customizable cheese lover gift box, perfect for any holiday or occasion. Broad Run's cheese, along with its homemade wine and specialty items, are available for online purchase.
Canal Junction Farm
Located in Defiance, Ohio, Canal Junction Farm specializes in producing carefully crafted cheese. Its artisan cheeses are available for purchase online in 5 oz or half wheel sizes. Sampler packs, which include Canal Junction's six signature cheeses, are available in quarter, third and half-pound size options – perfect for charcuterie boards and at-home or Zoom sampling parties.
Guggisberg Cheese
Guggisberg Cheese has been producing cheese in Millersburg, Ohio since 1950. The local business is known for its award-winning Baby Swiss, which Alfred Guggisberg invented. A wide variety of classic cheeses, including Cheddar, pepper jack, farmers cheese and smoked cheeses, as well as curated gift packages, are available for online purchase.
Heini's Cheese (Bunker Hill)
Established in 1935, Bunker Hill Cheese, or Heini's, is a third-generation, family owned company in Millersburg, Ohio. Through the years, it has partnered with local farmers to produce over 25 varieties of cheese. Heini's is known for its signature cheese fudge, and offers various other products such as gift boxes, cheese spreads, Amish butter and more.
Lamp Post Cheese
Lamp Post Cheese in Lebanon, Ohio strives to maintain Old World traditions in cheese crafting, while placing these traditions in a modern context and available to the urban community. From locally sourced milk, Lamp Post crafts small artisanal batches of English Cheddar, French Tomme and Spanish Mahon style cheeses, which are available for purchase on its online store.
Middlefield Original Cheese
Middlefield Original Cheese is produced in the heart of Ohio Amish country in Middlefield, Ohio. Milk from Amish farms is delivered daily to its operation and transformed into a wide variety of delicious traditional cheeses and cheese curds. Middlefield Original's online store also offers Amish gift boxes, cheese sampler boxes, country roll butter and several local meats.
My Artisano Cheese
In January 2013, My Artisano became the first Urban Creamery in Cincinnati, Ohio. It's award-winning artisan cheeses are naturally made and inspired by fresh, soft ripen and semi-soft European style cheeses, such as feta and Brie. My Artisano online store offers baskets, gift sets and cheese board kits, available for local delivery.
Old Forge Dairy
Old Forge Dairy offers a variety of natural rind cheeses, including Alpine Style, Gouda, Clothbound Cheddar and more, made on its farm in Kent, Ohio. Produced with milk from its own herd of Ayrshire dairy cows, Old Forge's farmstead cheeses are hand-crafted with care and attention. To place an order, contact OldForgeDairy@gmail.com.
Pearl Valley Cheese
Pearl Valley Cheese has been producing award-winning Swiss cheese for nearly a century. Located in Fresno, Ohio, the local business offers several varieties of Swiss cheese, as well as alternative cheese varieties such as colby, marble and Cheddar, which can be ordered individually or in prepared cheese trays.
Rothenbühler Cheese
Formerly known as Middlefield Cheese, Rothenbühler Cheese has been producing high quality Swiss cheese in Middlefield, Ohio since 1956. The third-generation family business is deeply committed to the tradition of making only the very best cheese. The Rothenbühler's online store offers a wide array of gift boxes, as well as customizable options to fit your gift-giving needs.
Consider yourself a foodie or cheese lover? Include some Ohio-made cheese at your own holiday table! Whether used in a dairy-licious recipe or displayed on a dazzling charcuterie board, your family will not be disappointed by Ohio-made cheese.