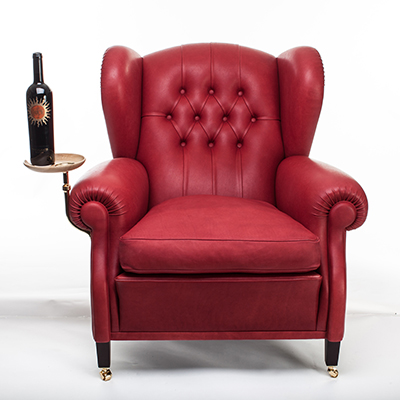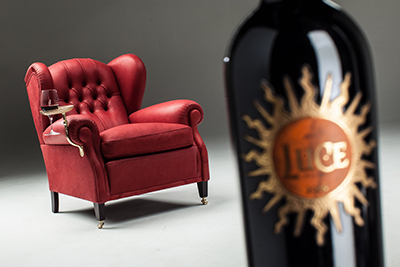 "Pausa di Luce" is the armchair produced by Poltrona Frau for Casa di Luce, a project conceived by Lamberto Frescobaldi in 2009 to celebrate the exclusive and elegant style of this great wine with strictly Italian-produced creations that are inspired by Luce and which strengthen its personality, unique style and prestige.
"Pausa di Luce" is the special edition of the "1919", an authentic Poltrona Frau icon designed by Renzo Frau in 1919, created ad hoc by Poltrona Frau especially for Luce. It is presented for the first time this month in New York at the Poltrona Frau Showroom located at 145 Wooster Street.
This limited edition piece is upholstered in the special Pelle Frau Century Luce leather that has been dyed an intense shade of red, like the nuances of Luce. A cup holder in natural oak, the same material used for the barrels that contain Luce during the aging process, has also been added to the iconic chair along with a personalized and numbered brass plate and a gold button on which to engrave the initials of the client.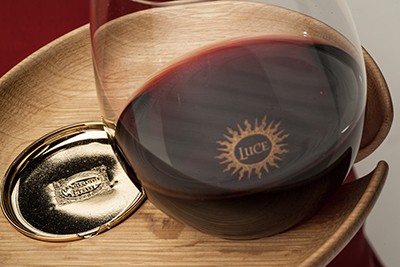 The "Pausa di Luce" armchair is available only on request in a select number of Poltrona Frau showrooms in Italy (Milan and Rome), Asia (Tokyo, Taipei, Hong Kong and Shanghai) and the US (New York, Miami and San Francisco).
The partnership between Luce and Poltrona Frau, which celebrated its centenary last year, is based on a series of shared values such as artisanal tradition, knowhow passed down through the generations, manual expertise and creative genius.
It is this artisanal attention to detail that makes both the wine and the armchair unique and perfect: 9 m2of leather is required for each 1919 armchair together with 17 metresof twine, 90 metres of yarn for stitching, 12 buttons, 32 springs, 320 leather nails, and 22 hours of processing. Similarly, each bottle of Luce is the product of 8 m2 of soil, 2 Sangiovese and 2 Merlot plants, 500 hours in the vineyard and another 500 in the cellar, 100 analyses and 150 tastings and over 30 months of aging to guarantee 20 years of longevity.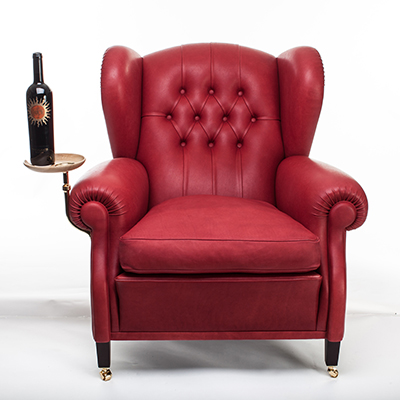 Poltrona Frau and Luce are ambassadors for Italian excellence across the world, staging an international roadshow in which "Pausa di Luce" will play a frontline role in a series of events held in October and November in the main Poltrona Frau showrooms across the world. The New York event is the first of several in the United States.
"The partnership with a historic Italian company like Marchesi de' Frescobaldi, which oversees Luce della Vite, stems from our shared values and strategic vision. Investing in quality raw materials and excellence in all phases of the production process, consisting of strictly artisanal techniques, is a key for the heritage of top-quality Italian craftsmanship at international level. "Luce shows how companies that share values, a strategic vision and positioning have a desire to work together in order to disseminate Italy's incredible entrepreneurial culture," explains Matteo di Montezemolo, vice chairman of Poltrona Frau Group. "It is increasingly important that we promote our heritage of fine craftsmanship and production and create opportunities to raise the awareness and improve the visibility of our products at national and international level."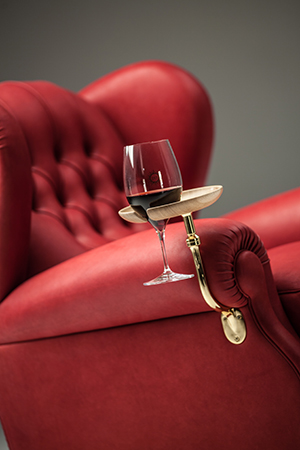 "I am extremely happy about this partnership with a high-profile name like Poltrona Frau", comments Lamberto Frescobaldi, who has been directly involved in the Casa di Luce project since the outset. "To produce a quality wine, which embodies all of the typical qualities of the Italian spirit, time and manual expertise are essential. You have to respect the times of the vineyards, you have to be patient, you have to carry out simple yet attentive and very precise actions. This same philosophy is also adopted by Poltrona Frau, the top-quality Italian business that this year is a partner in the Casa di Luce project."
About Poltrona Frau
Poltrona Frau, backed by a great history and tradition, lives in the present. Interpreters of timeless beauty, the company believes in designs and materials that guarantee wellbeing, and it proudly maintains its international standing as a spokesman for the values associated with the design and production of Italian-made goods. Founded in 1912, Poltrona Frau has been refining its sophisticated expertise in hand-crafted workmanship for more than a century. This expertise continues to be passed down by master craftsmen from generation to generation. Today, as in the past, this heritage of knowledge and skill is captured within each piece of Poltrona Frau furniture and continues to evolve to obtain the best from the renowned Pelle Frau® leather. Poltrona Frau's blend of tradition and modernity has made the brand a highly recognisable presence in the residential, office and contract sectors in addition to the interiors for cars, aeroplanes, yachts, helicopters and trains.
About Luce della Vite
In 1995 Luce was born thanks to the enlightened and enlightening vision of two great protagonists of the contemporary history of winemaking: Vittorio Frescobaldi and Robert Gerald Mondavi. A wine with a great personality and character capable of expressing in a glass the culture of an ancient art and the unique territory of Montalcino. It is in this extraordinary land that Luce della Vite is settled, more precisely in south-west of Montalcino. 192 hectares of land of which approximately 55 are vineyards. The property Luce della Vite is located between 350 and 420 meters above sea level, the highest part of the region. Lamberto Frescobaldi took part in the birth of Luce with Tim Mondavi (Robert 's son ) whose has directed the production guidelines, devoting himself especially to the agricultural choices and wine, from the vineyard to the creation of blends of each harvest. Since 2005, when the joint venture with Mondavi ended, Lamberto Frescobaldi is in charge of the project: Luce della Vite is his personal betting business to which he devoted himself with great passion, energy and expertise to continue to pursue those values that 18 years ago led to the birth of a dream. Luce was the first wine produced in Montalcino with Sangiovese and Merlot grapes. Next to the structure and elegance of Sangiovese, the creators of Luce decided to support the roundness and softness of Merlot, in a balance initially equal. A choice motivated by the desire to get a wine that was truly innovative and unique for the area. Luce is the icon wine of Tenuta Luce della Vite, a great wine in an absolute sense, a true champion of contemporary winemaking able to represent the excellence and uniqueness of Made in Italy in the world.