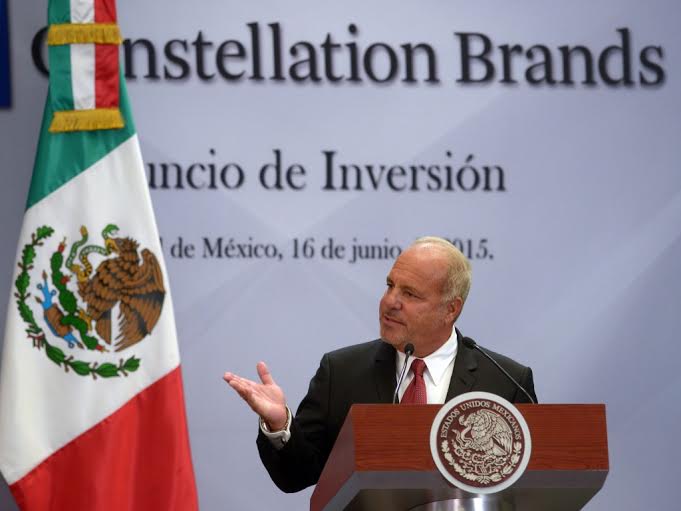 Rob Sands, President and CEO of Constellation Brands
Meets with President Peña Nieto of Mexico
~Discussed Commitment in Mexico and Progress of Brewery and Glass Plant Expansions~

Victor, N.Y., June 17, 2015 – Yesterday, Mexican President Enrique Peña Nieto welcomed Rob Sands, president and chief executive officer of Constellation Brands, to his official residence, Los Pinos, and discussed the significant investments the company is making. Last year, Constellation announced that it planned to invest approximately $2 billion to increase the Nava brewery's production capacity, and expand the glass plant, also located in Nava.
During a press conference in Mexico City yesterday, Sands reinforced the company's commitment to growth in Mexico, and shared that the expansion projects at the Nava brewery and glass production facility are well underway. "Constellation Brands is proud to be in Mexico, and we are here to stay," said Sands. "Our commitment and investments in our Mexican beer portfolio have resulted in record-breaking growth and accelerated U.S. consumer demand that is far ahead of market trends. We are thrilled about the investments we are making in Mexico because we believe Mexican high-end beer will continue to grow and be a leading beer segment inthe U.S. for years to come."

When the expansions are complete, Constellation Brands expects that approximately 2,500 people will be employed at the brewery, glass plant and Mexico City office locations.
President Peña Nieto expressed his gratitude during the event. "Thank you for trusting Mexico, thank you for believing in Mexico. We wish the company great success and will support your business plans as you continue to grow."
Also present during the day's events were Mr. Luis Videgaray, Secretary of Finance; Mr. Ildefonso Guajardo, Secretary of the Economy; Mr. Enrique Martínez, Secretary of Agriculture; Mr. Rubén Moreira, Governor of the State of Coahuila, and Mr. Anthony Wayne, Ambassador of the U.S. in México as well as representatives of the Mexican Government.
About Constellation Brands
Constellation Brands (NYSE: STZ and STZ.B) is a leading international producer and marketer of beer, wine and spirits with operations in the U.S., Canada, Mexico, New Zealand and Italy. In 2014, Constellation was one of the top performing stocks in the S&P 500 Consumer Staples Index. Constellation is the number three beer company in the U.S. with high-end, iconic imported brands including Corona Extra, Corona Light, Modelo Especial, Negra Modelo, Pacifico and Victoria. Constellation is also the world's leader in premium wine selling great brands that people love including Robert Mondavi, Clos du Bois, Kim Crawford, Rex Goliath, Mark West, Franciscan Estate, Ruffino and Jackson-Triggs. The company's premium spirits brands include SVEDKA Vodka and Black Velvet Canadian Whisky.
Based in Victor, N.Y., the company believes that industry leadership involves a commitment to brand-building, our trade partners, the environment, our investors and to consumers around the world who choose our products when celebrating big moments or enjoying quiet ones. Founded in 1945, Constellation has grown to become a significant player in the beverage alcohol industry with more than 100 brands in its portfolio, sales in approximately 100 countries, about 40 facilities and approximately 7,200 talented employees. We express our company vision: to elevate life with every glass raised. To learn more, visit www.cbrands.com.