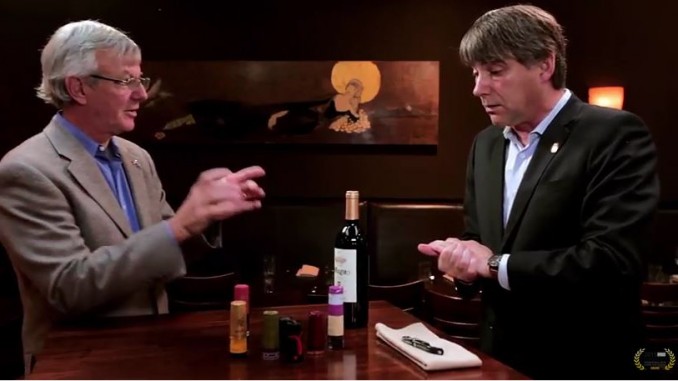 New Video Features Master Sommelier Tim Gaiser with
A Key Tip for Aspiring Sommeliers
Pure Tin Mark of Distinction Campaign
(Napa, CA) – In a newly released video, the Pure Tin Mark of Distinction Campaign presents an insight from Master Sommelier Tim Gaiser on how to pass the Certified Sommelier Exam. In fact it could all hinge on how you treat the bottle's capsule while opening the wine. While discussing the correct steps for opening wine, Gaiser explains how pure tin capsules are extremely pliable, soft and cut very evenly.
"To someone who has been a sommelier and teaches sommeliers, this is really what we're looking for. This is the best of all worlds. In terms of function and ease of removal, it's the best capsule by far," says Tim Gaiser, Master Sommelier.
Tim Gaiser is joined in the video by Paul Wagner, Napa Valley College Instructor and founder of Balzac Communications and Marketing. The two cohorts have a lively discussion about pure tin capsules, exploring why they perform better than other capsules and how they positively affect packaging and brand identification.
"The Pure Tin Capsule lends itself to different colors and different designs. And I think it adds a lot of appeal and also just attractiveness to the packaging of the bottle," adds Gaiser.
Using a highly specialized artisanal process, a few international renowned manufacturers produce pure tin capsules as a premium, ultra-high quality product designed for top of the range wines and spirits. The capsules are then personalized by the delicate artistic work of embossing, coloring, ornamentation and decoration.
"Pure tin capsules offer the best sensory experience because they have that color saturation, they have the richness of the texture, they cut cleanly and they are not sharp," says Paul Wagner. "They are everything you want out of a capsule."
To view the video and learn more, visit https://www.youtube.com/watch?v=fg5rMZ3HMFE
About the Pure Tin Capsule Campaign
The mission of the PURE TIN marketing campaign is to promote the Pure Tin Capsule to a wide range of audiences, from winemakers to sommeliers to wine connoisseurs, increasing the appreciation and recognition of its special qualities and differences. The Pure Tin Capsule is a premium quality product, produced in a highly specialized, artisan manner for top wines and spirits around the world. More information about Pure Tin is available on their website at http://puretincapsules.com/