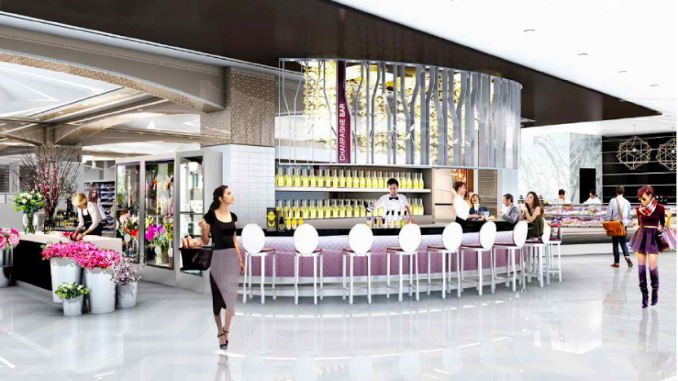 Nouveau Culinary Experiences and Deluxe Product Mix Set the Stage for the First Saks Food Hall by Pusateri's
The family-operated Canadian company partners with local and renowned culinary brands for its first-ever experiential food hall

The first-ever Saks Food Hall by Pusateri's, opening at Sherway Gardens on February 25th is a melange of premium food experiences unmatched in creativity and poised to excite the palates of locals and tourists alike. Featuring 18,500 sq. ft. of inspiring culinary stations, exclusive products, fine food services and a deluxe grocery assortment, the Saks Food Hall by Pusateri's at Sherway Gardens will engage patrons in sights, flavours and aromas from around the globe.
For over 50 years Pusateri's has been an integral thread in the fabric of Toronto, from its humble beginnings on St. Clair Ave. W. in the early 60's, to the multi-faceted fine food company it is today. With extensive catering, event, floral and giftware services, Pusateri's has become the go-to grocer for discerning cosmopolitan clients. And now, the partnership with Saks Fifth Avenue will marry the two brands' reputable commitments to quality, customer service, and world-class experiences, creating a destination for dining and culinary reverie unlike anything Toronto has seen before.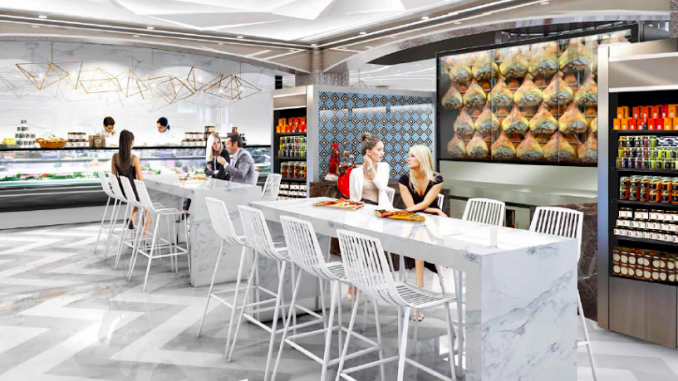 "The partnership with Saks Fifth Avenue has allowed us to curate a series of unique food experiences that reflect our team's world travels and inherent love of food," says Frank Luchetta, President of Pusateri's, adding, "Pusateri's and Saks are both driven by passion, quality, and exemplary service."
Food Hall Stations
The new food hall hosts ten unique culinary stations, mixing proprietary offerings with some of Toronto's favourite local gourmet vendors.
– Nutella Café by Pusateri's: an exclusive assortment of fresh, handmade crepes and unique delicacies featuring Nutella®, all specially crafted by the Pusateri's Kitchen Team
– Pusateri's Sushi Bar: an eclectic mix of exclusive high-end sushi creations made to match the luxe ambiance of the Saks Food Hall by Pusateri's
– Champagne and Raw Bar: with top-shelf champagne, artisanal red and white wines, and craft beer alongside cheese and charcuterie platters, seafood towers, and rotating tapas menus by Pusateri's Corporate Chef Tony Cammalleri
– Pusateri's Cafe: exclusive coffee blends roasted just for Pusateri's, loose-leaf teas, and freshly baked goods
– Pingue Prosciutto Bar: showcasing a collection of local charcuterie by Pingue Prosciutto, sliced fresh for eat-in or take-away
– Pusateri's Signature Spatchcock Rotisserie: using a state-of-the-art rotisserie procured in France, Pusateri's will offer internationally inspired varieties of naturally raised, grass-fed Ontario chickens
– Greenhouse Juice: Raw, 100% organic cold-pressed juices, superfood smoothies, probiotic tonics, and plant-based snacks that taste as great as they make you feel, from Canada's leading cold-pressed juice company.
– La Cucina: full-service hot food counter with innovative and trendsetting recipes developed by the Pusateri's Kitchen Team
– Pusateri's Own Prepared Foods: features a wide variety of grab-and-go single and family sized offerings, as well as a breadth of premium proteins, creatively prepared daily by Pusateri's Kitchen Team
– Catering: renowned catering services featuring a la carte, corporate, holiday, private, event and kid-friendly menus
Product Assortment
Pusateri's is infusing the Saks Food Hall with a fresh, unique, and superior product assortment for consumers to shop.
– Meat: focuses on ethically sourced proteins such as antibiotic-free beef and pork, organic chicken, wagyu beef, Washington State lamb, and white veal
– Produce: will feature local, seasonal, and organic fruits and vegetables sourced from the top suppliers and reflecting Pusateri's award-winning reputation of offering only the best produce
– Cheese: artisanal local cheeses, international award-winners, and unique and rare formaggi
– Deli: nitrate-free and reduced sodium offerings will be sliced alongside the best local and artisanal deli meats
– Pastry: features a best-in-class showcase of local, national, and international producers, like Blackbird Baking Co., Forno Cultura, The Macaron Boutique, The Tempered Room, David H. Chow, Chocosol, Chocolate x Brandon Olsen, Sweet Flour Bake Shop, Shockingly Healthy!, Dessert Trends Bakery, Venchi, The Cheesecake Factory, and Bakerberry
– Products: globally-sourced grocery products from world-renowned brands like John Kelly Chocolates, Angelina Paris, Louis Sherry, Sipp, Mariebelle, Dragees Hatziyiannakis, Gracie & I, Ines Rosales, La Giardiniera Di Morgon, Maya Kaimal, Pickled Pink Foods, Tonewood, Premiato Pastificio Afeltra Pasta Artigianale, Holmsted Fines, etc.
The Saks Food Hall by Pusateri's at Sherway Gardens will be followed by a 25,000 sq. ft. Saks Food Hall by Pusateri's at
Eaton Centre
, scheduled for Spring 2016. These food hall concepts will be succeeded by a Pusateri's at
RioCan Oakville Place
(Spring 2016) and the reopening of the brand's flagship Avenue Road location (Spring 2016). These new locations will serve to better connect Pusateri's with food lovers across the Greater Toronto Area.
"We could not be more proud and excited to share the Saks Food Halls by Pusateri's with the Toronto community and tourists visiting our city," reiterates Luchetta. "With the Food Halls at both upcoming Saks locations, Pusateri's can now explore our love of food with new audiences, every day."
About Pusateri's Fine Foods
World-renowned for exceptional products, superior quality, and customer service, Pusateri's Fine Foods has built an exceptional reputation as one of the best fine food shops today. Pusateri's staff has traveled the globe in search of the unknown, with the determination and desire to share their passion for food. Family-owned and operated for over 50 years, Pusateri's remains a one-of-a-kind shopping destination for food enthusiasts. Pusateri's currently has two locations at 57 Yorkville Avenue and 2901 Bayview Avenue (at Bayview Village). Pusateri's will operate the Saks Food Halls at the luxury retailer's first two Toronto locations at Sherway Gardens and Eaton Centre (launching February and Spring 2016, respectively), and is opening a store at RioCan Oakville Place Spring 2016 as well. These three new locations will be followed by the grand reopening of the brand's flagship Avenue Road location later in the year.
Saks Fifth Avenue
Saks Fifth Avenue, one of the world's pre-eminent specialty retailers, is renowned for its superlative American and international designer collections, its expertly edited assortment of handbags, shoes, jewelry, cosmetics and gifts, and the first-rate fashion expertise and exemplary client service of its Associates. As part of the Hudson's Bay Company brand portfolio, Saks operates 38 full-line stores in 22 states, five international licensed stores and saks.com, the company's online store.