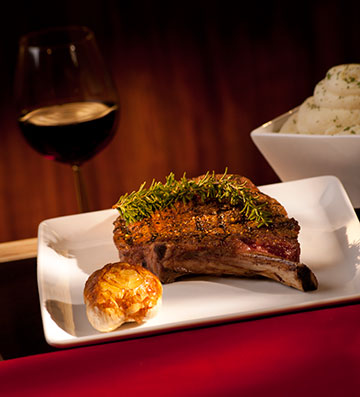 Located in one of the most iconic destinations on the Las Vegas Strip, the Riviera Casino and Hotel, R Steak & Seafood is reinventing itself as a fine dining locale that's a draw all its own. This as the restaurant modernizes its atmosphere and amps up its culinary offerings amid ta $450,000 renovation completed fall 2012, the addition of a new chef, and a revamped menu that, collectively, proffers a distinctive "affordable excellence" dining experience.
Without losing the retro, old Vegas vibe that harkens back to the good ol' days when the Riviera was one of the go-to spots for the Rat Pack, this flagship restaurant is now wowing patrons with its chic, contemporary steakhouse décor that aptly compliments its premium grade fare. Guests who seek to keep their conversations private will appreciate the large plush booths and well-spaced tables that foster a more intimate social interaction over drinks and delectables.
Speaking of delectable, I recently visited R Steak & Seafood for a dinner seating to sample the expanded dinner menu the new Chef, Matthew Bosek, has ushered in. Bosek most recently served as Culinary Leader for Google in Kirkland, Washington where he worked side-by-side with James Beard Award winner, Chef Jason Wilson. Bosek's culinary prowess is readily evident as R Steak & Seafood stays true to traditional steakhouse fare with a dose of sophistication and execution perfection.
Among the changes Bosek made was to give the restaurant a Vegas-style and sized menu. He upgraded it with a larger steak selection, including the addition of some mouthwatering entreés like a 16-ounce Dry 14-day aged New York Steak ($32), 20-ounce Dry 14-day aged Bone-In Ribeye ($34), larger number of Filet Mignon options and the impressive 45-ounce Tomahawk Steak for Two served with Yukon potatoes and seasonable vegetables ($85).
Another new sumptuous land selection is the one I opted for–Smoked Duck Breast served with kale atop a sweet potato puree all drizzled with a pomegranate reduction. Moist, flavorful, well balanced and amply portioned, this is a dish I will definitely order again. Another in my party enjoyed the Lamb Chop ($28) cooked impeccably to the intended temperature that was accompanied by an à la carte side of the rich and creamy Lobster Mac & Cheese ($12) with a flavor profile reminiscent of a bisque.
There are also new entreés from the sea, including a pound and a half of Alaskan King Crab Legs (MP) and a 14-ounce Cedar Plank King Salmon served with a large side of wild rice and cranberries and dill cream ($29). A "for two" portion of this salmon dish is also available ($45).