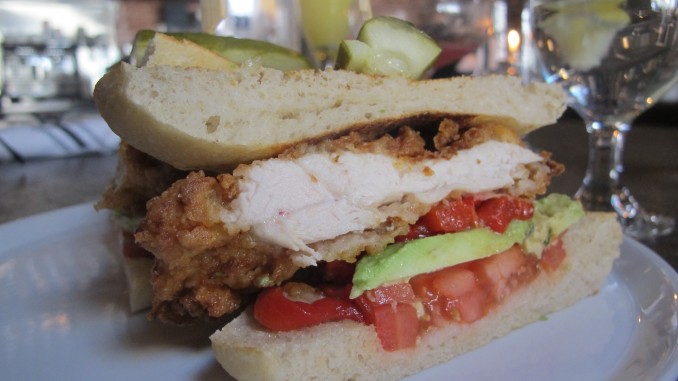 Recess Eatery's Weekend Brunch
Starting

This Saturday

!
Address: 5022 York Blvd, Highland Park 90042, Los Angeles CA
Recess Eatery Highland Park is launching their "homeroom" brunch menu, served every weekend from 9am to 3pm starting this upcoming Saturday March 5th. Expanding their hours of operation, opening at 9am Saturday and Sunday.

The playful 5,000SF old-school cafeteria-inspired restaurant is designed and built by Spacecraft Design Group, integrating an edgy Highland Park vibe and a warm-neutral color palette with green, brown and beige earthy tones. The overall concept is inspired in a non-traditional library and two of the walls of the main room covered in library-like shelves full of food items. The woodwork dominates the ample space, providing a warmer feel, and the furniture is made out of a deep-brown wood mixed with green leather. The lovely outdoor patio backyard focuses in two blooming olive trees as well as a cozy fire-less fireplace made with brick and sand color with green accents, which will be decorated with candles and plants.
Recess Eatery Highland Park hours of operation are now from 5pm to midnight Monday through Thursday, 5pm to 1am Friday, 9am to 1am Saturday and 9am to midnight on Sunday (serving the new brunch menu weekends only 9am to 3pm).
The recently opened Recess Eatery in Northeast Los Angeles caters to young families who live in the area with a very kid-friendly environment, adapting to the neighborhood. The family-owned business was looking to be a part of the enterprise zone, encouraging other new businesses to grow.