Combining the business savvy of Mychel "Snoop" Dillard with the celebrity of Tauheed "2 Chainz" Epps has been a recipe for success in the lives of two Atlantans. Together, they own four restaurants in the Atlanta area with an eye on expansion.
Partnering with a celebrity the likes of rap artist 2 Chainz, known for a string of hits such as 'No Lie," "Birthday Song" and "I'm Different," has had its moments, but after seven years, the duo is going strong and looking to sell franchises in its fourth co-owned restaurant, Esco.
Dillard was familiar with 2 Chainz' music before their introduction seven years ago. "I was just hearing about him when I first moved to Atlanta — he was a really big name here," she recalls. "I actually had celebrated one birthday, where they gave me a cake, and it was the year that his 'Birthday Song' came out, so some people were performing that, so yeah, it's very ironic that a few years later I'd end up opening up a restaurant with him. And now we've got four of them together."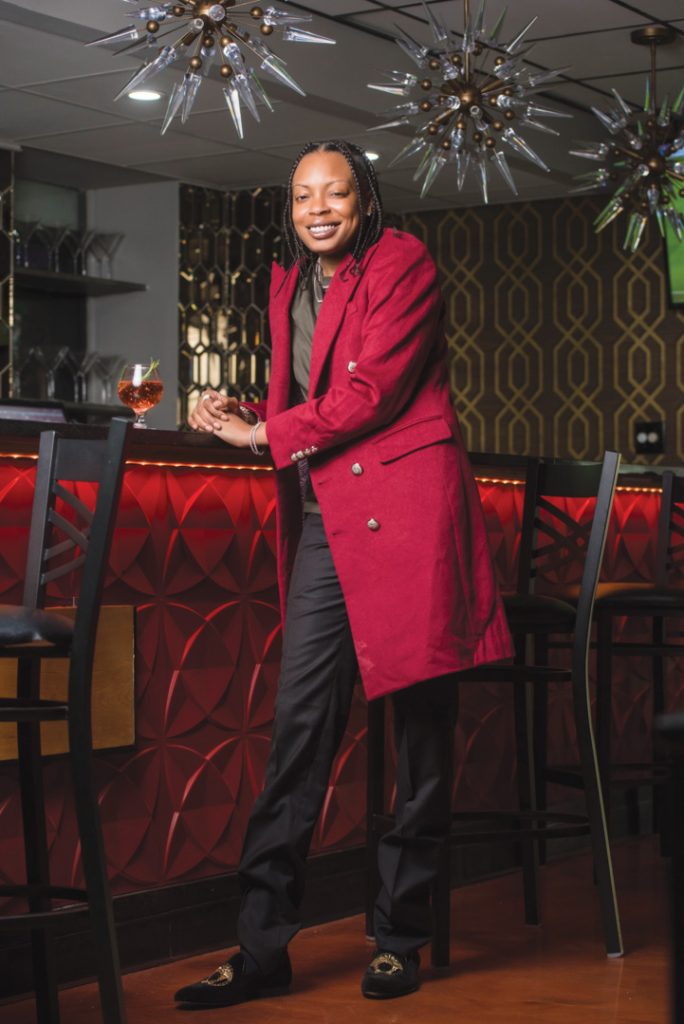 In addition to their first enterprise, Escobar Restaurant, and Tapas, the partners own Esco South, Members Only Lounge and Restaurant, and their latest collaboration, Esco Seafood.
"Partnering with a celebrity has its plusses and minuses," Dillard says.
"I won't lie and say that it's been all peaches and cream, you know, any partnership's like that," she says. "One of the minuses of being owned by a celebrity is that everything's under a microscope, and the media picks up on any issues that they generally would not otherwise."
But there are benefits.
"Anytime you have a partnership, you have two different people who bring different ideas and things to the table," Dillard says. "Of course, there are going to be some differences from time to time, but we definitely think a lot alike. We really balance each other out with our thoughts and in our ideas, so it definitely makes for a great partnership."
Dillard brings to the table a history of success in the restaurant industry. She started her hospitality career in Nashville with the opening of The G Spot, a bar targeted toward the LGBTQ community. When she moved to Atlanta, she started a popular party bus, Party Bus Kings, and followed that with the opening of Hookah Hideaway, a popular neighborhood pub, now closed, that offered karaoke and hookah. She also owns Remedy Salon and Suites, a company that leases spots to beauty professionals, and is a business consultant for those wanting to pursue entrepreneurial careers.
Epps brings to the table his celebrity. Born in College Park, Ga., he gained recognition as half of the hip-hop duo Playaz Circle. Rapper Ludacris took note and signed the group to his Disturbing the Peace label. Epps went solo in 2012, signing with Def Jam Recordings, a move followed by a number of hits on the top-50 Billboard Top 100 chart.
The partners were introduced at a meeting set up by their realtors. Dillard was looking for a space to open another restaurant, building on the popularity of her Hookah Hideaway. Epps was looking for a tenant to occupy an empty building he owned on Peters Street in Atlanta's Castleberry Hill neighborhood.
"We hit it off right away, you know, like really quickly, and we decided to go into business together," Dillard says. The partnership has been a good one. Epp's celebrity has been good for marketing; Dillard's business acumen has been good for growth of their restaurant empire.
"We have a very good personal relationship," she says. "I'm very familiar with his family. We're friends — definitely more than just business partners.
But is partnering with a celebrity for everyone? Just ask Dillard.
"That just depends on what the celebrity will bring to the table because being in the restaurant industry is a lot of hard work."