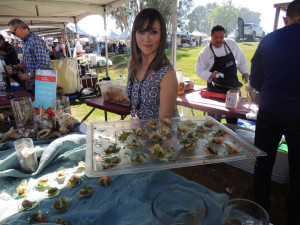 Aron Schwartz, executive chef at Marina Kitchen ensconced within San Diego's Marriott Marquis Hotel, came away with the highly coveted "Chef of the Fest" title at the 2015 San Diego Bay Wine & Food Festival that took place November 16-22. Chef Schwartz wowed judges with a delicious bacon-wrapped pork tenderloin dish, served with purslane and aji chili vinaigrette, during the highly competitive culinary showdown on Nov. 21, when 60 chefs competed to win up to $50,000 in cash and prizes and a lifetime of bragging rights.
Now celebrating its twelfth decadent year, The San Diego Bay Wine & Food Festival is a not-to-be-missed annual affair offering foodies a titillating five-day schedule rife with action-packed events that are both educational and entertaining. This includes cooking classes, tasting panels, celebrity chef dinners, and a multitude of wine and food tasting activities that showcase the most talented chefs America's Finest City has to offer—this among a bevy of other gastro gems on both the food and beverage front from purveyors in San Diego and beyond.
Two of the Festival's most anticipated events this year, and my personal favorites, were the SommCon Tasting and the Grand Tasting Event, and both exhibited masterful culinary ingenuity.
This year's SommCon Tasting took place on November 20th and provided attendees with a spectacular array of wine, spirit and beer samples. The event was duly impressive, allowing festival-goers to not only sample from over 100 exhibits, but also mingle with top industry professionals. A special sampling section was reserved for the "best of the best" medal winners from the 2015 Sommelier Challenge International Wine Competition. Everyone from wine novices to master-level sommeliers lingered around the Sommelier Challenge area for their chance to taste these award-winning wines. Paying it forward was also part of the fun during this event, with a silent auction benefiting the American Institute of Wine & Food and the Chaine des Rosisseurs culinary arts scholarship programs. For my part, I managed to snag a sailboat ride on a classic ship, The Liberty, for a 3-hour tour of San Diego Bay.
The day after the SommCon tasting, I rallied my appetite for fine food and drink once again and made my way to the "Grand Tasting," event, which is essentially the grand finale of the annual fest. This crave-worthy celebration also met everyone's decidedly high expectations and discerning palates. The event again took place at San Diego's picturesque Embarcadero Marina Park North behind Seaport Village, allowing attendees to take in the gorgeous San Diego Bay and balmy weather as they noshed, sipped and savored their way through the San Diego Bay Wine & Food Festival's final—and dare I say flagship—event.
As a self-professed foodie, I find the annual fest's Grand Tasting Event to be the most crave-worthy excursion of the year. Not only for the elevated cuisine, which is impressively prepared and plated on-the-fly in bite-size increments, but also the vast array of wine, beer and spirits that reflect a tremendous amount of imagination and originality clearly rampant within the industry. Impressively, this year there were over 700 different types of both domestic and international wines provided by 150 wine and spirit purveyors.
Attendees didn't have to worry about drinking on an empty stomach however, with over 60 of San Diego's most talented chefs and other kitchen commandos on hand providing tasters of their delectable edibles for all to enjoy. As if that were not enough, over 30 gourmet food companies also had a presence at the event, proffering samples of their sumptuous foodstuffs. Still can't get this ender off of my mind: bacon-wrapped cinnamon rolls filled with creamy Nutella. In fact, this year pork in one form factor or another was seemingly the ingredient of honor. No complaints here.
Gladly, one not need to be "in the business" to partake in the various activates during the week-long San Diego Bay Wine & Food Festival. Whether you're a serious epicurean enthusiast, a hardened oenophile with an insatiable thirst for knowledge, or just someone looking for a way to spend a beautiful Southern California day, this annual celebration showcasing the fresh and flavorful F&B scene in San Diego and beyond definitely will not disappoint. I'm already sizzling with anticipation for next year.
~~
"The Luxe List" Executive Editor Merilee Kern scours the luxury marketplace for exemplary travel experiences, extraordinary events, and notable products and services. Submissions are accepted at www.TheLuxeList.com. Follow her on Twitter here: www.Twitter.com/LuxeListEditor and Facebook here: www.Facebook.com/TheLuxeList.
Some or all of the accommodations(s), experience(s), item(s) and/or service(s) detailed above were provided at no cost to accommodate this review, but all opinions expressed are entirely those of Merilee Kern and have not been influenced in any way.