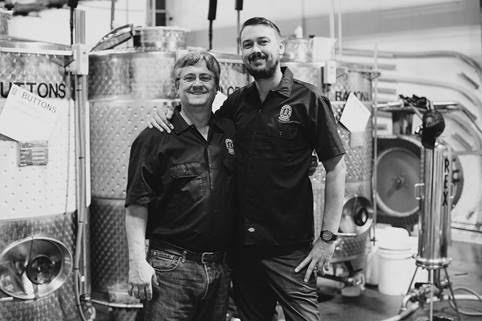 SONOMA CIDER ADDS FOURTH VARIETY TO ITS CORE LINE-UP: THE WASHBOARD
Sarsaparilla Vanilla Flavor Becomes a Permanent Fixture in Sonoma Cider's Repertoire

HEALDSBURG, CA, JANUARY 12, 2016 — Sonoma Cider, the award-winning brand crafting distinctive, certified organic hard ciders from gluten free ingredients and hands-on passion, is adding a fourth flavor to its already impressive core line-up, The Washboard. Set to be released on January 25, 2016, The Washboard features the sophisticated flavor of imported Indian sarsaparilla blended with the crisp, tart juice of organic Pacific Northwest apples, and a touch of vanilla.
Founded in 2013 by a father-son team, David and Robert Cordtz, Sonoma Cider has been earning high praise from critics and consumers alike. Over the past few years, the brand has been a staple in the winner's circle at various top competitions across the country, including being named the 2015 Cider Producer of the Year at the New York International Beer Competition.
This will mark the second time The Washboard has been available to consumers. It was first released as part of Sonoma Cider's "Limited Run" series in March 2015 and received rave reviews, winning Gold at both the 2015 California Cider Competition and 2015 Tastings World Beer Championships. Due to the overwhelming success of its initial launch, and consumers' unrelenting demand for a return of the product, Sonoma Cider made the decision to add it to their year-round core line-up.
"Ever since I was a kid, I have wanted to start a root beer company. I even designed a little label for the "California Boys Root Beer Co. when I was eleven years old, "says Robert Cordtz, co-founder of Sonoma Cider with his father, David Cordtz, CEO/Cidermaster. "It took a few years, but in March 2015 my dream came true when we celebrated the initial release of The Washboard. My dad and I were stoked to see it fly off the shelves. The people spoke, and we listened. Now, The Washboard will be added to our core line-up so it can be enjoyed all year long."
The Washboard is reminiscent of homemade root beer – and those trendy hard root beer options – with a twist. Absent is the sweetness often associated with the aforementioned beverages (The Washboard contains 9 grams of sugar per 12oz serving, while the most popular hard root beers in today's market contain upwards of 35 grams of sugar per 12oz serving), and in its place are herbaceous and earthy notes, followed by a clean, refreshing, creamy-but-not-too-sweet finish. The Washboard is available in 12-ounce bottles, 5.2 gallon kegs, and 15.5 gallon kegs. Alcohol by volume is 5.5%. Ingredients include: organic Fuji and Granny Smith apples from Washington, organic sarsaparilla from India, organic vanilla. (12oz/4 pack bottles: $9.99)
The Washboard joins Sonoma Cider's award-winning "Core Ciders" which also includes the signature, apple cider "The Hatchet," pear-based "The Pitchfork," and bourbon-flavored "The Anvil". Sonoma Cider also offers other unique flavors through the "Limited Run" series and "Cidermaker Reserve" series.
Hard Cider is the fastest-growing segment in the beverage industry, with sales more than quintupling over the last three years. In 2014, Sonoma Cider produced approximately 65,000 cases of cider. The company passed the 100,000 case mark in 2015 and show no signs of slowing down in 2016. According to the market research firm IRI, cider sales grew 75.4 percent to $366 million in the 12 months through November 2014. In 2015, hard cider sales in the U.S. were expected to increase by 12 percent, and to continue to grow at the rate through 2020. (Source: Canadean Ltd.)
Sonoma Cider is available at retail liquor stores, supermarkets and natural foods stores in most key U.S. markets. For more information and a list of retailers, please visit www.sonomacider.com.
About Sonoma Cider
Sonoma Cider handcrafts the only full line of organic ciders in the U.S., each made with distinctive, all natural, gluten-free ingredients. Sonoma Cider is produced from freshly squeezed, organic apples in micro batches to deliver intensity of flavor and a refined experience for this rapidly growing category. The company was founded in 2013 by 20-year veteran cidermaster, David Cordtz, with his son and co-founder, Robert Cordtz. Together they combine decades of industry expertise with next generation dynamism. Learn more at www.SonomaCider.com.