By Morgan Westling
For the past three decades, Gerber Group has worked to reinvent the sleepy reputation of the typical hotel bar. With many hotels delivering exceptional amenities to their guests, a trendy bar can become the differentiating factor in why guests choose one hotel over another. Delivering innovative food and drink items and unique design concepts, each property Gerber Group opens is complementary to the hotel, yet original and timeless.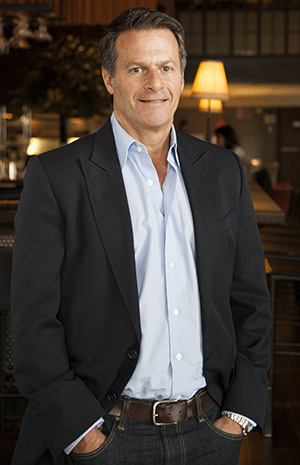 Scott Gerber began his career as a real estate broker but unexpectedly fell into the bar business with his brother, Rande Gerber, when established entrepreneur and hotelier, Ian Shrager, offered to be their business mentor. Scott sat down with Food & Beverage to discuss how Gerber Group has established itself as a hospitality industry leader since opening its first property, The Whiskey at the Paramount Hotel, back in 1991 in New York City. When Rande and Scott initially started their bar business, Rande was the full-time businessman, while Scott remained a real estate broker and was only involved peripherally. However, around 2008, things shifted when Rande bowed out of the business and Scott became principal and CEO of Gerber Group. When asked why Rande left and what difference this made to the company, Scott explained, "My brother decided that he wanted to go into the making of tequila, so he wasn't allowed to own a liquor company and be in the bar business simultaneously.
I bought my brother out of the business so he could go into the tequila business. The biggest difference was that when we were partners, we had very different jobs. I would run the business, and I would help get the places built and manage the contractors. My brother would do the designing and marketing. Once I bought Rande out, I had to do it all. I'm not a public figure like my brother is, so the focus of our press shifted more to business."
Now that Scott is the principal and CEO, he handles everything from design to marketing, to management. His favorite aspect of the job is finding the deals, getting the places built, and seeing how guests respond to the finished property. He says, "When you have a successful bar, it probably means you're doing something right. I also love hearing when our employees feel fulfilled by their jobs. We care about our employee's lives and wellbeing."
Speaking of Gerber Group employees, Scott was on an episode of Undercover Boss and had a chance to see his employees in action. While many bosses go on this show as a way to catch mistakes and make improvements within their company, Scott says he went on the show for a very specific reason:
"My dad passed away about 9 years ago, but he worked with us in the company. He didn't have a specific job, but he was a mentor and a friend to everyone.
He had a great way about him. He spent a lot of time in the bars with the people, and he established a great friendship with employees. He treated our company like family.
People didn't have that relationship with me, and I felt like it was missing. I did Undercover Boss, because I felt there was a divide, and I wanted to see how our employees were feeling. I felt like they were family, but I didn't know how they felt. Through the show, I found out that most of our employees love working for Gerber Group, so it was a great experience."
When speaking to Scott, it's clear that he cares deeply about every facet of the business, including the people who run each property, the items on the menu, and the design and architecture within every bar.
He mentions that some of the most exciting properties Gerber Group has been involved in include The Campbell, located inside Grand Central Station in New York City, which is an historic space they preserved and restored from the 1920s, as well as Mr. Purple, which is a rooftop bar located inside the Indigo Hotel on Manhattan's Lower East Side, featuring stunning views of the Brooklyn Bridge, The Empire State Building, and the World Trade Center.
Both of these properties have stunning architecture and design features. When asked how Gerber Group chooses the design and architecture for each new property, Scott says, "We try to understand the market we are going into and the hotel we are partnering up with. We are technically third-party operators, so the hotels want us to have an interesting design that complements them. We work with many architects and designers. We sit around and come up with a concept and execute those concepts. The hotels trust us."
The design and architecture of the bar is very important to the overall concept. Scott explains that working specifically in the hospitality industry as opposed to the bar industry alone is unique, because the hotel relies on them to create something special that will differentiate the hotel from others in the surrounding area. For example, Mr. Purple may be the reason one guest chooses to stay in the Indigo Hotel over another hotel with comparable amenities.
Over the past three decades, Gerber Group has done an incredible job of promoting both their brand in the bar industry as well as the hotels in which their properties reside.
With Scott's strong work ethic, keen eye for detail, and caring heart for his employees, he shows exactly what a CEO should look like when working in the service world. We asked him what advice he would give to other entrepreneurs in the bar and restaurant industry, and his advice was sound; "The most important thing to understand is that owning a bar is much different than going to a bar. A lot of work goes into making a bar a success including hiring honest and friendly people, working long hours, and having enough capital to withstand downturns. Just because you like going to bars doesn't mean you'll like owning one."
The success rate is slim for making it in the bar industry, but Gerber Group has come out on top despite fluctuations in the economy and unpredictable recessions that every company can face when operating long-term. With a solid portfolio of properties, the future for Gerber Group is looking bright. They have many projects currently in the works, including two Washington DC properties and a new bar called Kingside in the La Guardia Airport in New York City. Scott says, "A lot of people appreciate the value we can bring to a hotel. We understand our position and work well going into someone else's sandbox. We expect to continue expanding for many, many years."
Thank you, Scott, for speaking with us, and we look forward to hearing about all of Gerber Group's exciting new endeavors!