SOFITEL NEW YORK TO REPRISE POP-UP SHOP WITH MURRAY'S CHEESE
FOR NATIONAL CHEESE DAY,

JUNE 4

, BENEFITTING THE BOWERY MISSION

Selections include artisanal cheeses from France, Holland and Vermont

Sofitel New York is once again partnering with Murray's Cheese, New York City's oldest cheese shop, for National Cheese Day on Saturday, June 4. Une petite fromagerie will be open from 3:30 to 7:30 p.m. in the hotel's signature restaurant, Gaby Brasserie Française. Donations are welcome and will benefit The Bowery Mission in its goal to provide help and hope to the homeless and impoverished of New York City.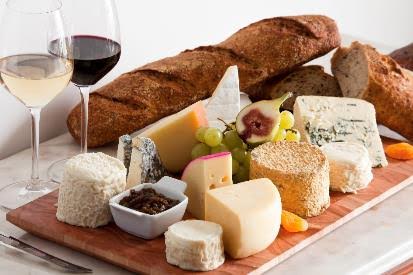 Guests will enjoy tastings of select artisanal cheeses and receive assistance from a cheesemonger, knowledgeable in the finer points of cheese, as they make their choices. Selections will include a Ewephoria Sheep Milk Gouda from Holland; three cheeses from France, including a Comté Saint Antoine cow's-milk cheese, a Tomme Crayeuse cow's-milk cheese and a Saint-Maure de Touraine pasteurized chevre; and two cheeses from Vermont, which include a Jasper Hill Farm Bayley Hazen Blue and a Spring Brook, Reading cow's-milk cheese.
Reservations may be made by calling 212-782-3040. For more information, visit gabynyrestaurant.com.
About Sofitel New York
Sofitel New York, part of AccorHotels group, is a stylish Midtown hotel with a decidedly French accent in its contemporary décor, sophisticated artwork, brasserie cuisine and cosmopolitan service. It features 398 guest rooms, including 52 suites; function space that serves small to mid-sized events; and an outstanding brasserie, Gaby Restaurant, whose French executive chef has won the Food Network show Chopped among other accolades. Sofitel New York is ideally located at 45 West 44th Street, affording easy access to Fifth Avenue and the Times Square theater district. For reservations, call 800-SOFITEL (763-4835) or visit http://www.sofitel-new-york.com/.
About The Bowery Mission
The Bowery Mission has served homeless and hungry New Yorkers since 1879. This year, The Bowery Mission provided more than 406,000 meals to men, women and children, 91,000 nights of shelter and 44,000 articles of clothing, as well as showers, haircuts, and expert medical and optometric care. Each meal and every night of shelter is an invitation to residential recovery programs, where men and women get a second chance and lives are transformed from hopelessness to hope. Last year, the Mission's residential programs served nearly 300 men and women who are regaining sobriety, reconnecting with family and faith, pursuing educational goals, and preparing for work and independent living. To ensure that at-risk children have a positive first chance at life, The Bowery Mission's city camp and summer camp serves nearly 1,200 at-risk children from poor city neighborhoods. www.bowery.org