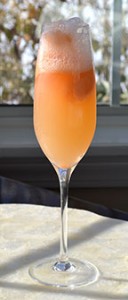 Mimosas have long been the perfect Sunday morning brunch staple but one Chicago restaurant is taking this bubbly beverage one step further. Joel Sorinsky, owner of Theory, located in the River North neighborhood, has created a summer refreshment that combines the best of both worlds- sorbet mimosas.
Starting with crisp champagne, Sorinsky adds a fruity twist to the traditional mimosa by adding a scoop of ice-cold sorbet. Available in flavors such as raspberry, strawberry and guava, the delicate balance of creamy sorbet coupled with bubbly offers a sophisticated spin to a brunch favorite.
In addition to their sweet treat mimosas, Theory has a completely customizable mix-and-match waffle bar to accompany your mimosa-esque float. Waffle options range from the traditional buttermilk version to sweet lemon-poppy seed or blueberry and savory jalapeno-cheddar cornbread. Waffle toppings include an array of house-smoked meats including chicken, ribs and pork, crispy bacon, fried chicken and flavored butters like the bacon-bourbon butter or cranberry-orange butter to name a few.