Introducing SPYTAIL™ Black Ginger Rum
Tribute to underwater explorers – Imported from France – Bold offering to the expanding premium rum category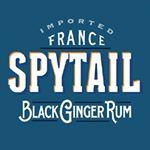 Biggar & Leith, an Independent Family owned Spirits Merchant, today announced the launch of SPYTAIL™ Black Ginger Rum – a super-premium rum, imported from France. SPYTAIL™ is based on a 19th Century French recipe of ageing Caribbean Rum with fresh ginger and spices in the barrel. The rum is distilled in the Caribbean and then aged, spiced and blended at a small family distillery in the Cognac region of France.
SPYTAIL™ celebrates the French deep-sea pioneers and the submarines within which they plunged to terrifying new depths. France has a long tradition of pioneering the oceans in both fact and fiction – from the world's first mechanical submarine (it was called "Le Plongeur" and was tested on the Charente River near the SPYTAIL™ distillery) to Jules Verne's "20,000 Leagues Under the Sea" and of course Jacques Cousteau's numerous exploits and innovations. Today, France continues to be a pioneering force in the exploration of the earth's last undiscovered frontier.
"The heritage of SPYTAIL™, stand out packaging, French craftsmanship and expert rum blending have resulted in an exceptional product that brings something very exciting and new to the burgeoning super-premium rum category. Also, we're seeing that ginger is becoming a seriously popular flavor among cocktail consumers – Moscow Mules, Dark & Stormy and premium ginger beer are all booming and we think that a delicious Black Ginger Rum is going to fit right in. We can't wait to get SPYTAIL™ out to thirsty drinkers and look forward to shipping it to ports around the world." said Elwyn Gladstone, founder of Biggar & Leith.
The name SPYTAIL™ is inspired by the legendary submarines of old and the bottle's round shape is based on a Bathysphere (a primitive form of submarine). The SPYTAIL™ bottle has a porthole embossed on the front and back and hidden within it are the co-ordinates of the final resting place of Jules Vernes. The navy blue and orange striped label, based on a French Naval signal flag, is adorned with engineering details from original submarine designs. The heavy stopper is crafted from metal and embossed with the words "Voyages Extraordinaires" – a nod to underwater adventurers.
SPYTAIL™ is bottled at 40%-42% alcohol by volume and is delicious on the rocks, with ginger beer, ginger ale, cola or in a wide variety of cocktails. Retail price varies by market – in the USA, the 750 ml is available for $21.99-$23.99. SPYTAIL™ is available internationally at the best bars and stores.
About SPYTAIL™ Black Ginger Rum:
SPYTAIL™ Black Ginger Rum is produced by La Compagnie Bathysphere – Caribbean Rum aged, spiced, blended and bottled in the Cognac Region of France. Packaged in a unique, heavily embossed bottle the brand is a tribute to French ginger rum and France's underwater pioneers. SPYTAIL™ is available internationally in markets including USA, Canada, France, Italy, United Kingdom, Ireland, Belgium, Holland, Austria, Hong Kong, Japan, New Zealand, Australia and South Africa. At 40%-42% alc/vol, SPYTAIL™ can be enjoyed in a wide variety of cocktails or on the rocks. For more information visit www.spytailrum.com and on Instagram @spytailrum
About Biggar & Leith:
Biggar & Leith (pronounced "Bigger and Leeth") is an independent family owned spirits company producing super-premium spirits at family owned distilleries around the world who are dedicated to innovation and quality. Their portfolio includes the Italian MALFY™ GIN and SPYTAIL™ Black Ginger Rum. Biggar & Leith's portfolio and international distribution continue to grow. For more information, visit biggarandleith.com
Save