SUN DINER SET TO OPEN

OCTOBER 20
Themed Diner To Be ONLY 24 Hour Restaurant Serving Downtown Nashville

It's no secret that many of the biggest stars in Nashville's music history got their start at 706 Union Avenue in Memphis; the original address of Sun Records. Such legendary performers as Elvis Presley, Johnny Cash, Jerry Lee Lewis, Carl Perkins and even Conway Twitty passed through the historic studios of Sam Phillips throughout their careers.
That legacy will soon be celebrated at the Sun Diner. Located at 105 Third Ave. S in downtown Nashville. The eatery – which will be opening in October 20 – will serve a tribute to the music that came from Phillips' studio.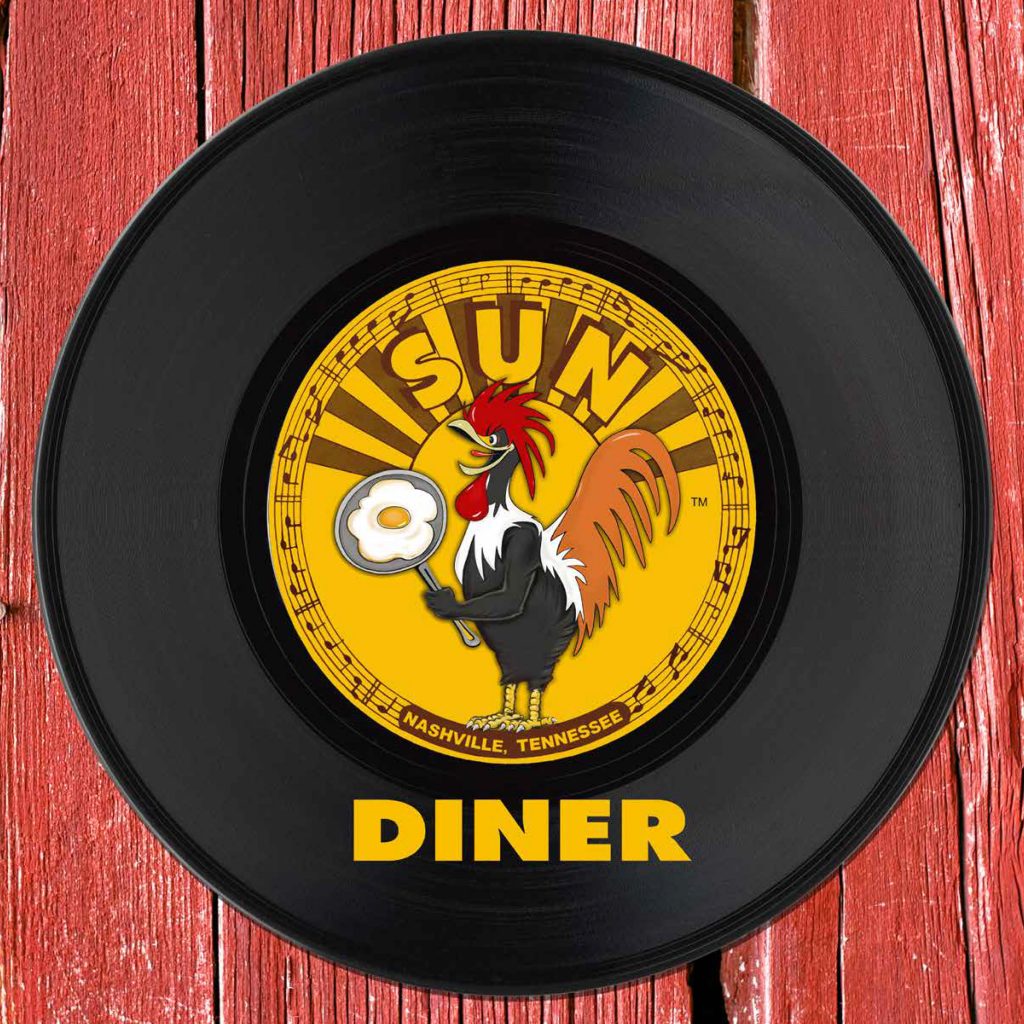 "The musical histories of Nashville and Memphis are forever intertwined with each other, with so many artists beginning their career at Sun before taking their music to Nashville – and all over the world," said Kevin Keller, Director of Operations for TC Restaurant Group, the company which owns the establishment and hopes to continue the tribute to Sun Records in cities across the country.
Continuing with the theme of making history, Sun Diner will be Nashville's first 24-hour restaurant to be located in the downtown area of Music City.
"We are excited about being Nashville's first 24 hour diner to open, especially right off of Broadway in the heart of the Honky Tonk district," says TC's Keller. "Because of the uniqueness of our always being open, we will serve a wide variety of dishes – ranging from dinner to breakfast – for those going home after a night on Broadway, or for those about to start their day downtown."
The restaurant will be a likely destination for tourists – and locals – who might be looking for one last taste of southern hospitality during the early morning hours.
The menu at the Sun Diner will most definitely take on a Memphis flavor with such listings as the "Love Me" Tenders – named after the classic Presley hit, as well as the "Cry, Cry, Cry" Hot Wings – with its name taken from the first major hit record from "The Man In Black." Among the entrees include the "Million Dollar Quartet," with its moniker taken from the iconic December 1956 session at the label with Presley, Lewis, Cash, and Carl Perkins. Consumers will get to pick their choice of four items among such delicious fare as Crispy Bacon, Sausage Patty, Chef Thomas' Hash Brown, Cage-free organic eggs any style, Pancake, Waffle, and Granola Parfait.
About Sun Records
The Sun Records story began in 1952 when Phillips founded the label. Among the other artists that received early exposure from signing with Phillips include Roy Orbison and Charlie Rich. Though much of the aforementioned artists were very much influenced by the R&B stylings that were coming out of the Bluff City and Mississippi, Phillips also cut much-respected music on pure Blues artists such as Howlin' Wolf, Rufus Thomas, Jr., and Roscoe Gordon. Phillips also produced what Rock and Roll aficionados consider the first Rock and Roll record, "Rocket 88" by Jackie Brentson.
Sun Records was bought in 1969 by the Nashville-based Singleton family and continues today under the leadership of John A. Singleton, President and CEO.
About TC Restaurant Group
TC Restaurant Group is a family owned and operated business created from a group of construction veterans with a background of success dating back 40 years. This diversified group was selected as one of Inc. 500's fastest growing development companies in the United States in the early 90's. Starting with residential remodeling for the first few years, the group quickly created a division in commercial construction, building prestigious office projects with clients such as Morton's of Chicago, Children's Hospital, The Columbus Bar Association and many more high profile retail concepts. Stemming off from their developmental roots, the group decided to diversify into the restaurant hospitality industry in the late 90's and early 2000's. During this time the group conceptualized, built, operated and sold numerous multi-unit concepts. In late 2012, the first Tequila Cowboy and Wanna B's Karaoke Bar was opened on the world famous Broadway in Nashville, Tennessee. Luigi's City Pizza would join the fray in May 2013 when it opened its first location on 3rd Ave, directly beside its sister locations on Broadway. Stemming from the success of the original Tequila Cowboy other locations would open in Columbus, OH, Lansing, MI and Pittsburgh, PA in 2014, 2015 and 2016 respectively. The Pittsburgh Tequila Cowboy in the famed North Shore District is joined by Wanna B's and a new concept, the Little Red Corvette '90s Kitchen and Bar. The group's latest creation, Crazy Town was built and opened in early 2016, again on historic Broadway which will be followed by the themed restaurant, Sun Diner, next door to Luigi's in October 2016.
TC Restaurant Group is continually searching for expansion opportunities across the country and looks forward to bringing their industry leading concepts to even more markets. For more information visit tcrestaurantgrp.com.
For more information about Sun Diner, log on to sundinernashville.com.