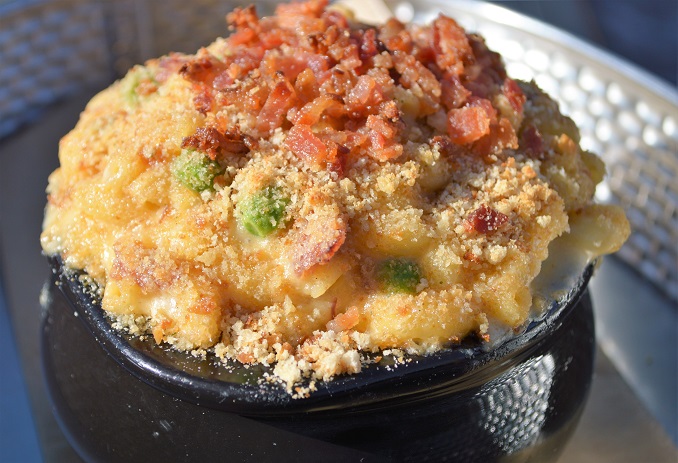 Urban Cauliflower from Urban Village
Chef Charles Mani
Urban Village's Urban Cauliflower is one of Chef Charlie Mani's specialty dishes. Tossed with a tomato chili sauce, this crispy cauliflower is the perfect vegetarian side dish for any dinner (and a unique alternative to the traditional American buffalo cauliflower).
Photo linked here
Total time: 30 minutes
Prep Time: 10 minutes
Cook Time: 20 minutes
Serves 3
CAULIFLOWER
Ingredients:
250 grams cauliflower
12 oz oil
1/3 cups all-purpose flour
3 tsp rice flour
2 tsp corn starch
water
Method:
Heat oil to 300 degrees

While oil is heating prepare batter by mixing all-purpose flour, rice flour, and corn starch in mixing bowl. Slowly add water little by little to make lump-free batter.

Add cauliflower to the batter. Coat well.

Fry cauliflower in hot oil until golden brown.
SAUCE
Ingredients:
1.5 tsp oil
2 oz chopped ginger
1.5 oz chopped garlic
1 oz chopped Thai chili
6 oz ketchup
3 oz chili garlic paste
2 oz soy sauce
Sesame seeds
Chives
Method:
Heat 1.5 tsp oil in wide pan

Add chopped ginger, garlic, and Thai chili. Sauté until golden brown.

Add chili garlic paste, ketchup and soy sauce. Mix well. Cook on medium heat for 2-3 minutes.

Add fried cauliflower and stir gently to coat each piece with the sauce.

Garnish with sesame seed and chives.
Hops & Pie's IPA Mac & Cheese, makes six servings:
Ingredients:
3 cups heavy cream

1 teaspoon coriander seed

1 teaspoon fennel seeds

1 teaspoon black pepper corn

2 fresh bay leaves

1 cup sharp cheddar

cracked pepper

3 cups elbow macaroni (cooked)

1 cup English peas (cooked)

1/4 cup shredded/braised ham hock

1/4 cup West Coast style IPA – we like using an IPA from Ska Brewing from Durango, Colo.

1 tbsp chopped bacon

1/4 cup bread crumbs

Tapatio – or another Mexican hot sauce
Preheat oven to 400 degrees
In a saucepan add: cream, coriander seeds, fennel seeds, peppercorns & bay leaves. Turn the heat up to high and bring to a boil. Once a boil is reached, reduce the heat to medium and stir regularly to prevent burning and boil-over.
Once the cream is reduced by 75%, strain through a fine mesh strainer into another saucepan.
Return the pan with the strained cream to a medium flame and stir in the cheddar. Once the cheddar is fully incorporated, add hot sauce and cracked black pepper to taste.
Add the macaroni, peas and ham hock to the pan and stir well. Add the IPA and continue stirring until hot.
Add salt to taste and place in large baking dish. Top with the chopped bacon and breadcrumbs.
Bake until the break crumbs become golden brown and crispy.
Berkeley Donuts' Chocolate Potato Cake Donut Holes with strawberry glaze and sprinkles. Makes ~40 donut holes
Photo here. Courtesy of Berkeley Donuts.
1 ¾ cups flour
½ cup sugar
½ Tablespoon baking soda
1 teaspoon salt
¾ cup cocoa powder
2 Tablespoons yogurt
1.5 Tablespoons vanilla extract
¼ cup cold mashed potatoes
1 cup milk
2 Tablespoons butter
2 large eggs
With paddle attachment on a stand mixer (see note below), blend room temperature butter and flour until it is coarse and resembles cornmeal. Add potatoes and sugar. Once incorporated, mix in remaining ingredients until it is a smooth batter.
Using small 2 oz. scoop or spoon, drop dough into hot oil (360 degrees). Fry for 20 seconds on each side and transfer to a towel-lined pan to absorb excess fat.
Strawberry Glaze
2 tablespoons strawberry milk
2 cups of powdered sugar
Few drops of red food coloring
Whisk together the milk and powdered sugar, once combined add food coloring
Final Steps:
Once chocolate donut holes are cooled, drop into bowl with glaze and roll them around. Move them to a cooling rack and add sprinkles before frosting hardens.
Note – If you don't own a stand mixer, whisk dry and wet ingredients separately, then combine and mix by hand.