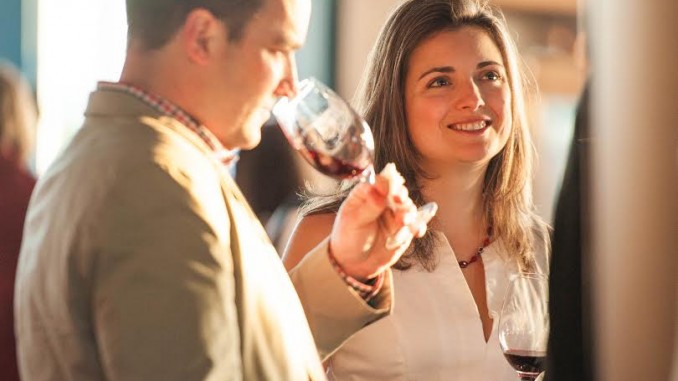 Third Annual Red & White Party at AQUA by El Gaucho Uncorks 2016 Taste Washington Events
Showcasing Washington's Most Prized Wineries, the Red & White Party Sets the Tone for the Largest Single-Region Wine and Food Festival in the U.S.
SEATTLE–Taste Washington springs into wine season with the third annual red & white party, March 31 from 7 to10 p.m. at AQUA by El Gaucho. Perched on Seattle's Pier 70 with sweeping views of the Olympic Mountains during the sunset hour, guests will taste one-of-a-kind barrel samples and reserve wines from 13 Washington wineries while AQUA's Executive Chef Wesley Hood serves specialty food pairings to complement each wine tasting.
For this event only, winemakers will offer exclusive tastes of vintage library wines, newly released wines as well as coveted pours so exclusive, they will not be available at other Taste Washington events.
"The red and white party provides guests with the chance to try some really special reserve wines and talk with the winemakers in an intimate setting," said Chad Mackay, President and COO, El Gaucho Hospitality. "It is our honor and pleasure to host the red and white party again as we kick off Taste Washington 2016."
Following suit with the theme, guests are encouraged to dress in their best red and white attire.
Tickets are $175 and are available now at http://tastewashington.org/ticket-info-2016/.
About Taste Washington:
Taste Washington is the largest single-region wine and food event in the United States, featuring more than 225 Washington State wineries and more than 65 Pacific Northwest restaurants. The 19th annual event will be held on March 31- April 3 at various locations in Seattle. The 2016 Taste Washington welcoming sponsor is Alaska Airlines; the event feature is Stella Artois; the premier sponsors are Alaska Airlines Visa Signature Card, Albert Lee Appliance, AQUA by El Gaucho, Muckleshoot Casino, Seattle Met and Total Wine & More; the magnum sponsor is Fonte Coffee Roaster; and the patron sponsors are Visit Walla Walla and Voya Financial Advisors. Taste Washington attracts almost 5,500 wine and food enthusiasts to the Seattle area. The Washington State Wine Commission launched Taste Washington in 1998 and is now produced by Visit Seattle. For more information, visit www.tastewashington.org.
About Visit Seattle:
Visit Seattle, a private, nonprofit marketing organization, has served as Seattle/King County's official destination marketing organization (DMO) for more than 50 years. The goal of these marketing efforts is to enhance the employment opportunities and economic prosperity of the region. For more information, visit www.visitseattle.org.
About Washington State Wine:
Washington State Wine represents every licensed winery and wine grape grower in Washington State. Guided by an appointed board, WSW provides a marketing platform to raise positive awareness of the Washington State wine industry and generate greater demand for its wines. Funded almost entirely by the industry through assessments based on grape and wine sales, WSW is a state government agency, established by the legislature in 1987. To learn more, visit www.washingtonwine.org.
About El Gaucho Hospitality:
El Gaucho® is the Northwest's steakhouse legacy focused on elegant, old-school, tableside service for people celebrating their lives. The menu highlights 28-Day Dry-Aged Certified Angus Beef® brand Prime steaks and cutting-edge fresh seafood selections, all prepared in the wide open exhibition kitchen over flaming charcoal grills. Visit the legendary steakhouse in Seattle, Bellevue, Tacoma, or Portland. Enjoy fresh seafood and panoramic views of Seattle's waterfront at the steakhouse's sister restaurant, AQUA by El Gaucho. For overnight accommodations, visit the Inn at El Gaucho, located directly above El Gaucho Seattle in bustling Belltown. For more information, please visit www.elgaucho.com