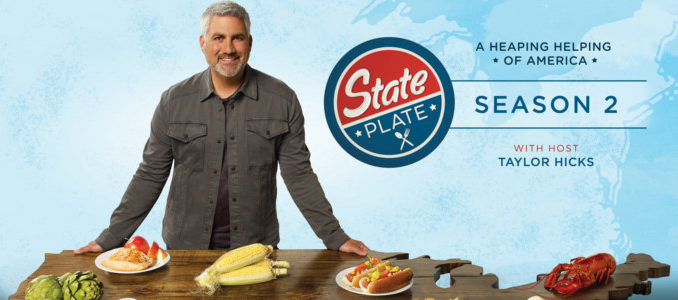 Taylor Hicks To Host 2nd Season of the Award-Winning TV Series, State Plate
The INSP Original Series Season To
Premiere Friday, August 11 at 8:00PM ET

NASHVILLE, Tenn. – Family-entertainment network INSP will premiere the second season of their popular and critically-acclaimed original series, State Plate this Friday, August 11 at 8:00PM ET, as part of the "Destination Fridays" programming block.
"Our goal is to cover ALL fifty states," said Doug Butts, SVP of Programming at INSP. "And we are well on our way. Season two of State Plate will feature even more of the foods we've come to know and love as part of America's cultural history. Thankfully, there is no shortage of stories to tell."
Stops this season include the legendary Flora-Bama and Hick's own restaurant, Saw's BBQ! By the end of the second season of State Plate, the show will have featured more than 180 iconic foods; everything from crab cakes in Maryland and peaches in Georgia; to chili in Texas and potatoes in Idaho. As he makes his way from coast to coast, Taylor visits farms, ranches, markets, festivals, and other diverse and unusual locales. In the process, viewers share in the journey as he uncovers the rich details behind each state's unique food traditions. It's a heaping helping of America's most beloved cuisine, rich in history, folklore, and flavor.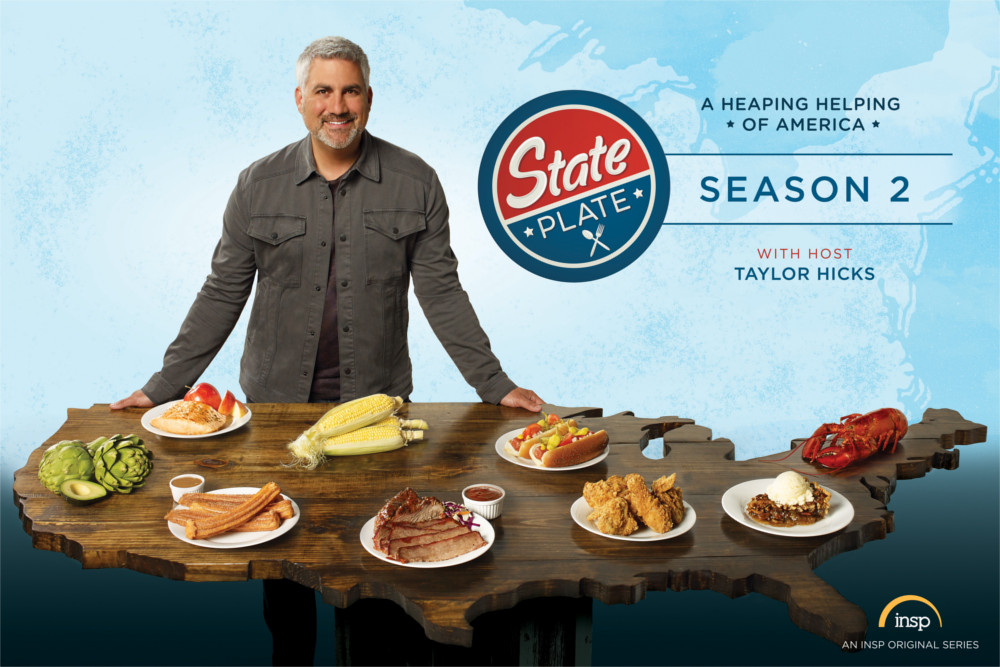 Fans can tweet live with Taylor during the State Plate premiere by using #StatePlateTV. Click here for a sneak peak of this season's premiere.
State Plate is produced for INSP by RIVR Media
What the critics have said about State Plate
"It's been 10 years since [Taylor] Hicks took home the microphone trophy, and now he's using his Southern charm and entertaining know-how to launch a new reality show. Instead of vying for votes he's filling his plate as host of the new food and travel series State Plate." –Parade.com
"State Plate, an INSP original series, takes viewers on a tour of the country with host Taylor Hicks, the "American Idol" winner, platinum selling artist and restaurateur, for a look at the culinary culture of some of America's "most intriguing cuisine." –Denver Life Magazine
"State Plate looks at different states' iconic dishes and the connection between a state's agriculture and cuisine." –Columbus Telegram
To learn more about Taylor Hicks, visit taylorhicks.com or follow him on Facebook, Instagram and Twitter.
TAYLOR HICKS ON STATE PLATE:
*All episodes will air on INSP at 8p ET and feature a different state each week
Aug 11 Alabama
Aug 18 Mississippi
Aug 25 Vermont
Sep 1 New York
Sep 8 Missouri
Sep 15 Iowa
Sep 22 Minnesota
Sep 29 South Dakota
Oct 6 Pennsylvania
Oct 13 Maryland
Oct 20 Oregon
Oct 27 Washington
TAYLOR HICKS ON TOUR:
Aug 19 Orrville Lions Rib & Music Fest, Orrville, Ohio
Aug 26 Oxford Performing Arts Center, Oxford, Ala.
Sep 30 Franklin Theatre, Franklin, Tenn.
Oct 21 The Palace Danbury, Danbury Conn.
Nov 14 BB King Blues Club, New York, N.Y.
Dec 08 Red Rock Casino Resort, Las Vegas, Nev.
Dec 09 Blue Water Resort & Casino, Parker, Ariz.
Dec 10 The MIM, Phoenix, Ariz.
ABOUT TAYLOR HICKS:
Taylor Hicks is one of the most beloved and popular AMERICAN IDOL winners of all time. From the start, Hicks' material on the mega-hit show set him apart, with a unique take on Southern soul, Country, R&B, and blues. Sixty-four million votes were cast and nearly 37 million American viewers and more than 200 million viewers worldwide turned in to crown Hicks the Season 5 winner of AMERICAN IDOL, making it one of the most-watched TV events of the last decade. Hicks's talents have expanded beyond the music and performance realms and carried over to television, where he plays host on the INSP original series, State Plate. Now in its second season, Hicks hits the road, traveling the nation in search of the states' most symbolic and popular foods. From appetizers to desserts and everything in between, Hicks take a heaping helping of America in this hit show.
Save