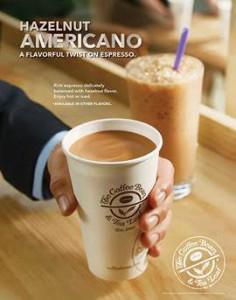 Through Sunday, March 6, 2016, The Coffee Bean & Tea Leaf®—Southern California's iconic specialty coffee and tea retailer for over 50 years—revamps the classic Americano, one of the brand's most popular beverages, with a selection of new customizable flavors including Hazelnut, Vanilla, Mocha, and more. Featuring rich espresso delicately combined with The Coffee Bean & Tea Leaf®'s creamy signature powders, coffee lovers can sip on flavorful hot and iced Americanos for a change to their daily grind.
"To kick off 2016, we are introducing a new twist on a coffeehouse classic, the Americano," said Adam Tabachnikoff, Senior Vice President for Global Brand Strategy. "Our guests who come in for their daily Americano fix now have the opportunity to change their routine and customize their drink with any variety of flavors to choose from."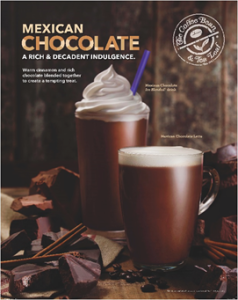 Additionally for Winter, The Coffee Bean & Tea Leaf® will bring back permanently to the menu the popular Mexican Chocolate flavor available as a Latte, Ice Blended® drink or hot chocolate. Rich chocolate and warm cinnamon combined with espresso creates a delicious combination and unique twist for chocolate lovers.
On Thursday, January 14, 2016 from 2 – 6 pm, guests can try new and returning winter favorites for only $2. Featured drinks include any small (12 oz.) Mexican Chocolate Latte, Mexican Chocolate Ice Blended® drink, Mexican Hot Chocolate, Hazelnut Americano, and Iced Hazelnut Americano. Valid at participating locations only
About The Coffee Bean & Tea Leaf®
Born and brewed in Southern California since 1963, The Coffee Bean & Tea Leaf® is the oldest and largest privately-held specialty coffee and tea retailer in the United States. Embodying a passion for connecting loyal customers to one another with carefully handcrafted products, the company is known for sourcing and providing the finest ingredients and flavors from around the world. For more than 50 years, The Coffee Bean & Tea Leaf® has demonstrated a passion for product innovation epitomized by The Original Ice Blended® drink. The company has grown to be an international icon and currently has more than 1,000 stores in close to 30 countries. Please visit CoffeeBean.com for more information.