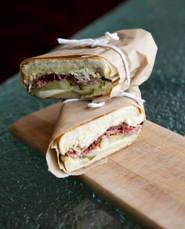 Whether you're cheering on the Bears after a touchdown or yelling at them for a ridiculous fumble, it's easy to build an appetite while watching football. If you're looking for the perfect sandwich to satisfy your hunger during the game, Chef Joe Pankrath has the solution for you at Great Street Restaurant located in the Renaissance Chicago Downtown Hotel.
"The secret to the Hog & Hen is the smoked pork and pulled chicken," says Chef Pankrath. "One bite gives you the comfort of a slow cooked, barbequed meal that's conveniently wrapped in a sandwich, so you can focus more on the game rather than where your food is."
Great Street's delicious Hog & Hen sandwich is also topped with a layer of honey Dijon, Swiss cheese and pickles. Because a football game wouldn't be complete without a beer to go along with your sandwich, the Hog & Hen pairs well with Great Street's beer selection.
About Renaissance Chicago Downtown Hotel
Located in the heart of downtown Chicago at State and Wacker, the Renaissance Chicago Downtown Hotel is a premier Chicago hotel just steps away from the financial and theatre districts. The hotel features The Great Street Restaurant and Bar, a contemporary restaurant overlooking the Chicago River, a rejuvenation center offering indulgent spa treatments and state-of-the-art exercise equipment, and Bar Novo, a modern, intimate space with booths and communal seating. For more information Click here.