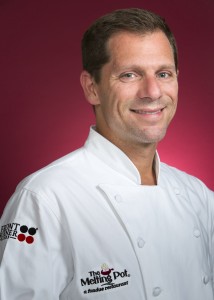 The Melting Pot Restaurants, Inc., the world's premier fondue restaurant franchise and a leading polished casual dining franchise has hired Chef Jason Miller to lead culinary development for its more than 135 restaurants in North America.
"Chef Miller's impressive culinary leadership background, creativity and passion for creating memorable dining experiences make him a perfect choice to guide culinary development for The Melting Pot," said Mike Lester, president of The Melting Pot Restaurants, Inc. "I'm confident that Chef Miller's innovative culinary skills and collaborative spirit will help to elevate The Melting Pot's unique dining experience to a new level."
Miller joins The Melting Pot with more than 22 years of experience in the restaurant industry. Most recently, he served as executive chef and partner at The Capital Grille's largest restaurant with 450 seats on Wall Street in New York City. He also worked alongside celebrity chef David Burke for more than 10 years collaborating on culinary development and operations for a variety of restaurant concepts with the David Burke Group and Smith & Wollensky Restaurant Group. Miller graduated at the top of his class from the French Culinary Institute in New York City.
As manager of culinary development for The Melting Pot, Miller is responsible for the successful development, testing and implementation of new menu items, products and product improvements for The Melting Pot. This includes planning and organizing unit-level testing for new and enhanced product concepts, new equipment and redesigned restaurant workflow processes.
The Melting Pot operates more than 135 restaurants in the U.S., Canada and Mexico and has more than 25 locations in development internationally. The nearly 40-year-old concept is known for offering an assortment of flavorful fondue dishes including a variety of unique entrées served with signature dipping sauces. The menu highlights customizable fondue meal options that invite guests to enjoy one, two, three or more courses as they select any combination of individually-priced cheese fondues, salads, entrées and chocolate fondues.
For more information about The Melting Pot, please visit http://www.meltingpot.com.