Mexico's World Class Champion Ricardo Sandoval Also Introduces New Concepts and Cocktail Menus at Mexico City's Iconic Bar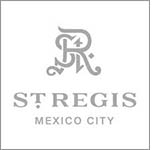 The St. Regis Mexico City, the cosmopolitan hotel setting the highest standards for luxury and exquisite trendsetting experiences in Mexico, is pleased to introduce a new mixology program at the hotel's recently renovated King Cole Bar. Additionally, Head Bartender Ricardo Sandoval, who is responsible for overseeing the cocktail menu and exclusive bar concept, will develop cocktails and workshops for group events and weddings.
Following in the footsteps of Mexican chefs who have crossed borders with their culinary creations, mixologists are now transforming the cocktail scene in Mexico, and King Cole Bar is at the epicenter. Held on the first Wednesday of every month, #TheArtOfMixology will gather Sandoval and fellow international-level mixologists at King Cole Bar. The mixology series will begin this April with guest mixologists Christine Wiseman and Damon Rosberry from The Broken Shaker, ranked number 16 on the list of 50 Best Bars in the world. Wiseman has worked in renowned bars and restaurants in Los Angeles, including Ink, La Descarga and No Vacancy, and is currently the head bartender at The Broken Shaker in Los Angeles. Rosberry, a native of El Salvador, studied at the Culinary Institute of America where he developed a special enthusiasm for wine and spirits. After finishing his studies, he began his career as a bartender at the Waldorf Astoria Casa Marina Resort and later led the mixology program at Qualia Resort on the Great Barrier Reef, Australia. Since 2015, he has held the role of head bartender at The Broken Shaker in Miami Beach.
In the coming months, King Cole Bar will welcome several acclaimed guest mixologists, including Leslie Cofresi and Carlos Irizarry in May, Chris Mendenhall in June, and Giacomo Gianotti in July. In 2012, Cofresi won the World Class Puerto Rico and is currently the founder and head bartender of La Factoria in San Juan de Puerto Rico. Irizarry is an ambassador of Ketel One Puerto Rico and head bartender alongside Cofresi at La Factoria. With over 12 years of experience in the industry, Mendenhall is presently the lead mixologist at Bar Quadrant located in the Ritz Carlton, Washington D.C. For five years, he has not only presented Quadrant's guests with cutting-edge cocktail menus, but also an unparalleled experience that encourages guests to learn and enjoy cocktails in an elegant and refined setting. Gianotti comes from Bar Paradiso in Barcelona, Spain and was the winner of "Best Bartenders of Spain 2014," a World Class competition.
Complementing the new mixologist series, Sandoval, a member of the World Class Club Elite, an annual World Class Competition to search for the world's best bartenders, is introducing seasonal ingredients, ingenious presentations and sustainable foods on the new menu. The avant-garde mixology concept and the classically-styled cocktails create a perfect match to transform the atmosphere of the bar. The new concept welcomes travelers and city dwellers to indulge in exquisite creations, while savoring the gastro-bar menu that sophistically interprets Mexican "street food."
"It is truly a pleasure to introduce a new cocktail program led by the talented Ricardo Sandoval at a unique time when the cocktail scene in Mexico City is increasingly prospering," said Joel Martin, director of food and beverage at the hotel. "We look forward to showcasing Ricardo's innovative menus and artisanal cocktail creations, which will provide guests with magnificent libations that encompass both local ingredients and the most distinguished flavors of Mexico City."
Exquisite and attractive, the iconic King Cole Bar features a completely renovated outdoor terrace adjacent to the bar, offering guest's spectacular views of the city. For hotel reservations, please contact the hotel directly by calling (55). 5228.1818, send an email to mexico.city@stregis.com or follow the conversation on Facebook, Twitter or Instagram.
About Ricardo Sandoval
With more than 13 years of experience in the mixology industry, Sandoval began his career at "Los Mirasoles" restaurant in Morelia, Michoacán, where he took courses in oenology with Sommelier Fernando Figueroa. When he moved to Mexico City, he took a position as a waiter at Grupo Habita, and formerly worked two years at Maison Artemisia, nominated as one of the "50 best bars in the world". Additional achievements include: representing Mexico at the Grand Global Prix in Havana, Cuba in 2012 and being awarded as bartender of the year by World Class Raising of Bar Mexico in 2014.
About The St. Regis Mexico City
Located at the historic Paseo de la Reforma, The St. Regis Mexico City embodies the best of hospitality. This elegant 31-story building, designed by legendary architect Cesar Pelli, features 189 captivating guestrooms, including 35 suites, and The St. Regis and Astor Suites, each with a gorgeous view of the bustling metropolis below. Each room includes King or Queen sized beds, high speed internet access, oversized flatscreen TVs, in-room digital movie systems, three telephones, generous work space, and a private safe. The centrally located hotel caters to both the leisure crowd, with its renowned Remède Spa & Fitness Center, exclusive to St. Regis brands around the world, and to the business set, with its extensive event facilities including the 7,670-square-foot, modular Astor Ballroom, a 2,000-square-foot Diamond Ballroom, and four large breakout rooms. The St. Regis Mexico City, Paseo De La Reforma 439, Colonia Cuauhtemoc, Ciudad de México 06500, Mexico. Phone: (51) (55) 5228 1818, www.stregis.com/mexicocity, Facebook, Instagram, Twitter.