Asian-influenced tart recipes spawn an unlikely marriage between great taste & guilt-free indulgences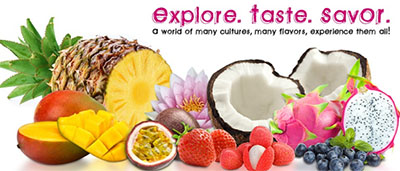 Tarté Asian Yogurt, creator of a healthier and better tasting alternative to Greek, is leading the pack of innovation in the yogurt aisle and industry. Originally introduced by the French during the colonial period of Indochina, Asian Yogurt is a unique style that has a lighter more subtle sweet taste, yet very smooth and creamy texture for a high protein yogurt. Their signature flavor and style comes from a slow cooking process that caramelizes the natural sugars found milk, while their key nutrients such as calcium are retained by not straining.
100% Natural, Nothing Artificial
Lighter sweetness with 25% less sugar than the leading Greek brand
Twice the calcium of Greek Yogurt with 13-14 Grams of Protein
Made from Real California Milk, certified to be rBST and rBGH free – from local California dairy farms
Fruits and flavors: Guanabana, Acai, & Matcha Green Tea
Sweetened with all-natural Stevia
Packed with protein, probiotics, calcium and four additional essential electrolytes
115 to 120-calorie six ounce cup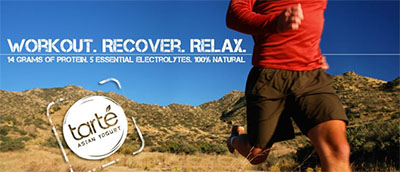 Tarté has been carefully cultured and developed locally starting with its origin in the home kitchen of founders/brothers Winston and Henry in Santa Monica, CA and the Dairy Products Technology Center at Cal Poly San Luis Obispo. Their love for this style started with their mother who made this delicious treat when they were kids. Having studied their mother's yogurt recipe very closely, Winston and Henry have introduced a modern take on the old recipe, which offers twice the protein of regular yogurt and twice the calcium of the leading Greek yogurt. With a billion probiotic cultures and a protein to sugar ratio of nearly 1:1, Tarté will be the go-to dairy treat of consumers and health-conscious food shoppers.
"We developed our brand to offer a true alternative to what was available and we hope everyone loves it as much as we do!" said Winston Lee, CEO and co-creator at Tarté. "From our personal experience, we were less than impressed with the current offerings and decided to thwart the endless purchase of unnatural and overly sweetened dairy treats."
FLAVORS:
The "Original"
Green Tea & Honey
Mango & Coconut
Blueberry & Acai
Strawberry & Guanabana
ABOUT TARTE:
Maker of the first Asian-inspired recipe for yogurt, Tarté was founded on the belief that people should not sacrifice great taste for artificial ingredients and unnatural additives. That is why Tarté produces only the highest quality yogurt made with only natural ingredients in Southern California. Tarté uses only Real California Milk that is sourced from local-area family owned farms and sweetens it with all-natural Stevia. All Tarté products are Kosher certified, contain Probiotic Cultures and are made with milk from cows not treated with rBST and rBGH. Tarté has twice the protein of regular yogurt and twice the calcium of its leading Greek Yogurt competitors. Tarté products are available at select Ralphs, Safeway, Vons and Whole Foods. For more information, please visit www.tarteyogurt.com connect with Tarté on Facebook.