From Top Vintners April 7, 2018 at The Allison Inn & Spa in Newberg, OR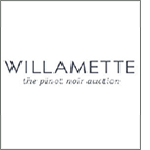 The nation's top wine trade and media will gather for the third-annual Willamette: The Pinot Noir Auction at The Allison Inn in Newberg, Oregon, to bid on one-of-a-kind Willamette Pinot noir from the 2016 vintage. Presented by the Willamette Valley Wineries Association, the live auction will offer 85 unique lots from all six Willamette Valley sub-AVAs. The wines, offered in lots of five, 10 and 20 cases, will not be available in the marketplace, except by the seller who secures the unique lot bearing the official Willamette: The Pinot Noir Auction label.
Now celebrating its third year, the 2018 auction comes at an exciting time when consumer demand for Oregon wine surpasses that of other regions. In 2015-2016 Willamette saw a 10% increase in off-premise sales. The region—now one of the most desirable for Pinot noir in the United States—began its rise to prominence in the 1960s, and has been defined by the trailblazing spirit of its diverse producers, as well as its unique climate and soils. An inherently difficult grape to grow, Pinot noir thrives under very specific cool-climate conditions. The Willamette Valley, located at 45° N—a similar latitude as Burgundy's Côte-d'Or located at 47° N—has made Pinot noir its signature grape. The region is now home to more than 530 wineries with new vineyards and wineries being added every year.
The two-day festivities begin Friday, April 6 with welcome events and winemaker dinners hosted at picturesque locations throughout the valley. The excitement will culminate at the live auction to take place on Saturday, April 7. Fritz Hatton, widely acknowledged as the nation's foremost wine auctioneer, will conduct the auction.
The 2018 auction is chaired by veteran Oregon winemaker Laurent Montalieu. Montalieu is the proprietor and winemaker at Hyland Estates and Soléna Estate, as well as winemaker and co-founder of Northwest Wine Company. "The Willamette Valley is synonymous with outstanding Pinot noir, and we intend for the auction to showcase why we believe our wines are among the best in the world," says Montalieu. "We're thrilled for buyers and media to take a deep-dive into this expressive variety and witness firsthand why the Willamette Valley is an exceptional wine region that's steadily gaining momentum."
Attendees are licensed wine sellers, including retailers, restaurateurs and wholesalers, invited personally by participating wineries. All proceeds from the auction support the marketing, branding and education efforts of the Willamette Valley Wineries Association. If you are a licensed member of the wine trade and interested in attending, please visit the website: willamettewines.auction. For members of the press, please visit our Media page to complete a Media Credential Request Form (willamettewines.auction/media/).
About The Willamette Valley Wineries Association The Willamette Valley Wineries Association (WVWA) is a non-profit industry association dedicated to achieving recognition for Oregon's acclaimed Willamette Valley as a premier Pinot noir-producing region. Currently, the WVWA has nearly 250 members representing wineries and tasting rooms throughout the Willamette Valley region from Portland to Eugene. To learn more about The Willamette Valley Wineries Association visit: willamettewines.com