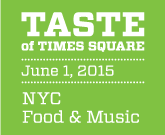 CELEBRATE THE INTERNATIONAL TASTES AND SOUNDS OF
NEW YORK CITY AT 22nd ANNUAL TASTE OF TIMES SQUARE
OUTDOOR FOOD AND MUSIC FESTIVAL WILL FEATURE MORE THAN
50 RESTAURANTS DISHES WILL RANGE IN PRICE FROM $2-$6
New York, NY – May 13, 2015 — The Times Square Alliance announces the return of Taste of Times Square – an outdoor food and music festival – featuring international flavors from the district's top restaurants and the city's best street performers at the Crossroads of the World. More than fifty of Times Square's most popular culinary destinations will offer "tastes" ranging from $2-$6 on Monday, June 1 from 5:00 – 9:00 pm.The event will be on 46th St. between Broadway and 9th Avenue (including historic Restaurant Row) as well as the Broadway Plazas between 45th and 47th Streets.
"For more than two decades, Taste of Times Square has been an amazing venue for locals and visitors alike to experience the best of New York's culinary and cultural scenes in the heart of the city's town square," said Tim Tompkins, President of the Times Square Alliance. "With dozens of participating restaurants and entertainment options, Taste 2015 is sure to be another remarkable exhibit of the richness that Times Square offers the city and the world."
Newcomers to the event this year include: The Rum House, Iron Bar, Dos Caminos, City Kitchen (Azuki, Gabriela's Taqueria, Ilili Box, Sigmund Pretzel Shop Inc.,Whitman's), Paul's on Times Square, Buffalo Wild Wings, URBO and Heartland Brewery – which will operate the first-ever Taste of Times Square outdoor beer garden.
Participating restaurants include BB King Blues Club & Grill, Buffalo Wild Wings, Junior's, Havana Central Restaurant & Bar, Le Rivage, John's of Times Square, Hard Rock Café, The House of Brews, Bourbon Street Bar & Grille, E&E Grill House, Da Rosina, Paramount Bar & Grill, Bareburger, Applebee's, Barbetta , Crossroads American Kitchen & Bar, The View Restaurant & Lounge, Virgil's Real BBQ, Carmine's Restaurant, Ruth's Chris Steak House, Bubba Gump Shrimp, The Palm Restaurant, Guy's American Kitchen & Bar, Becco, Doubletree Suites, Blue Fin , La Pulperia , O'Lunney's , Patzeria Perfect Pizza , Hourglass Tavern, Sangria 46, Ruby Foo's, Planet Hollywood, Brasserie 1605, Orso, Joe Allen's, Playwright Celtic Pub & Restaurant, Paul's on Times Square, Dos Caminos, URBO, The Rum House, Meson Sevilla, Schnipper's, Shake Shack, Toloache.
Highlighted street musicians provided by the Hard Rock Cafe Times Square include: Baby Soda Jazz Band, classical guitarist Don Witter Jr., Drum Café, The Ebony Hillbillies performing bluegrass, Paul Mueller with a hammered dulcimer, Sean Grissom on the Cello, and StreetMule.
Another entertainment location includes the Swing Tent featuring George Gee Swing Orchestra made possible by Swing 46.
Taste of Times Square has no admission fee. Each "taste" ticket is $1 with most dishes ranging from $1-$6. Tickets will be available for purchase on the day of the event and in advance online atwww.TimesSquareNYC.org/Taste.
For the third year in a row, the Times Square Alliance will offer an Instagram photo contest to engage attendees who have a flair for food photography. Attendees will be challenged to take a stunning photo of a Taste they would recommend to a friend on Instagram, using #TasteTSq for the chance to win a gift card to a Taste of Times Square participating restaurant. Visit www.TimesSquareNYC.org for the list of restaurants and official contest rules.
Follow @TimesSquareNYC on Twitter (www.Twitter.com/TimesSquareNYC) , Facebook (www.facebook.com/TimesSquareNYC) or Instagram (www.instagram.com/TimesSquareNYC) for live coverage of the event. Join the conversation on social media with #TasteTSq.
Sponsors for Taste of Times Square include: Coca-Cola and Hard Rock Café.
About Times Square Alliance
The Times Square Alliance works to improve and promote Times Square – cultivating the creativity, energy and edge that have made the area an icon of entertainment, culture and urban life for over a century. Founded in 1992, the Alliance keeps the neighborhood clean and safe, promotes local businesses, manages area improvements and produces major annual events including New Year's Eve, Solstice in Times Square and Taste of Times Square. As the custodians of Times Square, the Alliance works every day to improve the quality of life for the neighborhood residents and businesses while driving economic growth in New York City. www.TimesSquareNYC.org