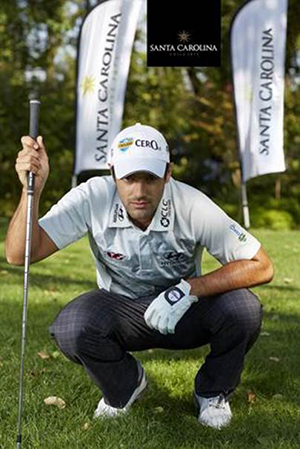 Viña Santa Carolina, a widely distributed and recognized Chilean wine brand announced they are sponsoring Benjamín Alvarado, the first Chilean golfer to join the PGA Tour.
Alvarado was an All American golfer at Arizona State, and has rapidly moved up the ranks in pro golf, winning the Brasil Classic on the web.com tour to earn his PGA card. According to Christian Wylie, Commercial Director, "Golf is a sport of precision, concentration and commitment which complements our philosophy of winemaking. Benjamin will bring strong visibility not only to our wines, but also build awareness and relevance of the wines produced throughout Chile."
Alvarado will make his PGA debut at the Valero Open in Texas at the end of March. "I hope I can help grow this beautiful sport in my country and make a great impact on kids," he said. "We are so far away from the U.S., and so far to think that playing with the best players in the world is possible — now I want to show them that it is."
During the year Alvarado will be putting on clinics to customers and importers as well as lending his image for promotional materials.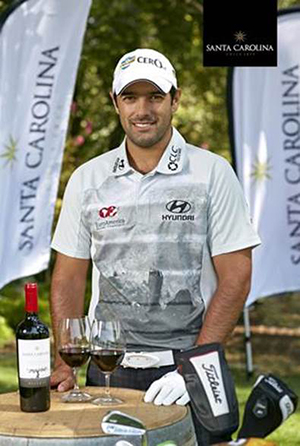 The sponsorship by Santa Carolina marks a new chapter for the winery which was severely damaged during the 2010 earthquake. The old Colonial House and underground cellar –a Chilean National Monument- have been repaired and opened again as a tourist attraction and is one of the only working wineries in the world located within the limits of the capitol city.
With more than 139 years of heritage, Viña Santa Carolina embraces the future with large-scale investments, projects and challenges, carrying with it the legacy of a Chilean Heritage and providing customers with wines that reflect its history and identity.
Viña Santa Carolina produces a broad range of wines including the flagship Santa Carolina label, as well as Viña Casablanca, Ochagavia, Visataña, Artes del Sur and Finca El Origen from Argentina. It's most widely recognized for its Herencia Carmenere and VSC assemblage icon wines, along with the Reserva de Familia range of Cabernet Sauvigon, Chardonnay, Carmenere and Malbec.
About Wines of Chile
Wines of Chile are an organization committed to promoting the quality and image of Chilean wine throughout the world. It has offices in Santiago, London and New York, as well as representatives in Canada, Ireland and Denmark. Wines of Chile also works closely with ProChile to develop and offer promotional and educational programs in Asia, Latin America and Europe. For more information please visit www.winesofchileusa.com.