Virgin Atlantic has today unveiled a partnership with award-winning food writer & TV host Donal Skehan to reinvent their dining experience at 38,000ft.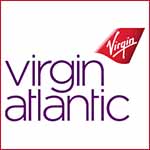 Irish native, and now LA-based Donal Skehan has been working with Virgin Atlantic for 12 months to develop a completely new approach to in-flight dining. This includes a range of delicious dishes inspired by global destinations and focuses on sustainable, fresh ingredients which bring restaurant standard food to the skies. This month new "dine with Donal" dishes will debut in the airline's Upper-Class cabins and airport Clubhouses, followed by Premium and Economy cabins next year.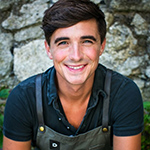 This is Donal's first airline collaboration and the dishes take inspiration from his best-selling cookery books, and experience traveling the world. He is a regular host on BBC One's Saturday Kitchen and also presents; "Meals In Minutes" on RTE One & Good Food Channel, and hosted "Junior MasterChef" on BBC One, "Grandma's Boy" on FOX International and "Follow Donal" on Food Network UK & US, he also regularly appears on The TODAY Show on NBC.
The new menu items feature sustainably sourced fish, meat and vegetables – building on Virgin Atlantic's industry-leading sustainability work. The British airline has worked in partnership with the Sustainable Restaurant Association (SRA) to introduce the world's first framework to address the challenges of sustainable inflight catering such as: Fair Farming, Sustainable Fish & Seafood, Deforestation & Biodiversity, Animal Welfare, Transparency and Waste.
Donal Skehan said: "It's such a pleasure working with Virgin Atlantic, as I can't imagine another airline that has such a right to win in this space. Together, we're turning the industry upside down by creating stunning, delicious and healthy food at 38,000 ft."
Daniel Kerzner, VP Customer Experience at Virgin Atlantic said: "We continue to raise the bar by looking outside our industry for the latest trends and innovation. Donal is the perfect partner to help us bring game changing food to the skies, and give our customers an elevated experience they won't find anywhere else."
Earlier this year Virgin Atlantic introduced a "Mile High Tea" designed exclusively by master patisserie Eric Landlard for their clubhouses, and all cabins onboard. The latest partnership builds on Virgin's aim to be the airline that doesn't serve airline food.
Menu items onboard this month include:
Aromatic Thai Vegetable Stew – A vegetarian curry using an aromatic Thai spice paste and served with jasmine rice.
Charred Cod with Spicy Mango Salad & Nam Jim Dressing – delicate cod fillet with a dried spice rub served with basmati rice & a cucumber and mango salad with a sweet & sour, spicy dressing.
Menu items at the Clubhouses include:
Spiced Chorizo, Fennel & Tomato Stew
Vietnamese Beef and Mango Salad
Super Green Omelette with Goats Cheese, Sun-blushed Tomatoes & Avocado
For more information please contact: Press.office@fly.virgin.com or +441293 747373
About Virgin Atlantic:
Virgin Atlantic was founded by entrepreneur Sir Richard Branson 34 years ago with innovation and customer service at its core. Today Virgin Atlantic carries 5.5 million customers annually and was recently named the UK's favourite long haul carrier by Skytrax, Best Transatlantic Airline at the British Travel Awards 2017 and one of the Top 5 Airlines in the World by Airline Ratings. Headquartered in London, Virgin Atlantic employs over 10,000 people worldwide and operates a fleet of 47 aircraft serving 25 destinations across four continents. Alongside joint venture partner Delta Air Lines they operate a leading transatlantic network – offering up to 38 flights per day between the UK and US with onward connections to over 200 US and international cities. In 2019 Virgin Atlantic will take delivery of their first Airbus A350-1000 aircraft – helping to transform the fleet into one of the quietest and most fuel efficient in the sky.
For more information visit: www.virginatlantic.com or via twitter @virginatlantic