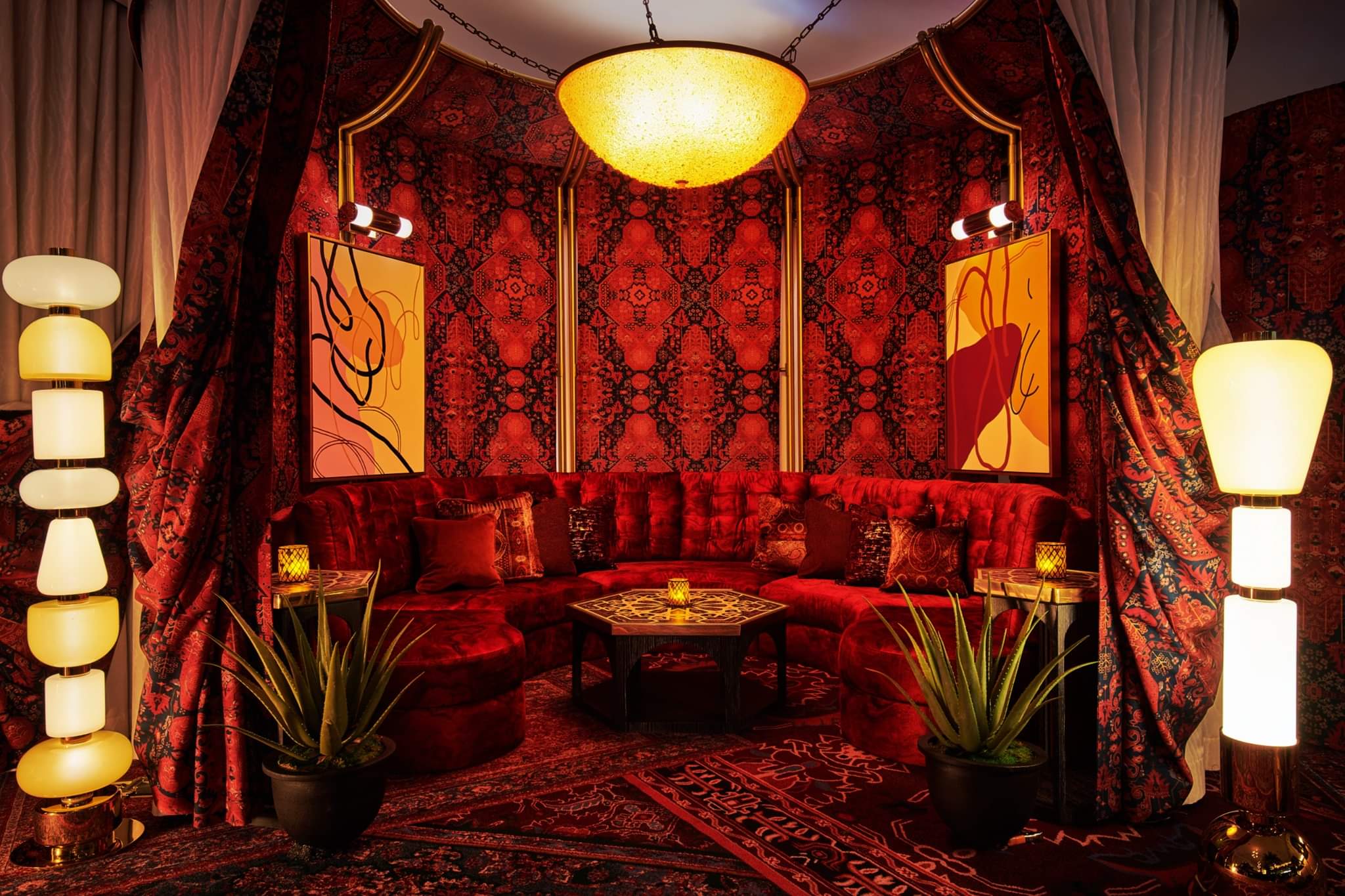 Adult fun including boozy teapots, bites, and rocking music at Upside Down Tea Party
By Debbie Hall
Tea parties mean many things to many people. It could conjure up childhood memories, sharing tea with a child, or attending a high tea complete with a hat and gloves. Upside Down Tea in The Shag Room at Virgin Hotel Las Vegas transforms afternoon tea with boozy teapots, a morphing menu of creative finger foods, champagne, and rocking music.
The Shag Room is an eclectic blend of Austin Power's '60s combined with elements of '70s Studio 54. Walking into The Shag Room transports guests to a parallel universe of velvet curtains hiding the outside world, plush couches to sprawl out on, an explosion of color, and the most relaxed vibe. The state-of-the-art audio and visual enhances the music as everyone enjoys tea the way it was meant to be enjoyed.
All Boozy Teapots are served in beautifully crafted teapots, elegant, and paying homage to fine china. Each teapot serves at least two (if not three) drinks and includes Botanical Bee's Knees, a delightful blend of Bombay Bramble, chamomile tea, honey syrup, and lemon juice.
Not Far From The Tree combines Laird's Apple Brandy, Stolichnaya Vanilla Vodka, Good Fortune Mango Calamasi Tea, pumpkin spice syrup, honey syrup, and lemon to really discover how an apple should taste.
White Lotus blends Suntory Japanese Whisky, Good Fortune Mango Calamansi Tea, Caribbean Pineapple Liqueur, and Firewater Bitters for flavors of the Far East.
Social Butterfly rallies with Botanist Gin, Good Fortune Butterfly Lemongrass Tea, St. Germain Elderflower, jasmine tea syrup, and egg white to fly from table to table.
Havana Tea Party brings together Barcadi Superior Light Rum, Earl Grey Tea, mint, brown sugar, and lime juice.
Savory goodies feature Chicken Curry Gougere, Serrano Ham & Brie, along parmesan shortbread Unicorn Cookies. Indulge in sweets, including Cactus Macaron, Desert Sunset Yuzu Tart, and Kiss My Lips. All finger foods are served on a three-tier plate, bringing back traditional fun in new ways.
Upside Down Tea service is available in The Shag Room at Virgin Hotel Las Vegas from noon to 3 p.m. on Sundays. Enjoy tea time while taking things to the next level with some booze and incredible live entertainment. For more info, click here.