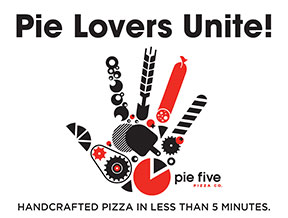 Beginning Monday, the pizza dining experience in Charlotte may never be the same, as the nation's leading fast-casual pizza restaurant opens for business.
Pie Five Pizza <www.piefivepizza.com> , which Forbes magazine called one of "10 hot new chains from established brands," will unveil its revolutionary concept at 1915 Matthews Town Parkway, located in the Matthews Township Shopping Center, on Monday, July 29th, at 11:00 AM.
At Pie Five, guests can choose from more than a million combinations of handcrafted pizzas and a variety of specialty pie choices prepared in less than five minutes on one of four crusts. The rapidly expanding chain is capitalizing on growing consumer demand for fresh dining options and artisan pizzas in stylish environments without the wait.
Veteran restaurateur Michael Understein, who introduced Panera Bread to North Carolina, knows a great concept when he sees it. His excitement for the Pie Five brand is evident as he puts the final touches on the first of several area locations.
"I can't wait to watch our customers come in, create their own perfect pizzas with whatever toppings they want, and marvel at how quickly we make them," said Understein, whose career also includes stints with Hard Rock Café and Applebee's International. "It truly is a game-changing experience that folks around here are absolutely going to love."
In the days prior to Monday's official opening, Pie Five will host private events at the restaurant to raise funds for the Wolfe School in Monroe. A donation ceremony benefiting the special education school, which serves approximately 65 students in grades 2-12, will be held at 10:30 AM on Monday, July 29th. The first 25 guests in line prior to 11:00 AM will receive a $25 Pie Five gift card.
Pie Five fans can also join the grand opening celebration by entering into a specialsweepstakes at http://www.piefivesweeps.com. Five lucky winners will receive "Free Pizza for a Year."
"We're very excited about Pie Five's introduction to the Charlotte market, and we know Mike and his team are eminently qualified to expand our concept throughout the area," said Madison Jobe, chief development officer for Pie Five Pizza Co., a subsidiary of Pizza Inn Holdings, Inc. <http://www.pizzainn.com> (NASDAQ: PZZI). "Mike understands that today's on-the-go consumers want delicious, freshly made food at affordable prices served up quickly, which is what sets Pie Five apart from virtually every other pizzarestaurant."
In addition to the accolades from Forbes, Pie Five has been named a 2013 Top 50 Restaurant Brand of the Year and a 2012 Hot Concepts winner by Nation's Restaurant News.
Pie Five currently has 10 locations in Texas and onelocation in Utah. Total announced franchise restaurants under contract currently number 97 in Florida, Kansas, Maryland, Missouri, Nebraska, Oklahoma, North Carolina, Texas, Utah and Virginia.
North Carolina's first Pie Five restaurant is located at 1915 Matthews Township Shopping Center in Charlotte and will be open daily from 11:00 AM to 10:00 PM.

ABOUT PIE FIVE PIZZA CO.
Pie Five is a subsidiary of Pizza Inn Holdings, Inc., headquartered in the Dallas suburb of The Colony,Texas. Pizza Inn Holdings, Inc. is an owner, franchisor and supplier of a system of restaurants operating domestically and internationally. Pie Five Pizza Co. is a fast-casual concept offering individual pizzas made to order and cooked in less than five minutes. Founded in 1958, publicly traded Pizza Inn Holdings, Inc. (NASDAQ: PZZI) franchises approximately 300 restaurants and directly owns and operates 14 restaurants. For more information, please visit www.piefivepizza.com <http://www.piefivepizza.com> .