WARWICK PARADISE ISLAND – BAHAMAS ELEVATES CULINARY OFFERINGS WITH RELAUNCH OF 'TINGS ON A STICK' AS ASIAN CUISINE RESTAURANT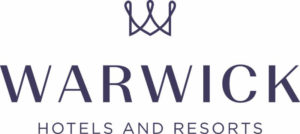 Enhancing the culinary experience for guests staying at the adults-only, all-inclusive Warwick Paradise Island – Bahamas, the resort's Tings on a Stick is relaunching as an á la carte Asian cuisine restaurant, completely revamping its shish kebob menu. The new restaurant concept has been developed under the direction of Chef Tan Boon Khiang, who brings 22 years of culinary expertise and innovation and was recently brought on to the resort's culinary team.
Guests dining at Tings on a Stick can savor various Asian influences including Indonesian, Chinese, Japanese and Thai, as well as a Bahamian-inspired Asian entrée.
"Providing a five-star culinary experience for guests as part of our all-inclusive offerings is a top priority for the management of Warwick Paradise Island – Bahamas," said Benjamin Davis, general manager. "The addition of an Asian cuisine restaurant raises the bar of what an all-inclusive dining experience should be in The Bahamas," he added.
"From the first bite of the appetizers, the taste buds are awakened and the culinary journey begins as diners can select Sashimi Papaya Salad, Asian BBQ Spare Ribs, Homemade Chicken Broth Wonton Soup and Vegetable Spring Roll as their first course," said Davis.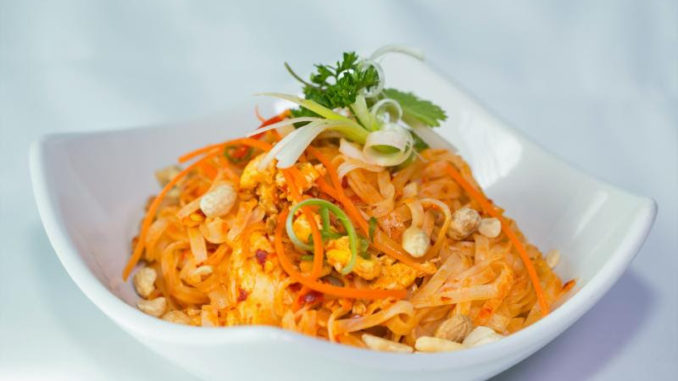 The palate is tantalized with savory Asian-infused entrees including:
Nasi Goreng (Indonesian Fried Rice) – chicken or shrimp, cilantro, sesame, Asian vegetables, shrimp paste, curry, traditionally topped with a fried egg and garnished with cashew nuts.
Pad Thai – rice noodles, Thai spices, scallion, chicken or titi shrimp, tofu, scrambled egg and garnished with crushed peanuts (pictured right).
Mandarin Kung Pao Chicken or Beef – stir fried sliced chicken or beef, onions, dry chili, bell peppers and Chinese black vinegar garnished with cashew nuts. Served with steamed rice.
Japanese Style Chicken – marinated chicken breaded with panko bread crumbs, onions, bell peppers and scallions in homemade teriyaki sauce. Served with steamed rice.
Sweet & Sour Pork or Chicken – lightly battered and deep fried chicken or pork, onions, bell peppers with pineapple in homemade sweet & sour sauce. Served with steamed rice.
Bahamian Grouper Filet with Spicy Chili Sauce – pan fried Grouper, ginger, scallions and cilantro in Chinese cooking wine and light soy.
Clay Pot Tofu – stir fried tofu with bok choy and carrots, in a homemade teriyaki sauce. Served with steamed rice.
Yong Chow Fried Rice – chicken or titi shrimp, green pea and scrambled egg.
Singapore Stick Noodles – chicken or titi shrimp, bell peppers, onions, carrots, scrambled egg and curry powder.
Shrimp Kebobs – grilled shrimps, onions, cherry tomatoes, bell peppers and cilantro mint butter. Served with steamed rice or parmesan fried potato wedges.
"We are happy that Chef Tan Boon Khiang has joined our team to lead the transformation of Tings on a Stick. His knowledge and experience has guided the kitchen team to enact these changes over a short timeline," noted Davis.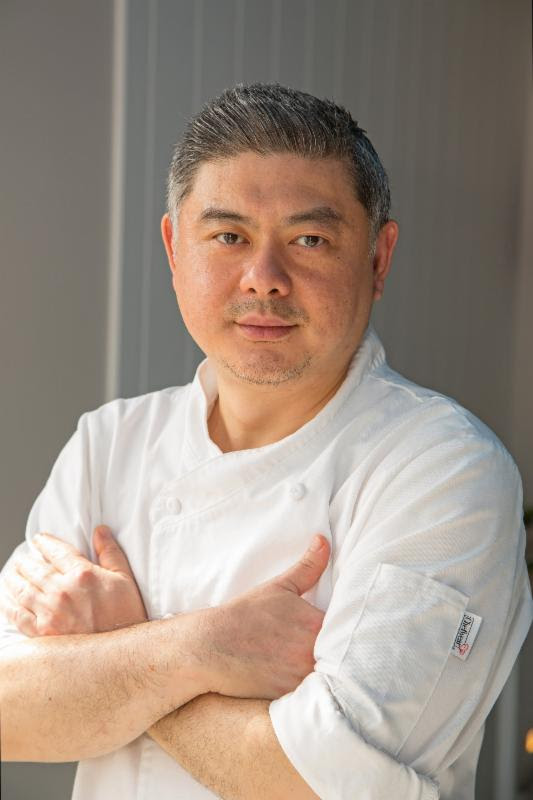 Chef Tan (pictured right), a native of Brunei has travelled and worked in the United Kingdom, Dominican Republic, Indonesia, Malaysia and currently resides in The Bahamas. He credits his uncle, a Singapore chef, for his development in the culinary world as he learned the basics of Asian and Cantonese cuisines and most importantly moral values.
Chef Tan's extensive training began at the University of Salford of United Kingdom Culinary where he graduated in 1997. Through his studies, he built a repertoire of Malaysian and Thai recipes working at traditional Asian restaurants. He strives to bridge cultural understanding through food, making Asian cooking accessible, healthy and nutritious.
"Warwick Paradise Island – Bahamas offers five outlets where guests can satisfy their appetite with our internationally-inspired cuisine," said Davis.
In addition to Tings on a Stick, the resort's restaurants are:
Edgewater Grill, an open-air steak and seafood restaurant located on the Warwick Sunset Terrace overlooking the harbour marinas, serves dinner. Reservations are required.
The á la carte Abbiocco, is an Italian fine dining restaurant with a casual atmosphere. Reservations are required.
Serving breakfast, lunch and dinner seven days a week, The Verandah provides indoor and outdoor al fresco seating.
Located poolside, Chickcharnie's Pizzeria & Grill serves pizza, burgers, chicken and local favorites for lunch daily.
Warwick Paradise Island – Bahamas all-inclusive rates feature all meals and snacks; alcoholic and non-alcoholic beverages; standard Wi-Fi internet access from the "beach to the bedroom;" use of the fully-equipped fitness centre; daily activities, including bocce, beach volleyball, basketball, tennis, horseshoes and use of bicycles; nightly entertainment; as well as gratuities, taxes, surcharges and 7.5% Value Added Tax (VAT).
Warwick Paradise Island – Bahamas is a 30-minute drive from Nassau's Lynden Pindling International Airport. World-famous Cabbage Beach is a 10-minute walk away with dining and shopping nearby.
For more information, call 1-888-645-5550 (toll-free U.S. and Canada) / 242-363-2560 (elsewhere) or send an email to info.wpib@warwickhotels.com.
About Warwick Hotels and Resorts
Warwick Hotels and Resorts (WHR) was launched in 1980 with the purchase of Warwick New York, a hotel originally built by William Randolph Hearst for his Hollywood friends. The WHR Group now includes more than 55 prestigious Hotels, Resorts & Spas worldwide located in city centres and resort destinations in the United States, Caribbean, Europe, Asia, Bali, the South Pacific, the Middle East and Africa. Further details can be found at www.warwickhotels.com