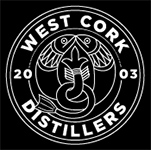 West Cork Distillers, in partnership with its U.S. importer M.S. Walker, has released its first collaboration product with Massachusetts-based craft brewer Castle Island Brewing Co. This special partnership, which first brought "Greetings from Skibb" Export Stout to beer-lovers, is back with West Cork's first Export Stout Cask Finished Blended Irish Whiskey.
The partnership came about through a mutual admiration between the two craft producers and how much pride they take in their products. West Cork Distillers initially shipped empty barrels that aged their Bourbon Cask Irish Whiskey to Castle Island Brewing Co. The craft brewer then aged its Imperial Stout in the barrels, imparting flavors of charred oak, rich vanilla, and hints of dark fruit into their smooth base beer. The barrels were then shipped back to West Cork, where the team finished this blended Irish Whiskey to bring the collaboration full-circle.
"This product is the result of a true collaboration between one of the most innovative, 100% Irish distilleries in the world and one of Greater Boston's most revered craft breweries," says Gary Shaw, Executive Vice President of Sales for M.S. Walker. "We have a deep respect for the innovation taking place at both West Cork Distillers and Castle Island Brewing Co., and we hope this is just the first of many future alliances between West Cork and like-minded craft brewers."
Available now, this limited release whiskey is a blend of 75% grain and 25% malt, both matured in first-fill American bourbon barrels before being married to further age for 6-8 months in casks which had held Castle Island Brewing Co.'s Barrel Aged Export Stout. The whiskey has aromas of chocolate, hazelnut, vanilla and toffee, with flavors of malt, chocolate, marzipan and vanilla with green fruit and a sweet, floral and fruity malt finish.
"We are incredibly grateful for the opportunity to partner with West Cork Distillers on this project," says Adam Romanow, Founder and President of Castle Island Brewing Co. "Their love and passion for hand-crafted, premium-quality whiskey helped elevate our export stout to create Greetings from Skibb, and we are beyond thrilled that our Skibb barrels could further enhance their already incredible whiskey. The resulting product is quite special, and we could not be prouder of the collaborative bond this project has created."
This special limited-release whiskey (3,900 bottles) is retailing now for $29.99 throughout the Northeast United States.
For more information on West Cork Distillers and their complete range of Irish Whiskeys, please visit http://westcorkdistillers.com or follow the brand on Facebook and Instagram. For more information on Castle Island Brewing Co., please visit https://castleislandbeer.com or follow the brand on Facebook, Instagram, and Twitter.
About M.S. Walker
Founded in 1933, M.S. Walker, Inc. is a New England-based importer & distributor of fine wines and spirits, serving both national and international brands. Based in Massachusetts, the company acts as an Agency Importer of select national spirit brands and several wine brands, such as West Cork Distillers, Mezcales de Leyenda, Whitley Neill Gin, Grand Mayan Tequila, Grand MacNish, Amaro dell'Etna, and more from around the world, in addition to manufacturing its own brands in Boston, MA.