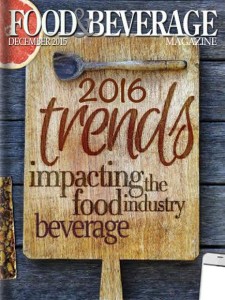 While the National Restaurant Association highlights what's trending on restaurant menus, additional analysis answers to the open-ended question "What will be the next hot menu trend" here we reveal a few more food ideas to keep an eye on in the next year:
Veggie-centric: When referring to center-of-the-plate items, that usually means proteins, but that may be changing. Fresh produce as the star of the plate is being championed by more restaurants and culinary professionals, who are serving up vegetable-centric meals that are often vegetarian without being advertised as such. And even when animal proteins are included in the dish, the veg is still the main attraction. Basically the opposite of television character Ron Swanson's attitude toward veggies as "the food that my food eats."
Sriracha = the new ketchup?: The red sauce in the bottle with the green top is ubiquitous, but just a few years ago, only Thai food enthusiasts were familiar with this condiment. Following in its popularity growth wake are a range of other condiments and spices from various global cuisines applied to anything and everything to create brand new flavor combinations. Chimichurri as a hamburger topping. Peri peri barbecue ribs. Za'atar spread on crostini. Raita with hot wings. You get the idea.
African flavors: International cuisines have become ingrained in our everyday diets, but despite featuring numerous distinct cuisines, Africa is still relatively under-explored when it comes to culinary experiences in the United States. Perhaps not for much longer, however. Berbere, harissa, dukkah, ras el hanout, tsire and other spice mixes and flavors are likely to gain wider use, as African flavors are a fast-growing trend.
Restaurant stores: "Grocerants" has been around for a few years now – grocery stores increasingly focusing on foodservice. We're now starting to see restaurants adapting that idea by considering fresh food retail operations. If consumers want to eat where they shop for groceries, it's reasonable to believe they also want to grocery shop where they eat. In fact, half of consumers say they would be interested in buying fresh, uncooked food items from restaurants (think items like steak, shrimp, bread and pasta of the same quality as served in the restaurant). Hybrid concepts like food halls and market restaurants are leading the way.
Simple is key: Simplicity, back to basics cooking, and classic dishes. These are words to live by in the year ahead according to many professional chefs. While molecular gastronomy is turning more mainstream, there is a counter-movement brewing that focuses on stripping down recipes to fewer ingredients to let them shine in all their glory. Venerable preparation methods like pickling, fermenting and smoking are back with a vengeance, and traditional recipes are being refreshed for today's palates.
No more gluten-free kale salads?: All good things must come to an end, and we may be approaching the end of the trends line for kale salads and gluten-free cuisine. Both of these formerly hot trends have been losing steam over the past couple of years. But don't expect either to go away altogether. We're more likely to see these evolve into perennial favorites over time. For example, kale salads are being adapted to salads where other greens are traditionally used, like Caesars and Cobbs, and gluten-free items are becoming menu staples at many foodservice locations.