The Regal's late-night dining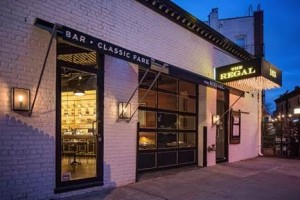 It's 3:00am on the weekend and you're hungry, but your late night dining options are minimal – unless you want the usual boring slice of pizza. Finally, Williamsburg has the perfect spot to cure those late night munchies.
The Regal, located at 163 Hope St, is serving its diner-esq menu during all hours of the night- and were talking really late- until 4:00am on Fridays and Saturdays (and 2:00am Tuesday–Thursday).
Indulge in Executive Chef Seth Levine's tasty late-night menu with options like the Smash Burger, Macaroni Gratin with black truffle, Chicken & Waffles, or The Schwartz Benedict (poached eggs, crispy potato latkes, smoked salmon and hollandaise sauce).
Looking for a night cap? Enjoy specialty cocktails at the bar until 4:00am with options like the Vodka Smash (barrel-aged vodka, mint, fresh berries, lemon and ginger beer), or the Begin Again (barrel-aged gin, cinnamon bark syrup, egg white and tiki bitters). Late-night dining just got a lot more fun (and worth the calories) at this diner and cocktail bar.