Sept, 2013 — Fall offers a bounty of colorful fruits and vegetables that are delicious and packed with nutritional benefits. This is the best time of year to enjoy a variety of healthful produce such as orange winter squash, yellow pepper, Brussels sprouts, okra and turnips, among others. They are especially delicious when part of a pasta dish, offering an excellent source of fiber that's low in calories and cholesterol, but packed with flavor. De Cecco, the Italian premium pasta maker, invites you to taste the De Cecco Difference using this fall recipe, in celebration of 120 tasteful years in the USA.
De Cecco is unlike many other pastas available on supermarket shelves today. Carefully made in the mountains of Central Italy, De Cecco uses a proprietary process to make more than 160 different pasta shapes. This process starts with full control of the milling process and using only the heart of durum wheat to produce premium semolina, then mixing it with cool natural waters from De Cecco's own mountain spring, drawing the semolina dough through bronze dies and drying the pasta very slowly at a low temperature.
Though time consuming, this process yields a great tasting pasta with a perfect semolina color that cooks al dente every time, retaining its shape and all of its nutritional goodness thereby assuring the highest quality pasta for American tables.
That's why De Cecco is the pasta of choice for many of the most noted chefs internationally, and why De Cecco enjoys a superior reputation in Italy and around the world. Today the family owned company is the third largest pasta producer in the world. De Cecco pasta has been recognized with several certifications for customer satisfaction, food safety and purity, and is certified kosher.
Use this fall recipe featuring healthy De Cecco Whole Wheat or Spinach Fusilli as is, or change it up with your favorite fall vegetables: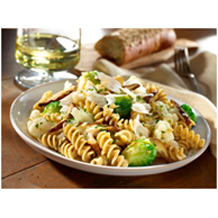 Brussels Sprout, Cauliflower and Shiitake Fusilli
Prep Time: 17 minutes
Total Time: 30 minutes
Serves 8
Ingredients:
1 pound De Cecco Whole Wheat Fusilli or Spinach Fusilli
8 ounces Brussels sprouts, trimmed
12 ounces cauliflower florets (about 4 cups)
1/4 cup De Cecco Extra Virgin Olive Oil 100% Italian Olives, divided
4 medium shallots, finely chopped
4 garlic cloves, minced
7 ounces fresh shiitake mushrooms, stems removed
1 cup finely chopped fresh Italian parsley
Salt and pepper to taste
1/3 cup grated Parmesan cheese
Directions:
1. Cook pasta and Brussels sprouts according to pasta package direction, adding cauliflower during last 5 minutes of cooking. Drain, reserving 1/4 cup pasta water.
2. While pasta is cooking, heat 2 tablespoons oil in a large nonstick skillet over medium heat. Add shallots and garlic; cook 15 to 30 seconds, stirring constantly, or until fragrant. Add mushrooms; cook 5 minutes, stirring occasionally, or until browned. Remove from the heat.
3. Return hot cooked pasta, Brussels sprouts and cauliflower to pot; add reserved pasta water and mushroom mixture. Set aside 2 tablespoons parsley. Stir in remaining 2 tablespoons oil and remaining parsley. Season to taste with salt and pepper. Sprinkle with Parmesan cheese and reserved parsley.
For more information visit http://www.dececcousa.com/