WOODSTOCK STATION,
Was originally the Lincoln Railroad Station, built in the late 1800's. From the beginning, it was a busy station. Logging and paper production was the Valley's main industries and the railroad played a key role. During the summer, the train brought tourists who used the many large and luxurious resort hotels in the area as a base while exploring the region's many natural wonders.
In the 30's and 40's, ski trains also frequented the station, bringing skiers from Boston and other cities. Appearing hardier and more informal than their modern counterparts, skiers were loaded on logging trucks at the station and taken to various slopes in the area.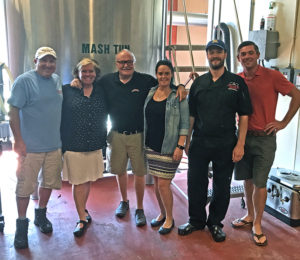 In the summer of 1984, Jimmy Fadden and crew sawed the station in half and moved it to its present location. The passenger waiting room is our lower dining room. The stationmaster's office is still intact and serves as a small dining room. In 1986, The Stock Room was added. In the early days of the railroad, all supplies were kept in the stockroom. It was where you went for anything you needed, and that tradition lives on today. As this menu testifies, our Stock Room is full and has something different on every shelf. During the summer of '93, Porter's Room was built to provide more dining space.
Shortly after, in '96, the Woodstock Inn Brewery and Brew Pub was conceived. The 7-Barrel brewing facility would be the proud producer of many award-winning ales, such as Pig's Ear Brown Ale. The Brew Pub itself is Woodstock's homage to a cozy English Style Pub. The turn of the century brought more growth starting with the acquirement of the Sawyer House on the corner of School Street in '01 and later the Adirondack-inspired Cascade Lodge in '06.
Alas, the building of the new Brewery, Dam Bar and renovation of the main bar and restaurant in 2012-13 illustrates true North Country style.
The new 30-Barrel Brewing production facility brought a new industry to our great town and will be the cornerstone to craft beer in the White Mountains. The Kanc Club Function Room and Tap Room Bar are located above the new brewery and bottling facility with the capacity for 170 guests.
The space is ideal for any type of event and in true Woodstock Inn fashion, every event is uniquely tailored and catered to the guests. We recycle grains from the brewery in our bakery, source meat from local farms and utilize the freshest local produce when available. Our electricity and hot water are generated with the help of a vast solar array on our roof