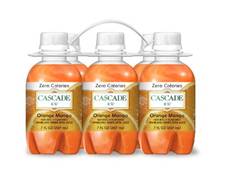 Unique Beverage Company, LLC ("Unique"), trendsetter in the sparkling water category, is the first to introduce an innovative slim, 7-ounce bottle design to the zero-calorie sparkling water industry. Unique's popular Cascade Ice flavors of Lemonade, Coconut, Black Raspberry, Orange Mango and Pink Grapefruit will be available in 6-pack and single 7-ounce bottles beginning September 2014.
"We're thrilled to be pioneers in the zero-calorie, sparkling flavored water category by offering our popular Cascade Ice brand in a 7-ounce proprietary bottle," says Mike Broadwell, President and CEO of Unique Beverage Company. "While our current 17.2-ounce bottles have been very popular, we specifically designed our new 7-ounce bottle to be the exact height of an average soda can. In addition to major grocery and convenience accounts, this will allow for opportunities to place our product in vending machines and in airline beverage carts. Our innovative, single-serving bottle also provides additional access for us in schools, where portion control and zero-calorie alternatives are more welcome than sugary drinks.
Cascade Ice sparkling waters do not contain unnecessary and unhealthy "extras" like sodium, gluten or sugar. Families everywhere love the great taste of Cascade Ice and are thrilled to have a healthier option than sugary juices and sodas. Compared to many popular soda brands that can contain upwards of 38 grams of sugar, Cascade Ice beverage products are sugar-free and full of flavor. Cascade Ice currently has 21 delicious flavors, including the 3 newest flavors – Strawberry Banana, Coconut Mango and Coconut Pineapple – in addition to a line of 6 USDA-certified Organic essence flavors.
Cascade Ice is also proud to announce that the Nielsen's July 12, 2014 report shows Cascade Ice as the No. 1 branded sparkling water in the Pacific West Zone. Cascade Ice is celebrating a 20.7% share of the dollar sales in the last 52 weeks, with its nearest competitor at 14.2%. The brand's Seattle dollar share is more than double the nearest competitor and is also the leading brand in Portland, Oregon.* In addition to making its mark in the Pacific West Zone, Cascade Ice continues to show success and positive growth across the country as it gains new distribution and retail authorizations. Current major retailers include Albertson's, A&P, Coborn's, Fareway, Food City, Fred Meyer, Fry's Food Stores, Harris Teeter, HEB, Ingles, QFC, Safeway, Shaw's, Shoppers, Raley's, Ralphs, Shoprite, Smith's Food and Drug and Winco Foods, among many others
Unique Beverage Company, LLC is a beverage company headquartered in Everett, Washington, that creates and distributes a variety of refreshing drinks in grocery chains and convenience stores throughoutthe United States. Visit CascadeIceWater.com for more information and to find a complete list of states where Cascade Ice is available.
*Source: Nielsen Reports ending 07/12/14, Last 52 weeks for stores over 2MM carbonated sparkling seltzer waters.