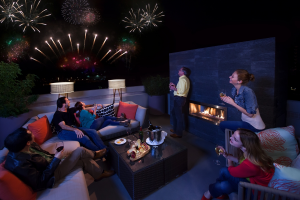 Southern California is known for having more than its fair share of hot spots, from the trendiest happy hour haunts, to hotels and resorts with out-of-the-box offerings that proffer an exceptional travel experience. Here are a noteworthy few that have hit my radar of late:
iFLY Indoor Skydiving (www.iFlyWorld.com) – Starting at $79.95
iFLY is an experiential entertainment company that created modern indoor skydiving, making the dream of flight a reality by giving customers "wings" in a safe environment. iFLY developed technology that provides a stable, wall-to-wall cushion of air in a flight chamber, which provides an incredibly realistic and harmless indoor skydiving experience. iFLY offers great recreation but is also part of a fast-growing sport known as "bodyflight." They have a program that can help beginner flyers progress in the sport to become competitive flyers. The company has safely flown more than eight million people in 50 locations around the world, including 25 in the U.S. and many throughout the Southern California region—including San Diego (in the heart of Mission Valley) where I, myself, took iFlight. Best yet, iFLY is accessible to just about everyone from ages 3 to 103 and any physical ability, even those with special needs including wounded warriors, autistic, blind or deaf, and those confined to wheelchairs. It's also not advised for those with back or neck issues. The technology utilized to proffer safe bodyflight is impressive. Inside the tunnel structure, air is pushed down the side of it in Return Air Tower(s) and then directed up from the basement (plenum) through turning vanes. These vanes are filled with chilled water to provide a consistent, comfortable airflow in any climate. After going through the turning vanes, the air goes into the inlet contractor that compresses the air, speeding it up and forcing it into the flight chamber where people fly. The result is an indoor skydiving adventure where the dream of flight becomes a reality!
Eddie V's San Diego Launches New Happy Hour Menu (www.EddieV.com) – $2 – $8
Another great option for making merry with friends and family throughout the holidays is with Eddie V's. In San Diego there is a location adjacent to Seaport Village and also in the La Jolla Cove area. The restaurant is very well known for serving fresh prime seafood from both the Atlantic and Pacific as well as fantastic steak and other land items. They've recently introduced a fabulous new Happy Hour menu with options from $2-$8 that are great for sharing. There are a bevy of teaser dishes like Lobster and Crab Wontons, Blackened Fish Tacos and Lollipop Lamb Chops as well as some of their signature appetizer items like their famous—and insanely delicious—Jumbo Lump Crab Cake. There's also various types of half shell oysters done a number of different ways. My favorite is the "Angels on Horseback": seared oysters wrapped in prosciutto with fig glaze and parmesan. Plus there's inventive hand-shaken cocktails and wines by the glass for just $8. At all locations, the atmosphere is refined yet relaxed with live jazz and blues music played nightly in their V Lounge.
Hilton Anaheim Offers 'Holidays at Hilton' Special Package (www.HiltonAnaheimHotel.com) – Rooms starting at $139/night
Tis the season to visit Hilton Anaheim, where leisure travelers can not only enjoy Hilton Anaheim's lovely hospitality, but also celebrate the season with limited-time hotel activities like Disney pin trading, holiday fireworks viewing, ornament decorating, breakfast with Santa and poolside holiday movie classics with classic seasonal treats and warm beverages. Guests will marvel at their Christmas Tree Lane—ornately-decorated Christmas trees in various themes. Seasonal activities for the entire family and festive décor are just a few of the traditions that will warm your spirits. Others include indulging in an exclusive "Spend $50, Get $50" VIP Shopping Experience at South Coast Plaza. Room packages start as low as $139 per night. Make your days merry and bright by adding a dash of Disney magic to your seasonal celebration at this unbeatable location that's adjacent (walking distance) to the Disneyland Resort, connected via Anaheim Resort Transit (ART) system.
Monarch Beach Resort Introduces California's first Miraval Life in Balance Spa (www.MonarchBeachResort.com) – Rooms starting at $395/night
If you're looking to enjoy some much needed R&R during the hectic holidays or even the New Year beyond, head on over to the fabulous Monarch Beach Resort. Located in the pretty Orange County beach city of Dana Point, this luxury resort recently completed a $40 million re-imagination, which introduced California's first Miraval Life in Balance Spa–the first hotel partnership for the award-winning Miraval Resort in Tucson. This state-of-the-art oasis offers one-of-a-kind, luxurious spa treatments, an array of dynamic wellness growth and development activities, as well as extensive yoga and meditation programming. It is a sanctuary for those looking to create balance in their lives—perfect for a new year of health and wellness. For those seeking outdoor engagement, guests may enjoy yoga and meditation programming on the beach or a round on the resort's oceanfront Robert Trent Jones Jr.-designed Monarch Beach Golf Links. In addition to the spa, the AAA five-diamond beachfront resort's full renovation included a recent refresh of all 400 guest rooms and suites, five new dining concepts that celebrate seasonal cuisine and sustainable practices, an expansive pool area and pool bar, and renovated public spaces that encourage gathering and conversation.
~~~
"The Luxe List" Executive Editor Merilee Kern scours the luxury marketplace for exemplary travel experiences, extraordinary events, and notable products and services. Submissions are accepted at www.TheLuxeList.com. Follow her on Twitter here: www.Twitter.com/LuxeListEditor and Facebook here: www.Facebook.com/TheLuxeList.
***Some or all of the accommodations(s), experience(s), item(s) and/or service(s) detailed above were provided at no cost and/or sponsored to accommodate this review, but all opinions expressed are entirely those of Merilee Kern and have not been influenced in any way.***