PHILLY PIZZA PLEASES EVERY PALATE
The Region's Pizzerias Have Never Been So Bountiful Or So Diverse

Philadelphia's gained some serious pizza cred in recent years. Not only is this city home to a pizza museum and restaurant (Pizza Brain), an artisan pizza truck (Pitruco) and, according to Bon Appétit, America's very best pizza (Pizzeria Beddia), but it's also a proving ground for the idea that this traditional food can be reinvented in infinite ways. Whether it's a straightforward but studious Neapolitan round, a floppy tri-corner slice with cheese to spare or a newfangled pie laden with unexpected but carefully sourced ingredients, there is absolutely a pizza for every eater's predilection. Here's a sampling of the region's pizza riches: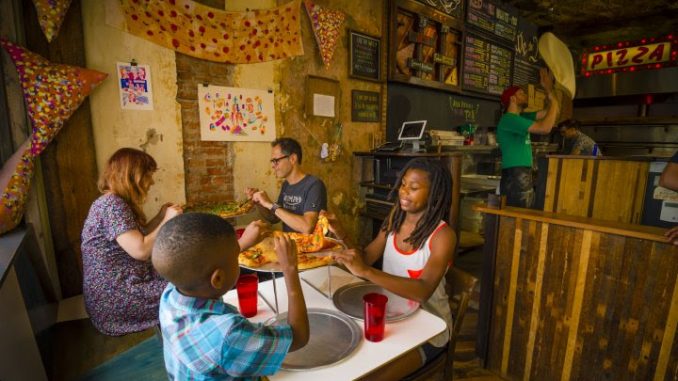 Artisan Pizza:
True artisan pizza is made by hand by pizza chefs who are dedicated to their craft and who carefully source their ingredients. Often—but not always—taking Neapolitan style as a starting point, these pies reinvent the genre with remarkable toppings and personal flourishes or mix and match styles for a diverse pizza experience.
New-School & Hybrid Pies:
Some of the most interesting pizza (and pizza-adjacent, e.g., flatbread) creations come out of kitchens that rethink traditional sauce-and-cheese rules. The city's new-school and hybrid pizzas throw ancient recipes to the wind and embrace a more unorthodox approach.
Old-School Philly Pies:
Long before there were water-filtering, artisan flour-dusting scholars of pizza in the area, there have been corner shops and family-owned parlors making the regional specialty of tomato pie and other local fan favorites. These pizzas might not hew to centuries-old Italian hydration ratios—but they perform just fine on any taste test.
Sometimes simple inspirations go a long way, especially in the world of strip-mall pizza purveyors. At Charlie's Pizzeria in Norristown, the oven turns out "red top pizza," a New York-esque pie that adds a signature dollop of extra red sauce on top. 107 W. Germantown Pike, Norristown, (610) 275-1403, pizzacharlies.com
Gennaro's Tomato PIE specializes in a tomato-forward American Neapolitan pizza—not to be confused with the typical Philly tomato pie in a square format. The East Passyunk Avenue-area bring-your-own-bottle (BYOB) spot channels a classic pizza parlor with its décor and keeps things classic with basic toppings and simple salads. 1533 S. 11th Street, (215) 463-5070
Open 89 years and running, Marra's exudes charm and authenticity. The pizza, thin crust and built on the same recipe as its owner's grandparents used, showcases the best of Italian-American traditions with Philly flair. 1734 E. Passyunk Avenue, (215) 463-9249, marrasone.com
Pizza lovers enter through the back door at the 40-year old Limerick "speakeasy" Penny's Pizza (now with a second location in Oaks), which is open

Thursday

through

Sunday

. The house specialty: "upside down" pies made with a crispy cornmeal-dusted dough. 68 W. Ridge Pike, Limerick, (610) 489-3636; 180 Mill Road, Suite 4, Oaks, (484) 924-9766, gotcornmeal.com
There are no wedge-shaped slices at Santucci's Pizza—just pillowy squares with sauce over cheese.Santucci's original locations populate Northeast Philadelphia; the family more recently brought their addictive square-shaped pies to Bella Vista and North Broad Street. 4010 Cottman Avenue, (215) 332-4333; 460 W. Street Road, Warminster, (215) 441-9400; santuccis.com; 4050 Woodhaven Road, (215) 281-2900, joesantuccisquarepizza.com; 2313 W. Venango Street, (215) 288-2900; 901 S. 10th Street, (215) 825-5304; 655 N. Broad Street, (267) 639-6014, santuccispizza.com
Diners can order pizza and only pizza at the iconic BYOB Tacconelli's, where there's a (strongly) suggested three-topping limit for the crunchy, thin-crust pies.It's also advised that wannabe patrons call the lauded Port Richmond pizzeria in advance to reserve their dough since it's made in finite quantities daily. 2604 E. Somerset Street, (215) 425-4983, tacconellispizzeria.com
A proud Philly tradition, tomato pie and its practitioners attract a devoted clientele. Around Valentine's Day, lovebirds get cozy in the tiny booths at the legendary Tony's Place in Northeast Philly to feast on the tomato pie, which comes in a heart-shaped form for a limited time each year. 6300 N. Frankford Avenue, (215) 535-9851
Traditional Neapolitan Pizza:
With American pizza diverging into multiple regional styles and variations, some traditionalists are trying to bring it back to its Italian origins. These pizzas follow the strict standards of their birthplace: San Marzano tomatoes, high-protein wheat flour and stone ovens fired by oak wood. The elastic, tender crust should be marked by charring and is typically eaten by knife and fork.
A wood-fired oven makes the delicious starting point for the rounds at Biga, a sophisticated beer and pizza joint in Bryn Mawr. In addition to classics, it also bakes up beautiful inventions like the Papa Chulo (garlic béchamel, bacon, potatoes, onions and pesto). 810 Glenbrook Avenue,
Bryn Mawr, (610) 525-4800, restaurantbiga.com
Neapolitan pizza is more than a hobby in Italy—it's the law. Chef Joe Cicala of Le Virtù earned the right to make authentic pies by winning a coveted Napoli Pizzaiolo Verace certification. His South Philly forneria Brigantessa makes irrefutable classics like margarita and marinara, alongside some seasonally changing pies. 1520 E. Passyunk Avenue, (267) 318-7341, brigantessaphila.com
What takes 10 days, three craftsmen from Naples, 23,000 pounds of handmade bricks from Santa Maria, "baking floor" from Sorrento and volcanic sand from Vesuvius? The handmade oven at Capofitto, Old City's artisan pizzeria from the owners of legendary gelateria Capogiro, that's what. 233 Chestnut Street, (215) 897-9999, capofittoforno.com
East Falls' best-kept secret In Riva pays homage to pizza's beginnings with its wood-fired oven.Between a mean margherita and creative spins such as the mushroom and zucchini pie with truffles and fontina, diners have tough choices to make. 4116 Ridge Avenue, (215) 438-4848, in-riva.com
Other Regional Styles:
Beyond Naples and Philly lies a world of pizza classification with distinctive characteristics, and many of these types can be sampled in and around town.
VISIT PHILADELPHIA® is our name and our mission. As the region's official tourism marketing agency, we build Greater Philadelphia's image, drive visitation and boost the economy.
On Greater Philadelphia's official visitor website and blog, visitphilly.com and uwishunu.com, visitors can explore things to do, upcoming events, themed itineraries and hotel packages. Compelling photography and videos, interactive maps and detailed visitor information make the sites effective trip-planning tools. Along with Visit Philly social media channels, the online platforms communicate directly with consumers. Travelers can also call and stop into the Independence Visitor Center for additional information and tickets.