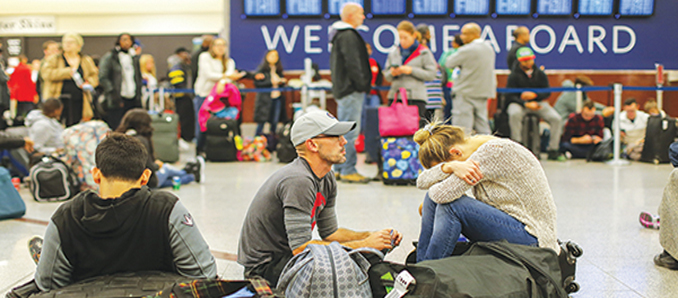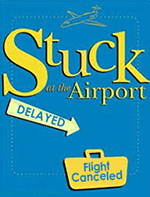 Sometimes things just don't go your way and you find yourself stranded at the airport again because your flight has been delayed or canceled. Now you have two choices: you can either spend your time annoyed and probably arguing with the airline employees, or you can make the most of a bad situation and actually have fun. With that in mind, we've come up with a list of some great ways that will help you have fun and find some comfort in an otherwise uncomfortable situation.
Treat Yourself
Nowadays, airports have gyms, free yoga studios, and even spa centres with massage, hair and manicure services. You could pamper yourself with a nice massage or let off some steam in the gym based on your preferences.
Explore
Take your time and wander around the airport, you'll be surprised at what you can find.
Some airports have movie theatres, behind-the-scenes tours, galleries, museums, gardens and even art installations. The best way to check if something appeals to you is to download your airport's app.
Online Games
Most airports have free Wi-Fi, which you can definitely use to your advantage. If you are into gambling, you might like to spend your time playing online casino games. There plenty of fun options at NetBet for instance. If you're there with your friends you can also play multiplayer or online board games with them. Whatever you choose, you can easily stay entertained with an exciting game.
Buy a Lounge Pass
Although airport lounges can be quite expensive, you might consider buying a lounge pass if you know you'll stay at the airport for a longer period of time. Airport lounges are more comfortable than the airport terminal because they offer quieter environments, private Wi-Fi, free drinks, snacks, showers and better customer service. At the end of the day, you'll get more for your money and escape the stress of the terminal.
Spend Some Time Online
Locate the spot with the best Wi-Fi connection and then you can relax, listening to your favourite audiobook on Audible, podcast or watch a popular TV Show. You can also use this time to catch up with a close friend or family member that you haven't seen in a while via Skype or Face Time.
Shop
While shopping at the airport can be expensive, you can use this opportunity to spend the last of your foreign cash on something that interests you, like a particularly fascinating novel. But if you do have some money to spend, buy a gift for someone you plan on seeing during your trip. Or if you're heading back home, buy a gift for a loved one. On the other hand, window shopping can also be a great distraction that takes your mind off boredom.
Take a Nap
You might feel exhausted, but you probably know that the normal airport chairs are super uncomfortable. That is why more and more airports are offering sleeping pods. If you decide to sleep at the airport, make sure to keep your bag and personal possessions safe.