OurHouseKC is a fast casual, laid back vibezzzz kind of place. When you walk in you are greeted by the bartender, the cashier, the food runner, and the owner alike. It never gets old…" Hey! Welcome to OurHouseKC! Check out the menu and order at the counter when you are ready." We empower the customer to be on their own timeline. They can grab a drink at the bar while they wait for a friend, or step right up and order their food then head up to enjoy the live acoustic duo on the rooftop patio. We do live music 6 days a week. We also make the customer experience fun by handing them an original portrait of a musician as their table marker when they order. Table numbers are overrated, how about Bob Marley on your table while you eat instead? There are two things in this world that bring people together over all else…Food and Music. Our concept has these two forces at the forefront of our mission.
The atmosphere is casual, comfortable…the music on point…jammy, blusey, jazzy, some of the best local musicians in the city. The fresh, scratch made food is all original recipes from the owner growing up in the kitchen. Our ticket times are fast so you can be on your way, or feel free to stay. Everything is integrated so you can visit the café, bar, restaurant, rooftop and then close out your tab; or you can simply order and pay at the counter. We have really embodied the best customer experience from all angles and have almost everything a person could need throughout the day. Our rewards program is especially rewarding if you use us for your morning coffee, office lunch, and finally dinner or dessert…you never have to leave! Or you can come and go as you please.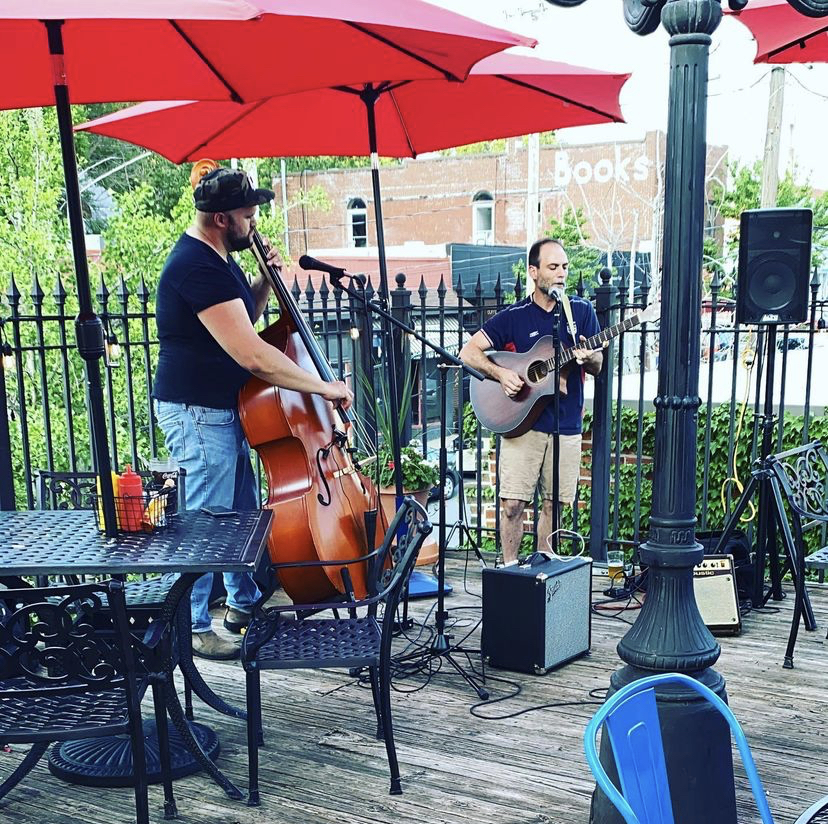 This magical, easy-going experience all takes place in our little oasis on 39th street in Kansas City. We opened up the main dining room to allow the bar and dining room to be as one. When we are busy, its like a house party. People are free to move around as they please and we track them with their musician. If they move to the roof, they simply take Bob Marley with them and they can keep ordering from our food runners equipped with tablets. The feeling is warm, the murals are bright and colorful, the food is inspired by the city and out of this world, our margarita is one of the best there ever was…Everything has come together as one…YourHouse…Everyone'sHouse…OurHouseKC
After working like crazy through the pandemic, losing both our fathers, remote schooling 4 children on the fly we decided to make one final push on this dream of ours that we had been working on for 3 years prior. Taking every meeting we could with every restaurant head we knew, meetings upon meetings upon meetings. In the true entrepreneur spirit, we weren't taking no for an answer…but we did…a million times over…. until finally the stars aligned, and we heard a yes, followed by another yes and before we knew it we had secured our location and it was on. We signed the paperwork to the minute of the one-year anniversary of one of our dads passing away. It was magic, it was him, it was both of them guiding us through.
You ever open a restaurant with four kids 10 and under? First thing we did was put in a "kid room" speak easy in the basement. A place for them to do homework, watch tv, show off to their friends…they were set. And then the work began…
We painted, put in floors, installed equipment, plumbing…omg the plumbing. We built out our place ourselves and with our loyal team that we had brought with us. We were the underdogs going to make it big in this restaurant world…Didn't sleep for a few months and bam, we were at our grand opening!
The reviews were in and everything was a hit. Our Bob's Burnt End French Dip Sandwich was named best bbq sandwich in the city. Our cinnamon rolls were driving people in our café doors, our Nutella latte was blowing people's minds, our cocktails were the freshest people had ever tasted. We launched multiple menus including our Lunch & Dinner menu, our Brunch Menu, our Café Menu, our "House Party" menu for bulk group orders and our Buffet Catering Menu. We had online ordering and curbside from jump street. We were ready to get our community their food however they wanted it. Our product was coming out consistent and fabulous.
In addition to our amazing food and drinks, we were helping to re-build the music community in our area. Live music was hit hard during the pandemic…we became a shining star for these musicians to perform to a crowd 6 days a week. We started hosting a song circle each month in our café for original music to be showcased as well as an open mic night once a month for any aspiring musician to take a shot at it. We built a long line of contacts in the music industry who quickly became friends in our mission to supporting the local music scene in Kansas City all the while making a name for ourselves in the food industry.
While we are still very new and launching something new each week such as private events, Chiefs watch parties, lunch box catering for an office…we feel like we have been in this location, spreading the OurHouseKC love for years. We hope to grow old in this space and add a second or third location in our town. The Pandemic has taken a toll on everyone, we are happy to be part of the recovery bringing good beats, great eats and smoked meats back to our community. If you are ever in Kansas City, please stop by and see us, you won't regret it. Now, let's rock n roll.