New Chef de Cuisine Brings an Elevated Experience to The Ritz-Carlton, Atlanta's Modern-American Steakhouse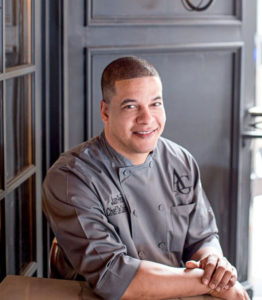 Fresh flavors and fare can be expected at The Ritz-Carlton, Atlanta with the appointment of Juan Peña to Chef de Cusine of AG, the hotel's modern-American steakhouse. With the introduction of Chef Peña to the culinary team, the menu will be infused with his culinary heritage, while still remaining true to the south and Atlanta.
Hailing from Puerto Rico, Chef Peña has always been surrounded by a passion for cuisine – from his grandmother preparing stews daily to his father grilling meats and planting his own produce for their family meals. Influenced by these memories, Chef knew from an early age that a culinary career was in his future.
Having nearly two decades of culinary experience, Chef Peña began his career at The Culinary Institute of Puerto Rico while simultaneously honing his skills at The Ritz-Carlton, San Juan. Inspired by the French chefs he learned from while at The Ritz-Carlton, Chef moved to Old San Juan to serve as Executive Chef at the elegant French restaurant, Trois Cent Onze, where he remained for over a decade. Most recently, Chef Peña served as Chef de Cuisine at Fern Restaurant at the St. Regis Bahia Beach Resort, and was professionally trained by Jean Georges Vongerichten himself during his time there. Elevating his French culinary expertise even further, Chef was also trained by Daniel Boulud at Daniel in New York.
With Chef Peña now leading the charge at AG, guests can look forward to his influence throughout the menu as he elevates dishes to focus on new seasonal ingredients, innovative trends, along with top-quality meats that the restaurant is known for. Chef will put his own spin on select dishes while also introducing a few new ones, whether it's incorporating ingredients that he is passionate about such as Asian spices, or giving guests a taste of his grandmother's famous stew. AG is a staple for modern cuisine and with Chef Peña now at the helm; guests can look forward to the menu and offerings elevated with a more contemporary style leaving each diner 'wowed' by their meals.
AG can be enjoyed for breakfast, lunch and dinner seven days a week from 6:30 a.m. to 2:30 p.m. and 5:30 to 10 p.m. daily. For more information about AG and The Ritz-Carlton, Atlanta, please call (404) 221-6550 or visit www.ritzcarlton.com/atlanta.
About The Ritz-Carlton, Atlanta
The Ritz-Carlton, Atlanta is a luxurious oasis with a splash of glamour in the heart of the city. The hotel is surrounded by the state's centers of law, finance and government, and is minutes from the new Mercedes-Benz Stadium, Georgia Aquarium, National Center for Civil and Human Rights, College Football Hall of Fame and Georgia World Congress Center. For information and reservations, please call 1-800-241-3333, the hotel at 404-659-0400, a travel professional or visit www.ritzcarlton.com/atlanta.
About The Ritz-Carlton Hotel Company, L.L.C.
The Ritz-Carlton Hotel Company, L.L.C., of Chevy Chase, MD., currently operates more than 90 hotels in over 30 countries and territories. More than 40 hotel and residential projects are under development around the globe. The Ritz-Carlton is proud to offer The Ritz-Carlton Rewards® in which members can link accounts with Marriott Rewards® and Starwood Preferred Guest® for instant elite status matching and unlimited points transfer. For more information or reservations, visit the company web site at www.ritzcarlton.com, for the latest company updates, visit news.ritzcarlton.com and to join the live conversation, use #RCMemories. The Ritz-Carlton Hotel Company, L.L.C. is a wholly-owned subsidiary of Marriott International, Inc. (NASDAQ:MAR).