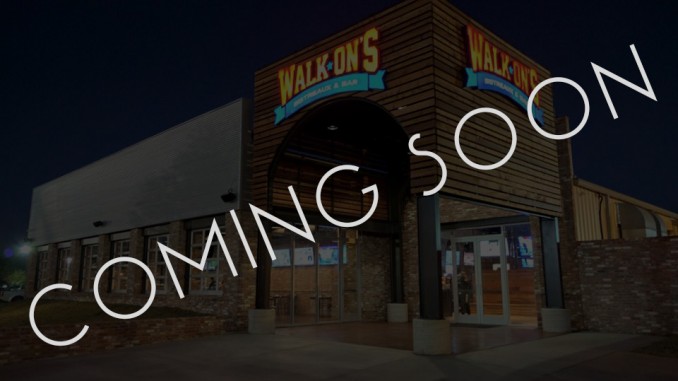 Alexandria to Welcome 'North America's Best Sports Bar'
Local franchise operators bringing Walk-On's Bistreaux & Bar to town in 2016
ALEXANDRIA, LA (Jan. 20, 2016) – Fans of great food, cold drinks and non-stop sports can look forward to a new favorite destination in Alexandria later this year.
Walk-On's Bistreaux & Bar, voted "#1 Sports Bar in North America" by ESPN, is coming to town, and bringing along its fresh Louisiana cuisine, fun game-day atmosphere and a bevy of America's Cheerleaders to make every guest feel welcome.
Walk-On's Enterprises co-founder Brandon Landry announced today that the company has executed a franchise agreement with Brandon Thompson, a successful franchisee of multiple Subway restaurants in central Louisiana and founder of The Sandbar Frozen Drinks daiquiri bar business. Thompson moved to Alexandria after earning his business degree at LSU.
"Walk-On's is a great brand with an exceptional management team that has developed a unique operating style, outstanding menu and fun atmosphere," said Thompson. "It's a great fit for my team and me, and it will be the perfect addition to the Alexandria dining landscape. We intend to be long-time franchisees of Walk-On's and hope to one day take the brand to other locations around the country."
It's been a busy 12 months for Baton Rouge-based Walk-On's. After putting the final pieces in place to support its move into franchising, the company announced its first franchise agreement last January for a new Walk-On's in Lake Charles, which opened in November. New locations in Houma and Shreveport also opened their doors in 2015.
In May, New Orleans Saints superstar Drew Brees and his wife, Brittany, bought into Walk-On's Enterprises as co-owners. Drew pointed out that Walk-On's is "a great place to bring my family, teammates and business colleagues" and that they were excited to help "expand the brand across the nation."
"I've been very impressed with Brandon and his team ever since we met a few months ago and started talking about bringing a Walk-On's to Alexandria," said Landry. "He's been very successful with other restaurant concepts, and while Walk-On's is obviously quite different, Brandon has an obvious passion for our brand that has grown ever since he was a student at LSU. I have no doubt that the people of Alexandria are going to love the food and atmosphere in their very own Walk-On's when it opens later this year."
Walk-On's currently has seven locations – two in Baton Rouge and one each in New Orleans, Lafayette, Houma, Shreveport and Lake Charles. Other locations are under construction in Juban Crossing, Zachary, Covington and Lubbock, Texas. Several additional markets across the Southern United States are likewise on the drawing board.
To inquire about franchising opportunities, qualified applicants may contact Walk-On's Enterprises President & COO Scott Taylor at franchise@walk-ons.com.
For a complete menu and more information, visit WalkOnsEnterprises.com.
ABOUT WALK-ON'S ENTERPRISES
Walk-On's Enterprises is arguably the most distinctive restaurant company in America. Its concepts are fresh, fun and original, from Walk-On's Bistreaux & BarSM – voted ESPN's "#1 Sports Bar in North America" in 2012 – to Happy's Irish Pub and Walk-On's Catering. Additional growth lies ahead, as the company expands on its winning combination of delicious, affordable food and drinks presented in an uncommonly warm and friendly atmosphere. For more information, visit walkonsenterprises.com, or contact Ladd Biro at Champion Management at lbiro@championmgt.com or 972.930.9933.