The Alfond Inn at Rollins Welcomes Chef Jason M. Klingensmith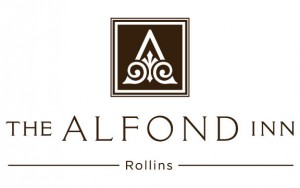 The Alfond Inn at Rollins is delighted to welcome Chef Jason M. Klingensmith as Executive Chef. Chef Klingensmith will lead the culinary team at The Alfond Inn and Hamilton's Kitchen. A Miami native and longtime Executive Chef of The Country Club of Orlando, he plans to impart a decidedly Central Florida zest to the menu at Hamilton's Kitchen.
Chef Klingensmith is a graduate of Southeastern Academy culinary school and defines his food as "modern American, artistically prepared on the plate." His inspiration is deeply rooted in Florida where he has spent his career teaching and perfecting an approach to cooking that is based on a continual quest for growth and new ideas. It's an apt philosophy for the Rollins and Winter Park community.
Chef Klingensmith will introduce several new dishes to the Hamilton's Kitchen menu. He notes that he intends to "source as many local ingredients as possible and lighten the menu with the addition of salads, lighter sauces and half orders, while creating 'Southern-inspired' fare with a modern spin."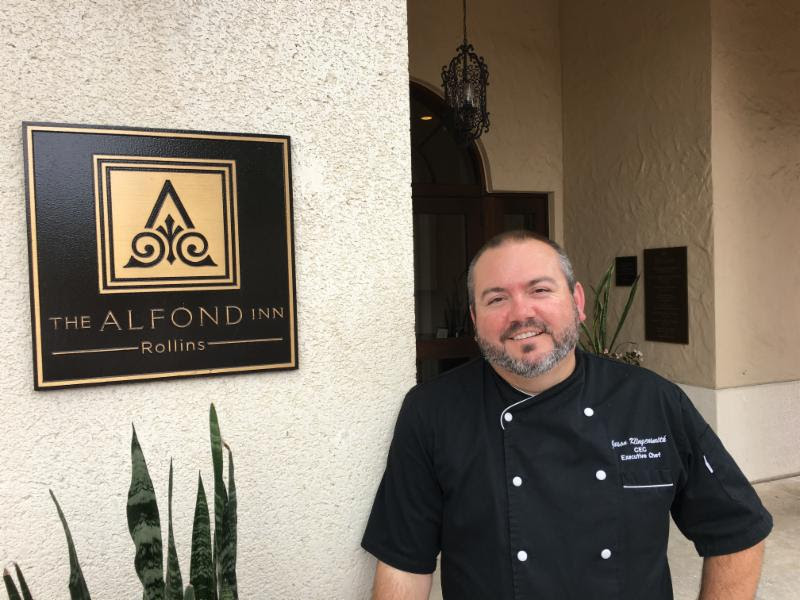 More fresh seafood options and variations on Central and South Florida dishes, such as pan seared Yellowtail snapper, black beans and rice, heirloom tomato relish and local greens, are also in the works. "It a dish with South Florida flair, but utilizes locally farmed ingredients from our area," Chef Klingensmith says. "It reflects the lighter seasonal aspect of the menu changes and the kind of fresh new flavors I'll be bringing to The Alfond Inn."
Chef Klingensmith is also looking forward to developing the existing Chef's Table dinners into more impromptu, inspired experiences for the maximum eight guests at the table. The Hamilton's Kitchen Chef's Table dinners have always featured a special tasting menu, yet Klingensmith plans to add elements of spontaneity and invention. Supplied in large part by the seasonal bounty he sources at the Winter Park Farmers Market, he plans to create a fresh new menu for each Chef's Table event, with wines specially recommended for the evening and poured by the Sommelier.
Chef Klingensmith envisions The Alfond Inn restaurant and banquet kitchens as dynamic environments that foster teaching, learning and constant inspiration — for his culinary team, as well as restaurant and event guests. He envisions The Alfond Inn as the ideal culinary classroom, one with the potential to engage its clientele in the experience. To that end, Chef Klingensmith will introduce new small cooking classes and demos, including pre-nuptial and bridal party cooking classes, as well as market tours of the Winter Park Farmers' Market.
The Alfond Inn is a stylish boutique hotel in Winter Park, Florida that opened in 2013 and was ranked #1 in Florida and #7 in the United States in the 2015 Condé Nast Traveler Readers 'Choice Awards. Owned by Rollins College, a private coeducational liberal arts college in Winter Park, The Alfond Inn was built with a $12.5 million grant from the Harold Alfond Foundation. Net operating income from the Inn is directed to The Alfond Scholars program fund, the College's premier scholarship fund. The hotel showcases The Alfond Collection of Contemporary Art for Rollins College, which is part of the Cornell Fine Arts Museum. A member of the Preferred Hotels & Resorts LVX collection, The Alfond Inn has a AAA Four Diamond Rating and is managed by The Olympia Companies, an innovative leader in hospitality. The 112-room boutique hotel includes the award-winning Hamilton's Kitchen restaurant, a pool and fitness center, and 10,000 square feet of flexible meeting space. It is 15 minutes from downtown Orlando and 30 minutes from Walt Disney World and Orlando International Airport. The Alfond Inn, 300 East New England Avenue, Winter Park, FL 32789. 407-998-8090. www.thealfondinn.com
Facebook The Alfond Inn
Twitter @TheAlfondInn
Instagram @HamiltonsKitchen