Chef Jennifer Backman
Spicer Mansion, Mystic, CT
Creates unique, seasonal menus that offer an unforgettable dining experience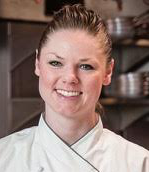 Describe Spicer Mansion's restaurant in one word: Pristine (I think everything about it is beautiful)
What is your comfort food? Braised meats. I loved braised lamb shanks, osso buco or short ribs. Anything like that.
Who was your greatest cooking influence? I would say my greatest cooking influence was my chef when I first started at Castle Hill, Jonathan Cambra. I think he came into my life at a really pivotal time which helped to sculpt who I was going to become as a chef. So he's definitely one of them. I was also in the genre that looked up to Julia Child. I actually cooked for her. That was really, really special. She was always someone I aspired to be because of the way she was able to teach and mentor so many different people, both men and women.
What is your favorite ingredient to cook with? Aside from butter? (laughs). My favorite ingredient would be eggs. I love eggs. I think they are really versatile.
What is your favorite white wine? Favorite red? Sauvignon Blanc and I enjoy a nice Sangiovese.
Celebrity you would love to cook dinner for? Well, I've already cooked for Nicolas Cage, but I'd love to cook for him again because I really like him. I think he's a great actor. I cooked for him at Castle Hill.
Chef whose style of cooking you really admire? Michel Bras. He's a French chef who revolutionized the use of vegetables and presenting them in a very beautiful and artistic way.
How do the words "gluten-free" make you feel? I'm not a fan. In my mind, it means you have to modify everything you cook.
What learnings from the Weekapaug Inn and Ocean House will you be carrying over to Spicer Mansion? Adaptability – being presented with various challenges and troubleshooting and conquering them in order to excel.
What advice would you give to someone with aspirations of becoming a professional chef? Think long and hard about it. It's a labor of love, and you have to be truly passionate about it and willing to sacrifice in order to do it and to do it well. So think about it. And think about how much you're willing to sacrifice. If the answer is still "yes," then go for it, find a mentor and work hard.
Lastly, what do you do to relax? Well, when I have time which isn't often, my boyfriend is a sailor and we like to go out on the water, enjoy a couple of beers and get away from everything.