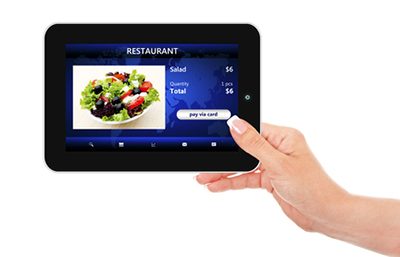 More than 119,000 people will be working in fields associated with app development by 2019, the Information and Communications Technology Counsel (ICTC) reports. The report shows that both Quebec and Ontario have seen impressive job growth in this sector — 28,700 jobs and 14,000 jobs respectively.
While many businesses, from hospitals to restaurants, are using more apps, there is a great push to get more apps in the hands of business owners, according to the ICTC. You probably already use plenty of web-based tools, such as online account programs, social network marketing gadgets and feedback surveys. If you're wondering how an app can help you streamline your restaurant business, take a look at these apps for Canadian food-service owners.
Capture the Right Attention
Media professionals agree the customer takes charge of the conversation. If you want to attract loyal customers, you have to give them what they want in a digital package. According to AppSuite, customer loyalty programs quadruple the amount of money repeat customers spend compared to non-program guests. With AppSuite restaurant technology you can design an app that syncs with your clients. Allow digital reservations with email confirmation and personalize campaigns to increase visits to your store.
Speedy Service, Speedy Exit
Brisk traffic means servers must find ways to balance time spent chatting at the table with time spent cashing out at the register. Tabbedout is a POS-integrated app that allows guest to pay from their smart phones, split the tab and even provide real-time feedback. This app frees up time for servers to really wow clients with personal service.
In and Out in Quick Time
Fast food outlets that want to serve more customers should consider using an app like Fast2eat, developed by a Carleton University student. The app lets people in a hurry place an order, pay and schedule a pickup time from their digital device. It's simple, efficient, customer-centric.
Manage Inventory on the Go
Managing inventory used to be a nightmare, but not anymore. Check out the Restaurant Inventory mobile app from GoCanvas. Get a free trial to see how it works for your Canadian restaurant before you invest anything except your time. Create a database with your scanner or smart phone. Complete your physical inventory. Send an order immediately to suppliers. How easy is that?
Make it Healthy, Be Safe and Manage Your Time Better
Time management apps keep your business running smoothly, even when you are off-site. Take advantage of technology to manage time sheets, schedule appointments with vendors, and stay in touch with your chef. Use technology to reduce stress. For example, you can help your staff prepare for inspections with health and safety workplace apps. Download monthly inspection forms to use as a checklist or training tool.
Immediate Feedback
If you want an app that gives you immediate, real-time customer feedback, check out Loop Mobile Customer Engagement solution by Benbria. Install a kiosk or use a tablet to request customer input. Drop the paper cards at the table and stop wondering if your customers are happy or are heading out the door to tell their friends to run the other way to avoid a snippy server.
With a few apps designed for Canadian restauranteurs like yourself, you won't have to wonder what is going on back at the restaurant, you will already know.