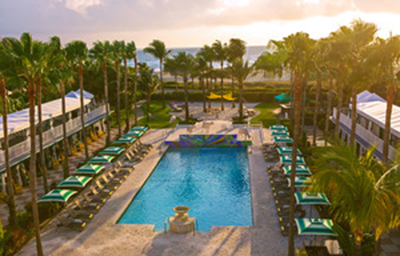 Sweet and Seductive Getaway Deal Designed to Satisfy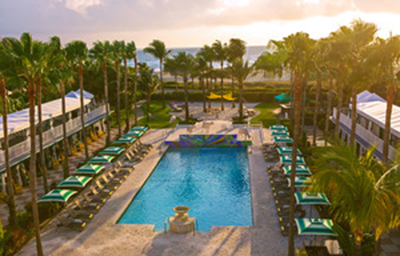 With Valentine's Day just around the corner, Kimpton's Surfcomber Miami, South Beach is offering couples a passion-filled escape full of fun, fraternizing and flirtation. Whatever the mood, Surfcomber's got it covered with its 'Sinful or Sweet' stay packages designed for duos with desires for a sexy getaway.
A romantic tryst awaits, with playful offerings that are sure to spice up anyone's love life. For couples seeking a walk on the wild side, the sultry Sinful Stay offer will knock your socks off.
This sinful package includes:
Sex-on-the-Beach welcome cocktails for two
Intimacy kit
Tantalizing toys, including a blindfold and tickle feather
Complimentary late check-out
Meanwhile, sweethearts can also make sparks fly with the more subdued though equally passionate Romantically Sweet package, which includes the following sweet amenities:
Bottle of champagne
Chocolate covered strawberries
Candles
Complimentary late check-out
Located in the heart of the Art Deco District on historic Collins Avenue, Kimpton's Surfcomber, Miami South Beach continues to bring a sense of playfulness and whimsy to South Beach offering guests the perfect trilogy of sun, sand and surf. With direct beach access, this fully renovated hotel offers visitors a one-of-a-kind "daylife" experience with its iconic, sun-drenched pool deck providing guests with the most hours of sun than any other hotel in the area as well as 30 private cabanas, a pool bar, and varied beach and poolside activities.
And once the sun sets, Surfcomber offers one of the most fun and popular hot spots to enjoy cocktails or dinner before the South Beach scene starts to crank up, at its newly renovated and buzzing lobby lounge, The Social Club.
With rates starting at $429, Surfcomber's 'Sinful or Sweet' packages are available for booking and travel now through December 31, 2014. Restrictions and blackout dates may apply. For more information on Surfcomber and/or reservations, please call (800) 994-6103 or visit www.surfcomber.com. Use the booking code SINF for the Sinful Stay package and SWEET for the Romantically Sweet package.
To stay up-to-date on the latest news and travel deals, become a fan of the Surfcomber Facebook page or follow Surfcomber on Twitter.
ABOUT KIMPTON'S SURFCOMBER MIAMI, SOUTH BEACH
Managed by Kimpton Hotels & Restaurants, Surfcomber sits on the Atlantic Ocean's edge along 200 feet of oceanfront property in the heart of the Art Deco District in South Beach on historic Collins Avenue. With direct beach access, this newly and fully renovated hotel offers visitors to this fashionable destination a distinctively relaxed, yet worldly guest experience within a "backyard bliss" design-driven environment. The hotel's 186 guestrooms feature luxurious bed linens and bath products by C.O. Bigelow. Guests of Surfcomber will enjoy a diverse mix of dining and lounge options including The Social Club and Surfcomber's Sandbar. Surfcomber's signature pool/beach experience includes the hotel's expansive outdoor deck with heated pool, well-appointed cabanas, and beach activities such as paddle boarding and volleyball. Surfcomber's meeting and event space can accommodate everything from intimate poolside weddings to large corporate events up to 500 people. Additional guest services and amenities include 24-hour in-room dining, 24-hour on-site business center, fitness center, mind and body experiences with in-room and beachside massages.
ABOUT KIMPTON HOTELS & RESTAURANTS
San Francisco-based Kimpton Hotels & Restaurants is the leading collection of boutique hotels and restaurants in the United States and the acknowledged industry pioneer that first introduced the boutique hotel concept to America. In 1981, Bill Kimpton founded the company that today is renowned for making travelers feel genuinely cared for while away from home through thoughtful perks and amenities, distinctive design that tells a story and inspires a sense of fun at each hotel and a sincerely personal style of guest service. Out to help people live full, balanced lives, Kimpton aims to inspire with touches like yoga mats in every room, complimentary coffee and tea to start the day, hosted evening Wine Hour, in-room fitness programming and complimentary bike rentals. The award-winning restaurants and bars are led by talented chefs and bartenders that offer guests a chance to dine like a local. Kimpton also leads the hospitality industry in eco-friendly practices that span all hotels and restaurants, and is consistently ranked as one of the top companies in the Market Metrix Hospitality Index, Upper Upscale Segment, for Customer Satisfaction. The company is highly-regarded for its innovative employee culture and benefits and has been named a Fortune magazine "Best Place to Work" four times since 2009. Kimpton is continuously growing and currently operates 60 hotels and nearly 70 restaurants, bars and lounges in 26 cities. For more information, visit www.KimptonHotels.com and www.KimptonRestaurants.com.