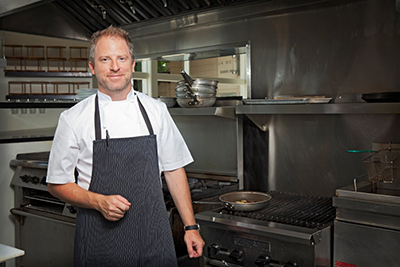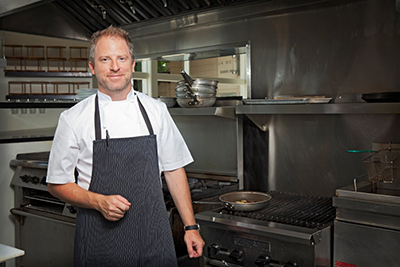 Kaisho, a modern, high-end interpretation of an izakaya, celebrated its Grand Opening on December 7 in Bellevue. The Kaisho concept is pioneered by Jeffrey Lunak, former protégé of Iron Chef Masaharu Morimoto. Working closely with Lunak is Chef de Cuisine Kalen Schramke, who offers a balance of French and Asian culinary expertise.
Kaisho, a meeting place for friends and family, is poised to quickly become a neighborhood hotspot. The menu draws on a variety of Asian influences and is designed for sharing.
Small plates & bites include:
Wasabi puffed nori rice chips
BBQ steam bun
Smoked salmon butter lettuce cups
Smoked brisket and kimchee gyoza
Sushi rice risotto with chanterelles
Moo shu tacos
Larger plates include:
Bao Burger made from snake river wagyu beef, braised pork belly, kimchee cucumber, hayashi onions, citrus aioli, butter lettuce on a steamed bun
Hong Kong style pork shank crispy noodle with shitaki and king oyster mushrooms, bok choy and spicy dragon sauce
Family Style offerings include:
Thai fried chicken and kimchee waffles, coconut butter and five-spice maple syrup
Whole fried black sea bass
Garlic steak with miso creamed kale and garlic soy
Kaisho will also offer a full bar stocked with Japanese beers, aged whiskies and classic libations.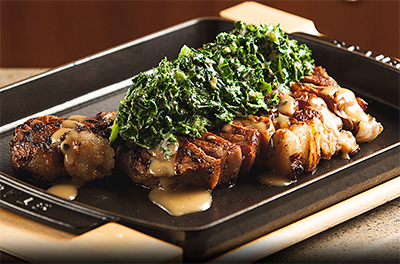 Food & Beverage Magazine was able to sneak in a few questions to Chef Jeffery Lunak.
What's your first memory of your love for cooking?
My great grandparents used to cook alongside one another when I was very young. The early memories of this were very powerful to me. They were my first exposure to hospitality.
When did you know you wanted to be a Chef?
Working with my first mentor, Hidemasa Yamamoto in Cape Cod. I loved everything about it.
Where were you trained, and how difficult was your training?
I did go to culinary school, however, I would say my "training" really began in Cape Cod in 2000. It was very difficult. There is an illusion that being a Chef happens overnight and that it is full of excitement and creativity. When you first start, you peel a lot of potatoes and stand in a corner with your head down.
What do you love most about your job?
Everyday feels new. I never look at a clock and I never wonder what it would be like to do something else.
Describe your style in three words.
Simple, direct, thoughtful
What's your favorite dish to create?
Anything that involves cooking and eating with my wife and daughter.
Where do you draw your creative inspiration from?
The beauty of this thing we do is that inspiration is constantly evolving from a variety of muses, whether it be the season, the weather, geography or simply love. I would say all of the above.
What four ingredients are necessary in your kitchen?
Salt, pepper, extra virgin olive oil, lemons
If you could prepare a meal for anyone, who would it be and what would you make?
My original mentor, Hidemasa Yamamoto. I still talk with him, but haven't cooked for him in over 10 years. I would make homemade udon with brown butter miso broth and tofu.
When you go out to eat, where do you go?
In Seattle and LA, our restaurants of course! Back in Palm Springs where I live, Pho Vu and Morgan's.
What are you most proud of in your career?
Constantly evolving and pushing myself. To think I was a commis cleaning lobsters and prepping chowder in 1999 to my time on Iron Chef and opening restaurants all over the world, to now driving a brand for national growth, I am proud of my journey and the pursuit of it.
Who is your biggest supporter?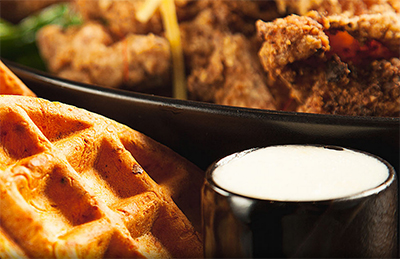 My wife Tecla. She has been supporting my ambitions in this business since 1997.
What would you want to have as your last meal?
Are there any foods you just don't like?
Americanized, Chinese Buffets
What do you think is the most challenging ingredient to work with?
I think vegetables in general. Very few cooks/chefs understand or are capable of highlighting a vegetable in its purest form.
Do you do the cooking at home?
Yes. A lot of grilling these days.
Funniest kitchen incident?
When I was the Chef at Morimoto in Philadelphia, we placed thin slices of flounder under the sole of one of our intern's shoes. He didn't figure it out for a few weeks. You could smell him when he entered the building.
Favorite kitchen equipment or gadget?
Vita Prep Blender and Chopsticks.
Tell me 3 things that you consider to be your cooking strengths.
Simplicity, Distinctive, Thoughtful
If you had just one wish, what would it be?
About Jeffery Lunak
As the culinary force behind Madison Holdings Inc., Jeffrey Lunak brings more than 15 years of experience to his role as Vice President, Culinary. He is responsible for culinary content strategy and leads the charge in developing new offerings for Blue C Sushi's always evolving, innovative and healthy Japanese-inspired menus.
On a mission to serve high quality, yet approachable offerings that rival top sushi restaurants, Lunak designed Blue C Sushi's menu to uphold the Japanese tradition of living a healthful life coupled with the practice of perpetual reinvention. From leading a global search for responsibly sourced ingredients to implementing cutting edge technology, Lunak has improved every aspect of food operations.
Prior to joining Madison Holdings, Inc., Lunak held positions at some of the country's most reputable restaurants and hotels, including Mandarin Oriental Washington D.C., La Quinta Resort and Club (a Waldorf Astoria Collection property), and most notably, as corporate chef for "Iron Chef" Masaharu Morimoto.
He was the Chef de Cuisine at Morimoto's first restaurant in Philadelphia, as well as the Executive Chef for the highly regarded Morimoto Napa, where he earned three stars from Michael Bauer, San Francisco Chronicle, and "Best New Restaurant" from Food & Wine.
Lunak also appeared on the last two seasons of "Iron Chef America," as well as "United Tastes of America" with Jeffrey Saad. Chef Morimoto enlisted Lunak and his team to open Morimoto Waikiki and Mexico City, as well as coordinate menu development and training of all new chefs in its Napa outpost.